The D-Fly 4.5 Knife: Made For Me, Designed For Bushcraft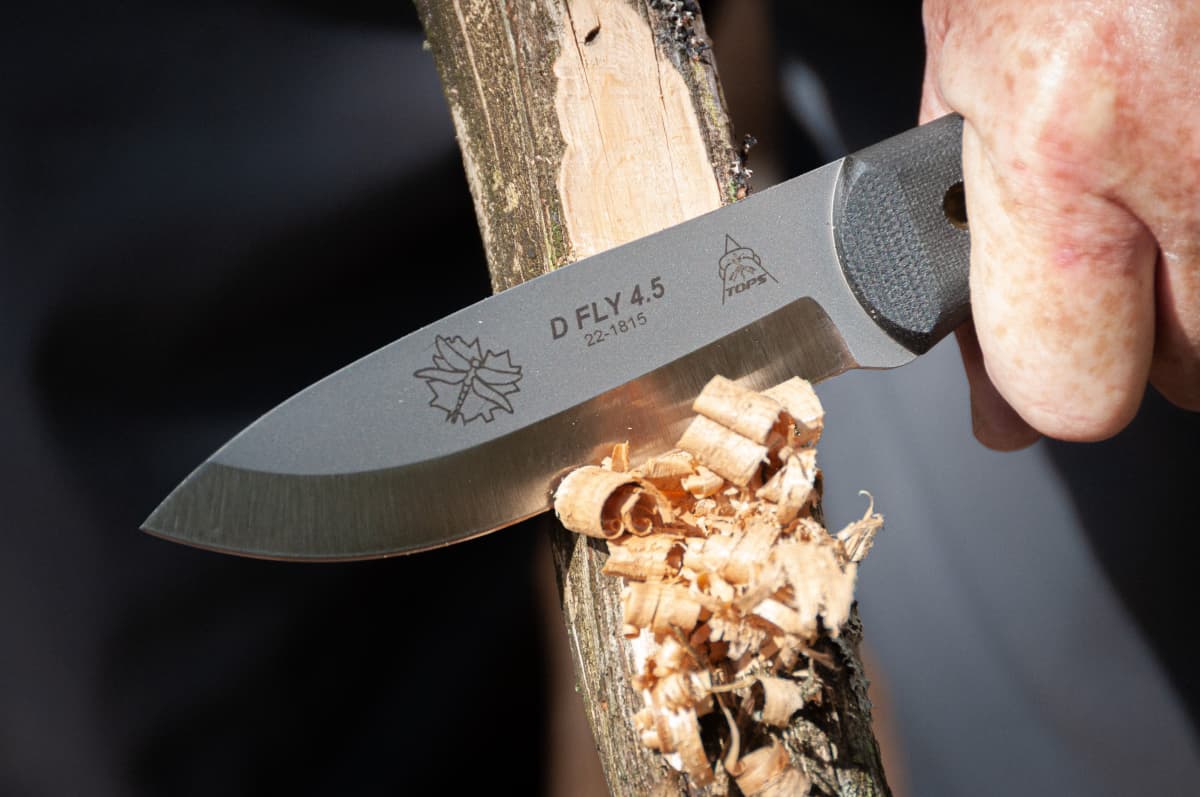 Since I was seven years old, I have been fascinated by edged tools. Axes, saws, machetes, scythes, but none so much as a knife. At the peak of my collection, I owned over 250 knives, ranging from gas station junk to timeless brands, to high end customs. Over time this collection dwindled down to about twenty. Some because they weren't comfortable to use. Others because they suffered catastrophic failure (usually those pesky gas station junk knives). While others just did not have what I desired in a knife.
In 2006 I began working on the general shapes and features I desired in a knife. This knife needed to be as Mors would later describe to me as "a well-balanced sharpened pry bar that works wood really well". At first, I was drawing fantasy swords and knives that would give John J. Rambo butterflies in his stomach. In my defence, I was a teenager. But as I worked within bushcraft, studying under my mentors, and using knives on a regular basis, the size of my blades, the thickness of their stock, and the shape of their edges all began to gravitate towards something a little more nuanced than Mors' simple breakdown.
A good bush knife needs to be everything that Mors said, and one thing else. It needs to be versatile. It needs to be able to process both plant and animal matter equally well. Skinning, gutting, butchering, carving, riving, whittling, and other tasks that are realistic applications of a knife. It needs to be strong enough to be an anchor point in case you fall through the ice. All the while being light enough that you actually carry it at all times when you are in the woods. This sounds simple enough, but it really is a tall order.
Most bush knives are almost strictly dedicated to carving. Nothing specifically is wrong with that. However, it drops in versatility. Cleaning game animals (whether a squirrel or a moose) is not easy with such a straight edge, nor with that common needle-like point. It leads to potential rupturing of the organs or dinging the edges against bone. It also leads to a damaged hide, which is frustrating to say the least. The other issue is many such carving knives are just not up for abusive tasks. If you lose your axe and saw, your knife needs to be able to handle tasks such as felling, bucking, and splitting small diameter timber, to get dry kindling and beyond. Again, the falling through the ice scenario. The edge on a carving knife requires drastically different treatment than what a knife in a survival situation might have to do.
And so, with all of that on my mind, it's no wonder it took me from 2006 until 2012 to finish the details on my first independent design. Around that same time, my good friend and much missed teacher on all things knives, Mike Fuller from TOPS Knives, asked me if I had any designs ready for market. This is the saga that brings us to the Decade of the D-Fly Knife.
Originally called the Dragonfly 4.5, designed by me, and manufactured in Idaho USA, the D-Fly 4.5 has become a mainstay in the bushcraft community. Built out of 1095 High Carbon Steel, canvas micarta handles, and stout brass tubular pins, this knife is made to handle extreme conditions.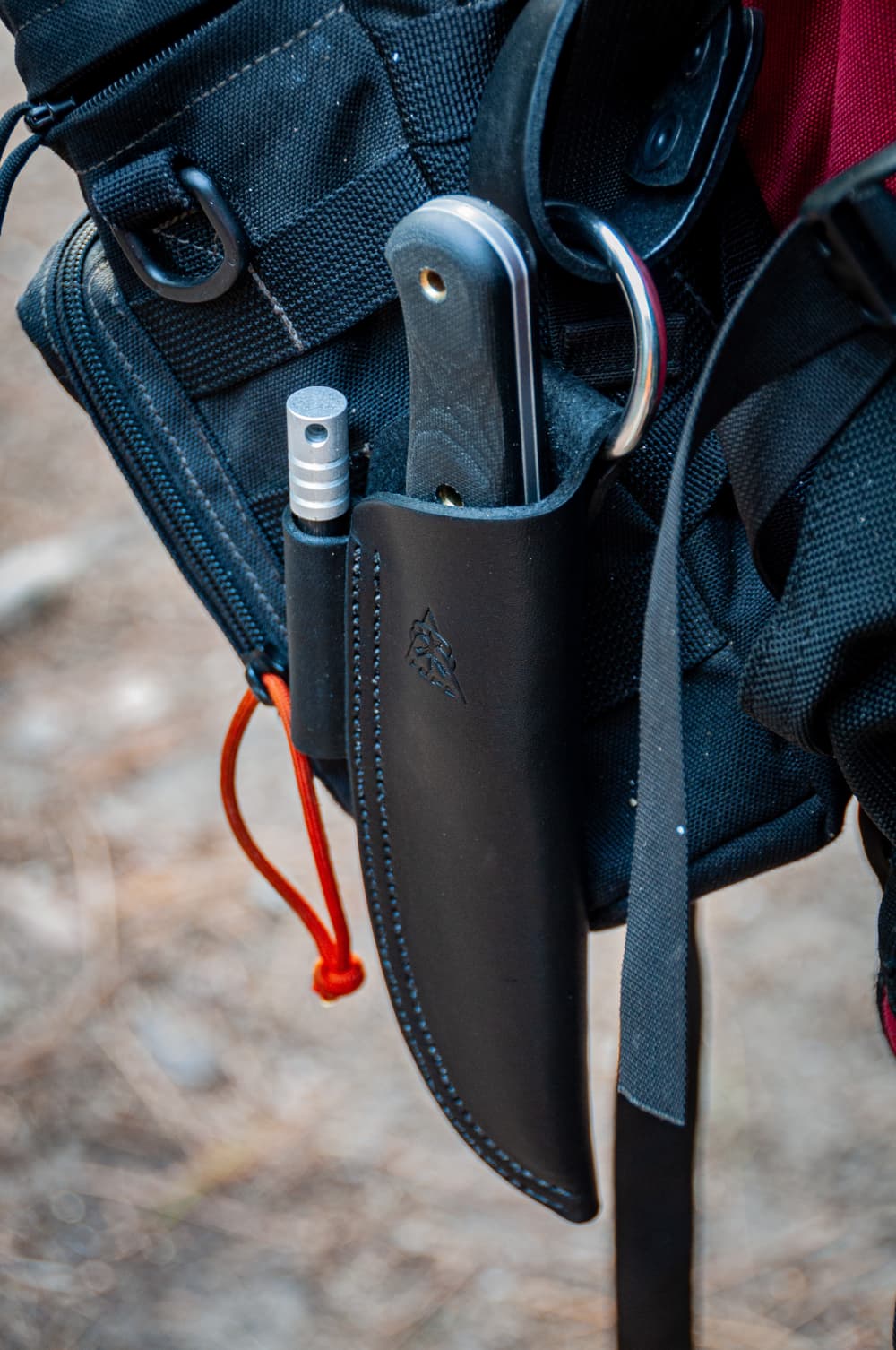 The blade being only a little over 3mm (1/8") thick, and the handle scales being kept thin, makes this knife light and easily packable in most situations (rucksack, go-bag, car glovebox, survival kit, etc).
The steel is 1095 high carbon steel, which is world renowned for being tough, and able to hold a long edge while also being easy to sharpen. This makes it a great field knife, as it will be easy to take care of with any sharpening system you have, along with some oil to protect the steel from moisture.
The edge is the
TOPS Knives special "Scandi-vex" grind
, which has a thin enough edge to slice effortlessly through an elk hindquarter. All the while being stout enough, that I have literally split the pelvis and ribs of a deer with no visible effect to the edge. This is what I mean when it comes to durability and versatility. The
blade being just shy of 11.5cm (4.5")
long, means it is long enough to make long slicing motions across a slab of meat, to shave out feathers on a stick for kindling, and to present a target for batons when splitting wrist thick kindling. At the same time, not being so long that the knife is unwieldy. This means you are able to carve small items like a netting needle or pegs for a birch bark canoe.
The edge is a forward "recurve" that makes the edge bite into wood with less wrist fatigue than straight with the handle. The knife also has a slight "spine hump" inspired by knife styles seen amongst the old Green River butcher knives, the beautiful Canadian-made Grohmann Knives, and of course, the Nessmuk pattern. This spine hump adds weight closer to the tip, for wrist-flick cuts on saplings, while also helping to lift the point of the knife away from the organ sac of an animal when field dressing.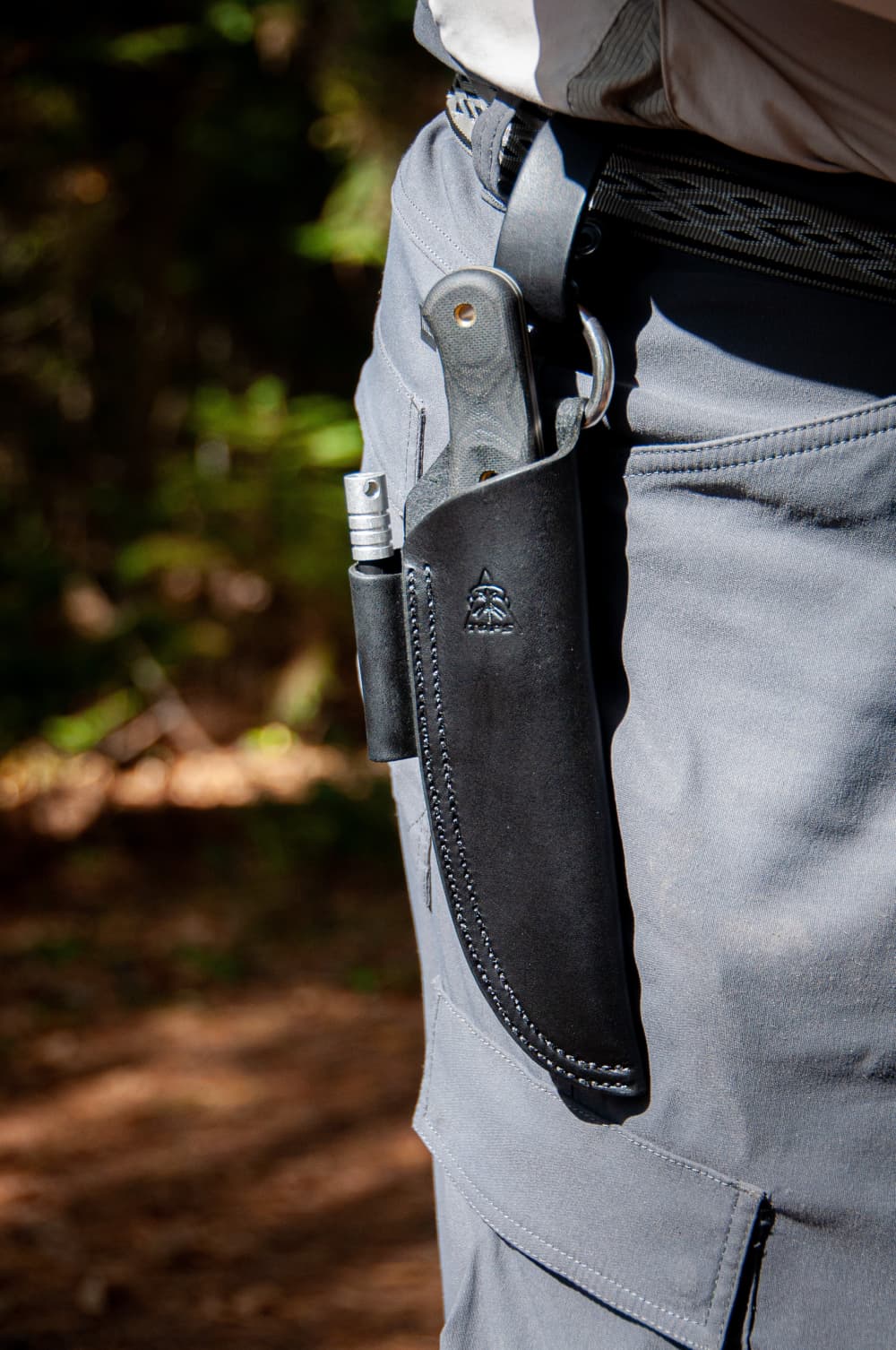 The handle was the most important part to me. In my humble opinion, it is one of the hardest things to get "right" on a knife. If a knife blade is absolutely flawless, but the handle is exhausting to grip a hold of, you will not use that knife much. I wanted this knife to be as universal as possible. I have hands that are basically meat hooks. This means most knife handles are way too small. Although that can be beneficial in some situations, for the most part it is excruciating to me. I know most folks don't have hands my size, but some do. So, a longer handle, with a thinner handle scale, with a decent belly flare, means that the handle is as simple as it can get, while being able to fit both small, medium, and large hands. Made of canvas micarta, the handle remains grippy when wet, especially important in rainy conditions, or when your hands are bloody from processing a kill. Micarta is a laminate material that is tough as nails, while remaining comfortable, grippy while wet and easy on the eyes, with a "warm" feeling like wood or stacked leather handles.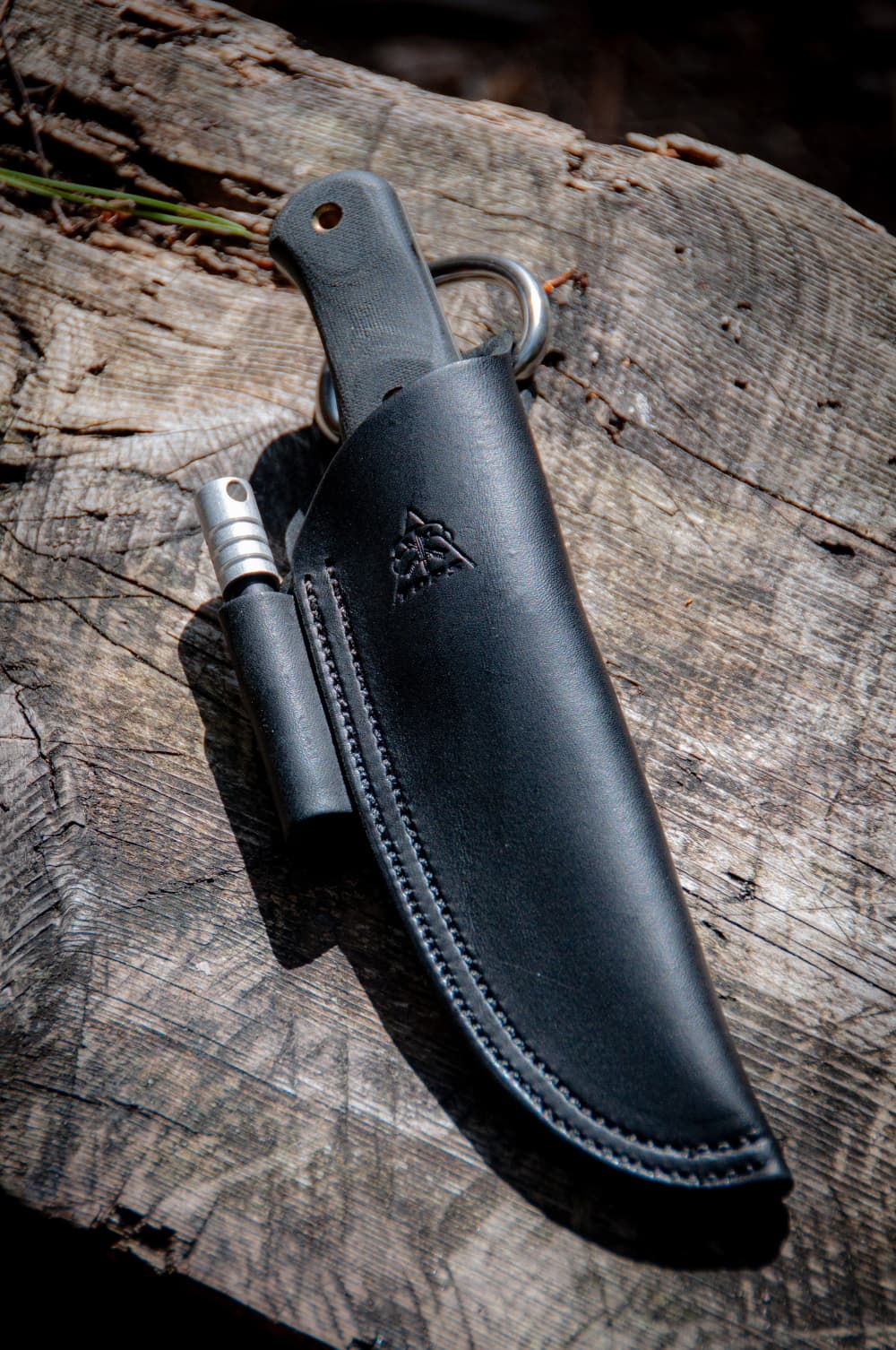 With the high-quality heat treated steel, and comfortable, multi-grip handle, and a solid leather sheath, this knife has gone through a decade of use and abuse by me, and many instructors of survival and bushcraft. I have built shelters, friction fire kits, birch bark canoes, and black ash baskets, with this knife as the primary tool. Peeling birch bark, riving white cedar wood, and field dressing big game have all been possible because of the D-Fly 4.5. A good friend of mine who is a professional trapper, prefers to skin out his beavers with this knife over any other. Another who is a chef by trade loves to use it for preparing meals while out on the land.
Versatile, comfortable toughness was the objective with the designing of the D-Fly 4.5 Knife. By all my rigorous use and high standards, with a decade of testing, I can genuinely say that I have reached my goals. The D-Fly 4.5 Knife was a knife made for me. But in the process, it has become a knife for any student of bushcraft. From any walk of life.
Caleb Musgrave
Caleb Musgrave is an Anishinaabe educator and podcaster from Rice Lake Ontario. For the last twenty-five years, Caleb has dedicated every waking hour learning all that he could in the field of bushcraft. From archaeological research, to building birch bark canoes, to traveling to remote regions of the Americas to study the land skills and life ways of Indigenous peoples. Since 2008, Caleb has been the owner and director of Canadian Bushcraft, one of Ontario's premier school in wilderness skills, ranging from one-day classes to trips and courses that take multiple weeks to complete. Over the last 15 years, Caleb has trained over twenty thousand individuals, both in the field and in the classroom. Since 2019 Caleb has been the host of Aboriginal People's Television Network's hit Wilderness and Cultural Survival series "Merchants of the Wild." Outside of visual media, Caleb is co-host of the Canadian Bushcraft Podcast, an online radio show, discussing all things wilderness.