Sorry, this product is no longer available...
Not to worry though, we've provided links to really great comparable items below.
The Fenix CL20 Camp Lantern is a great light for illuminating a camp site, tent, under a tarp, or at a table, by either resting on a surface, attaching magnetically or hanging from it's included hook. Powered by either two AA batteries, or a single CR123 cell (great for cold weather performance), the CL20 is capable of four brightness levels, up to 165 lumens of output, features an exclusive multifaceted globe to reduce glare, and includes a night vision saving red light output mode and SOS as well. Looking to extend night time reading, or playing cards while on a trip? The CL20 is the perfect night time camp companion.
Features of Fenix CL20 Camp Lantern
:
Utilizes nine neutral white LEDs and two red LEDs with an even and smooth beam thanks to the multifaceted globe
Powered by one CR123A Lithium battery or two AA (Ni-MH, Alkaline) batteries
White light with four output options and red light with two output options
Digitally regulated output maintains constant brightness
Reverse polarity protection guards against improper battery installation
One-button switch for easy and fast operation
Made of quality plastic and high-transparency material
Dimensions and Weight:
Length: 78mm
Width: 45.2mm
Height: 59.1mm
Weight: 03.2gm (excluding batteries)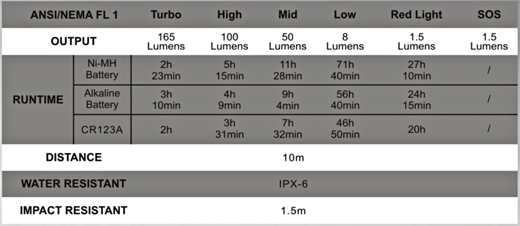 Fenix CL20 Camp Lantern Reviews