The Fenix TK75 2018 edition is a powerhouse of a flashlight: 5100 lumen output, and up to 850m (!!) of throw. Who on earth needs a light like this? In marine applications, when searching for buoys or shorelines after dark, in search and rescue operations, in photographic applications (the flashlight can be mounted on a tripod), or when you just want to light up a large area fast.
Dual stainless steel switches offer user-friendly output selection of 6 brightness levels and 2 flash modes, and a lockout function prevents the possibility of unintended operation of the flashlight.
The TK75 has also been upgraded with a rechargeable battery holder (via micro USB), so batteries can be charged via a wall socket, computer, or however one would charge their phone. The TK75 can even operate on 2x18650 batteries (as opposed to four) or 4x CR123 lithium batteries in emergency situations
Need light? A lot of light? The TK75 is the flashlight for you.
Features of the Fenix TK75 2018 Edition:

4 Cree XHP35 HI LED's, with lifespan of 50,000 hours
Powered by 4 18650 rechargeable Li-ion batteries
188mm Length x 53mm Body diameter x 86 Head diameter
Max 5100 lumens output, 850m beam distance
Micro USB rechargeable battery holder
Momentary on turbo and strobe
Back support system eases handheld fatigue
Battery level indication; lockout function
Dual stainless steel side switches for fast and convenient operation
Digitally regulated output maintains constant brightness
Reverse polarity protection, to protect from improper battery insertion
Low-voltage warning reminds when battery charging is needed
Made of durable high-strength and oxidation-resistance aluminum
Premium type HAIII hard-anodized anti-abrasive finish
Toughened ultra-clear glass lens with an anti-reflective coating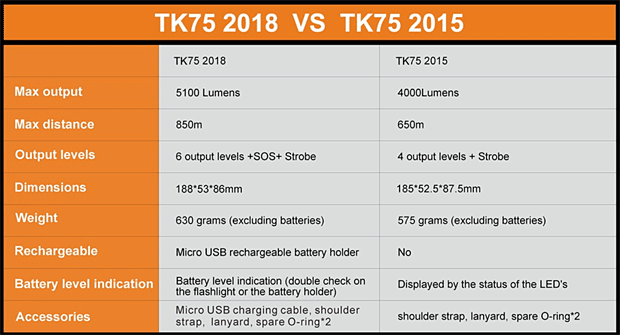 Fenix TK75 Flashlight 2018 Edition Reviews