Sorry, this product is no longer available...
This product has been discontinued, is no longer carried or is otherwise unavailable.
The Meopta MeoStar 32mm binocular series delivers a view rivalling the very finest full-sized binoculars, yet are one of the most compact and lightweight 32mm binoculars available. An optimized Schmidt-Pechan prism system and eyepieces provide an incredibly wide and flat field of view, and Meopta's MB5501 ion assisted lens multi-coatings deliver maximum brightness and resolution with crystal clear edge-to-edge performance.
All of this optical perfection is wrapped in an aluminum chassis and protective rubber armoured package weighing only 595 grams. Sculpted thumb pockets and excellent ergonomics make extended glassing effortless.Whether hiking, canoeing, hunting, nature watching or taking in a sporting event, you'll find yourself reaching for these lightweight and impressive 32mm binoculars every time you head out the door.
8x32 - Extremely wide field of view of 139 m. Compact size and light overall weight. Excellent choice for nature watching, hiking, travel and sporting events.

10x32 – Higher magnification for observing greater detail at extended distances. Compact size and light overall weight. Excellent choice for nature watching, hiking, travel, sporting events or any activity where greater observation range is desired.
Features
MeoBright - A proprietary ion-assisted lens multi-coating applied to all air-to-glass optical surfaces. Developed by Meopta, MeoBrightTM ion- assisted multi-coatings eliminate glare and reflections and delivers an industry leading 99.8% light transmission per lens surface.
MeoShield - MeoShield TM ion-assisted coating protects external lens surfaces and delivers enhanced resistance to scratching or abrasion in extreme conditions. MeoShieldTM meets military specifications for durability and surface hardness.
Lens Components - Individual lens components are meticulously ground and polished in-house and precisely matched for superior performance.
Waterproof - All binoculars are 100% guaranteed waterproof, submersible and are fully protected against humidity, rain and snow.
Fogproof - All binoculars are purged and sealed with inert Nitrogen gas to provide 100% guaranteed fogproof performance.
Focus and Diopter Control - Central focus wheel smoothly operates on a finely tuned ratio allowing precise, accurate focus acquisition with no backlash. Integrated central diopter control is easy to adjust and accommodates +/- 3 D.
Ergonomic Armour Design - Protective rubber armor is softer in strategic locations to help reduce hand fatigue and improve grip. Sculpted thumb pockets accommodate a variety of hand positions and encourages a balanced and comfortable hold.
Chassis Construction - Aircraft grade aluminum chassis is incredibly robust and built to survive rough conditions in the field.
Lifetime Warranty - All binoculars carry Meopta's North American Lifetime transferable Warranty.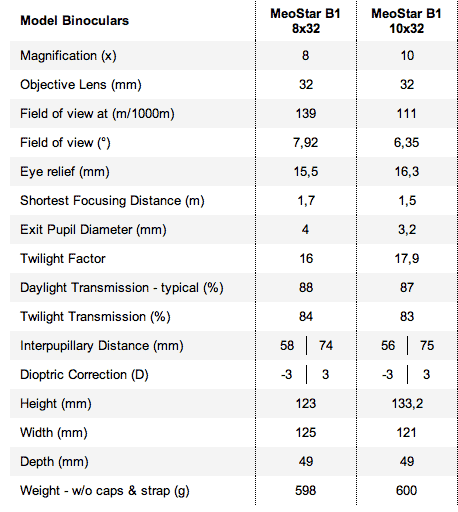 Meopta Meostar B1 32mm Series Binoculars Reviews