Orders over $50 Ship Free *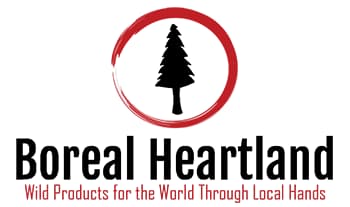 Boreal Heartland
Boreal Heartland Herbal Products Inc is Indigenous owned and operated, began in 2017 and is based in Air Ronge, SK , Canada. It is an initiative of Keewatin Community Development Association, a longstanding, northern, non-profit organization dedicated to supporting career, education, business, and economic development in the northern Saskatchewan region.
About Boreal Heartland
Boreal Heartland is an Indigenous owned company operating in Northern Saskatchewan that sustainably harvests materials form the boreal forest in their products. They operate under approval of the Saskatchewan MOE (Ministry of the Environment), and under the guidance of an advisory committee of Indigenous northern people which includes elders and knowlege keepers from Lac La Ronge Indian Band, Montreal Lake Cree Nation and Sakitawak Metis. The committee makes recommendations and instructs Boreal heartland on harvest quantities and methods. All Boreal Heartland products are 100% made in Canada.