Old North Workshop – Frost River Apron Review
What started as a fun Christmas gift for my son, turned into a small cottage business with the hopes for others to enjoy just as much. It was the winter of 2016 and I thought it would a be a great idea to get our 4-year-old son a wooden knife to learn knife handling skills. The market was flooded with kitchen style toy knives; however, we wanted an outdoor styled knife for him to hone his skills on.
With a design in mind and some scrap maple and walnut given to me by my father, I set to work creating a knife that would inspire and suit the little hands of my son. I drew up a chubby bushcraft style knife shape and then hand cut the pieces to make the blade and scales. After hand rasping the handle to a rounder shape comfortable enough for wee hands, I rubbed the knife with pharmaceutical grade mineral oil to make it food safe. Our son loved the Christmas present and still plays with both the knife and the Hudson's Bay style wooden axe to this day at 9 years old. The toys took away the novelty of handling a knife and axe and also gave him the confidence to learn with a real knife in later years.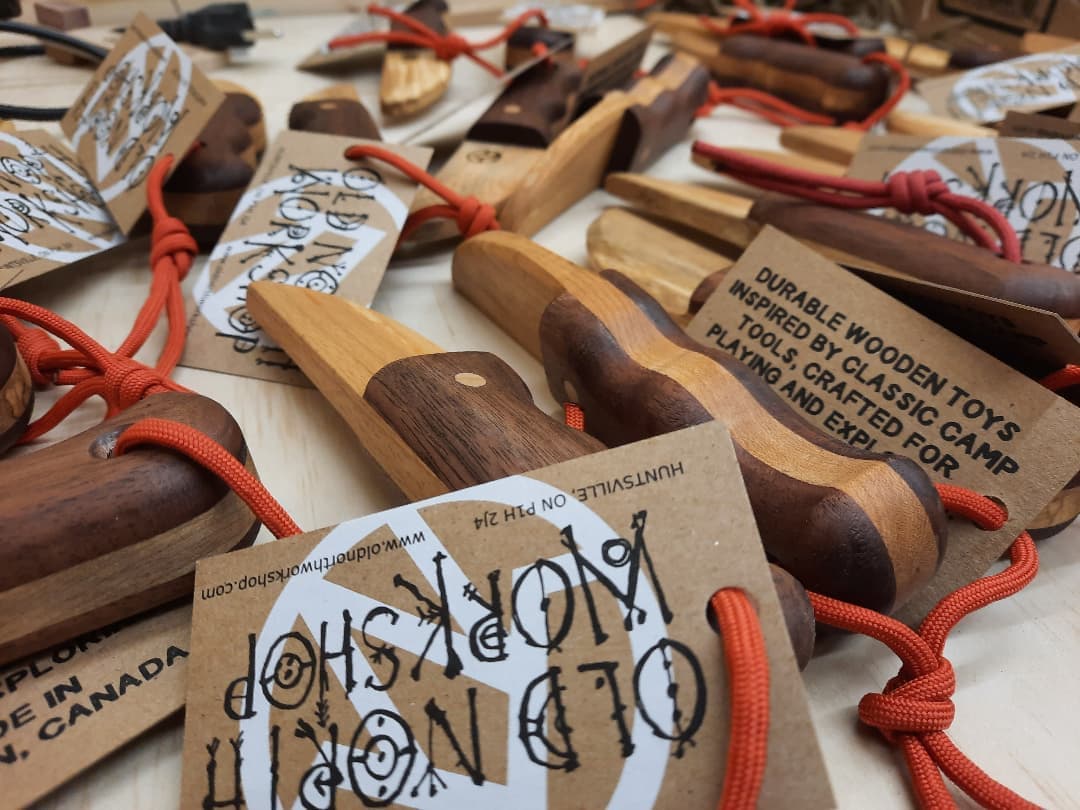 Fast forward a few years, and another idea struck me! Why not make these camp tools for all to enjoy. Offering young ones, the chance to wield a "knife and axe" just like their parents do!
Setting up a Wood Workshop
After some intense planning I was able to turn a small bunkie kit into a nice small workshop that is now humbly referred to as "Old North Workshop". The place where I can hangout, woodwork, leatherwork, do all my small free-builds, and just plain old create!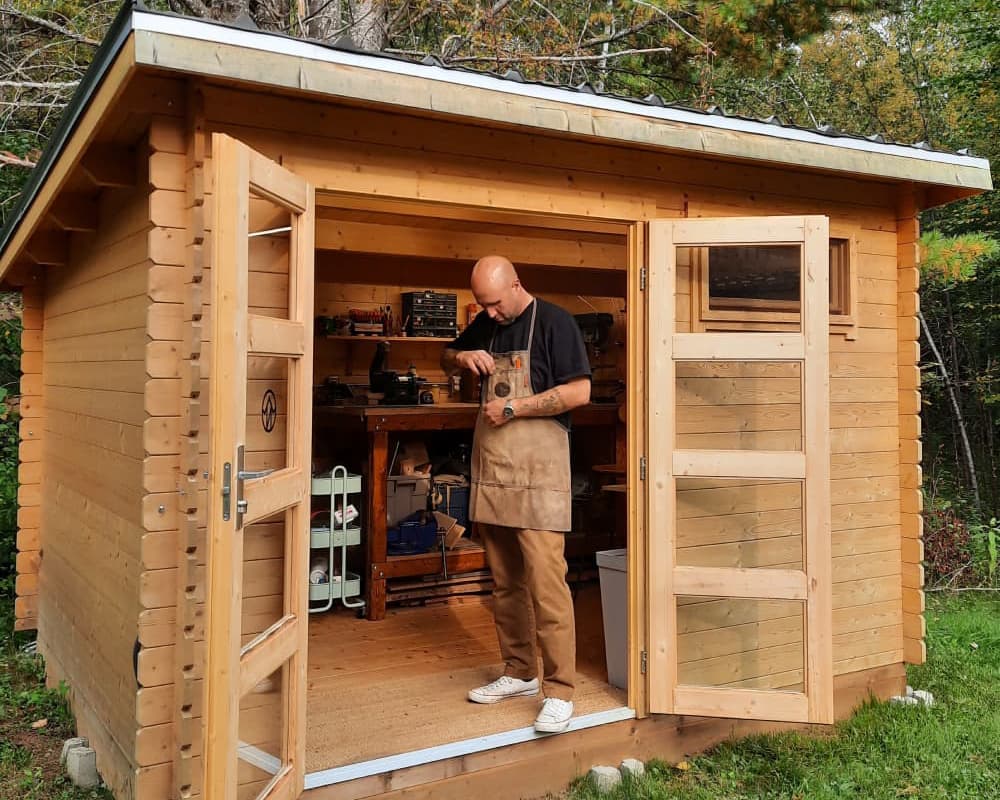 The building kit is one of the small, wood bunkie kits that can be found online quite easily and does not require a building permit due to its size. The Kit went together in a weekend, and a second weekend to run electricity to the small shop. The only caveat with a shop under 100 square feet is setting it up in a way that can maximize space. This step requires some deep thought and planning.
After a week or so of planning the knife building and deciding exactly what I needed, it came down to these tools.
Tabletop router and table with a Flush Trim Spiral Router bit, and a rounding edge bit.
Oscillating tabletop sander, with different grit belts
Small drill press
Plenty of clamps
Variety of drill bits and other small bits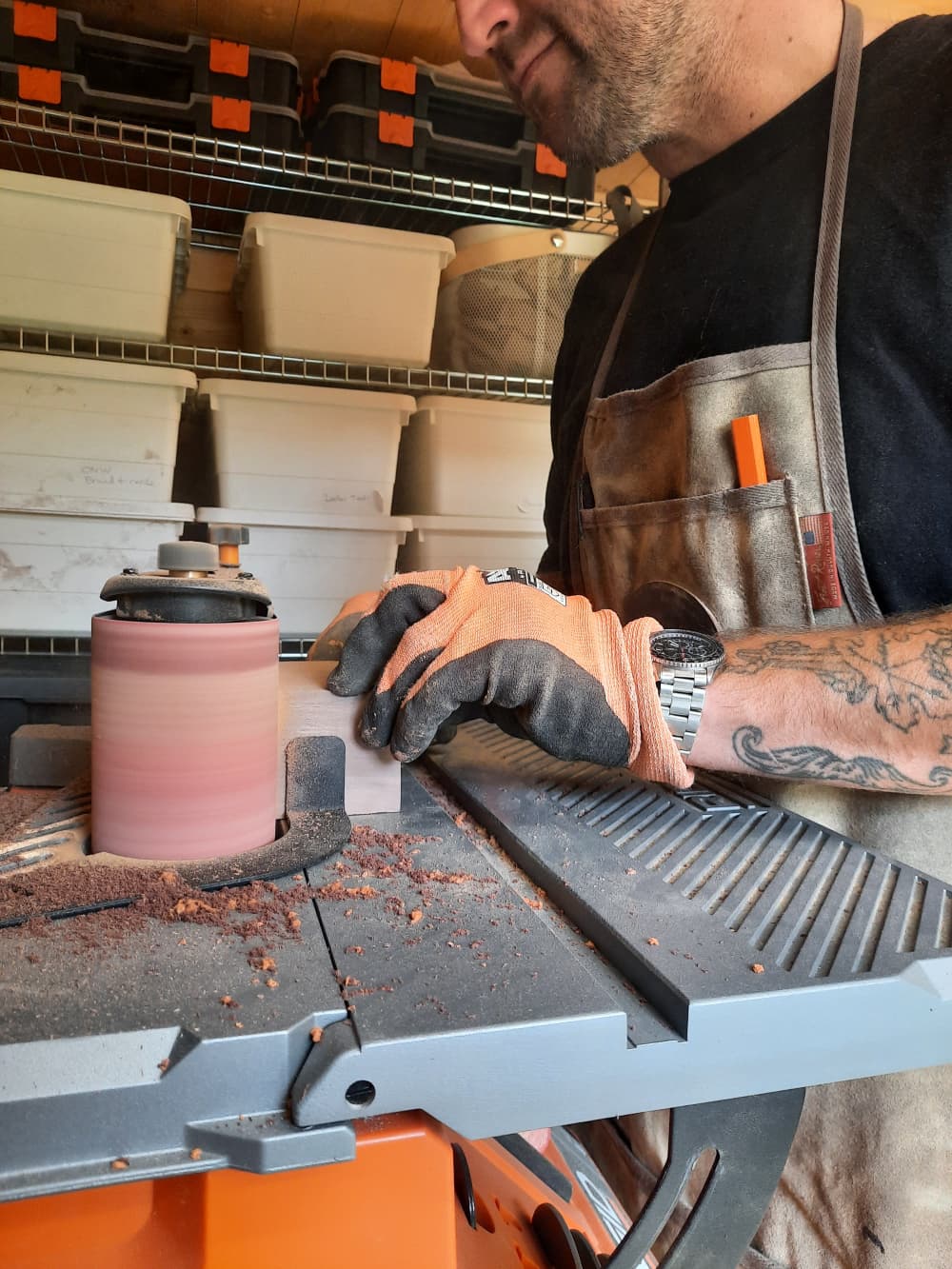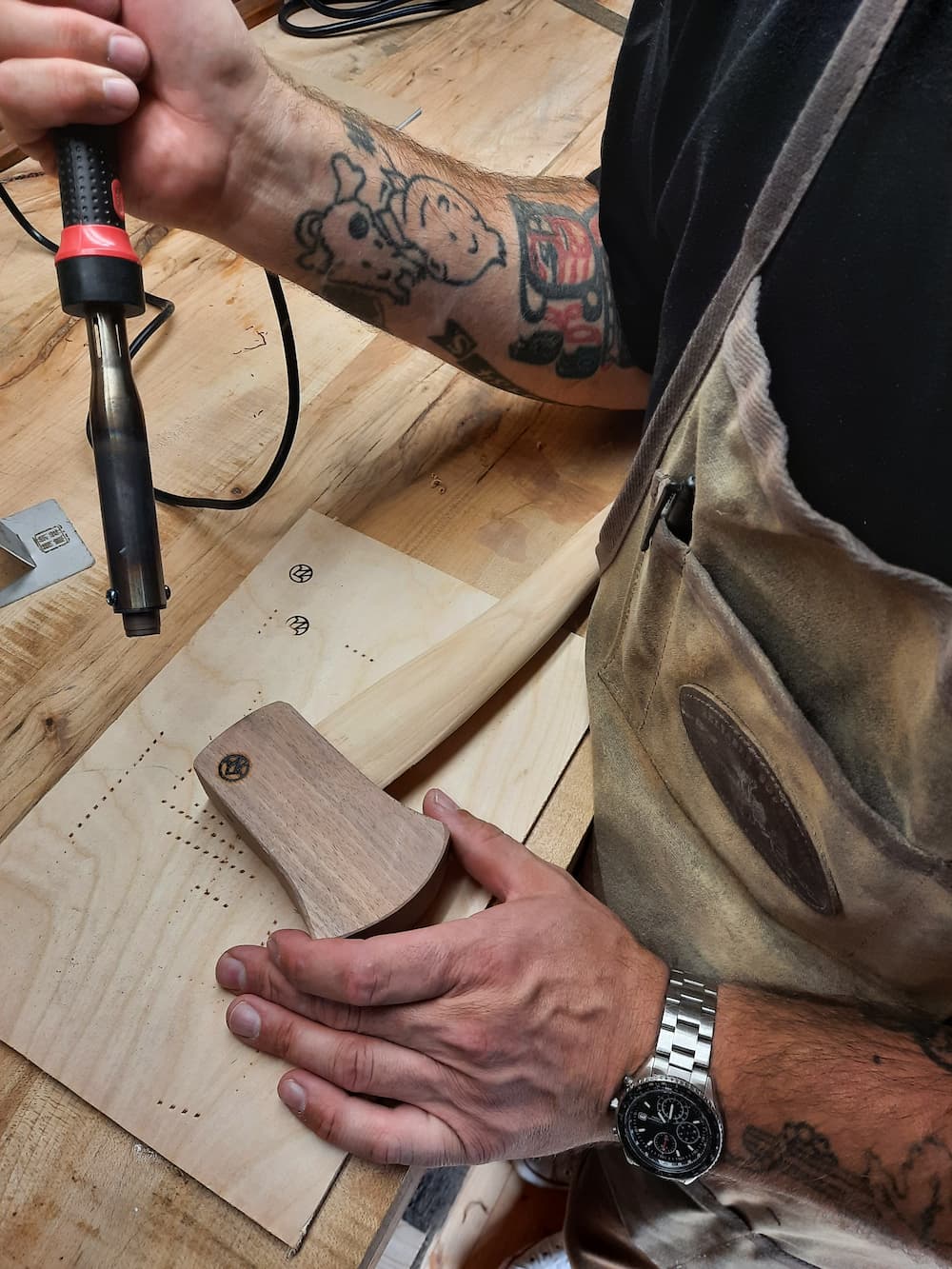 The first few small wooden knife orders were made with a small bandsaw, however the router provided a much more consistent end product and shaved off quite a bit of sanding time. Every knife and axe still get a stout hand sanding before being coated with a blend of local beeswax and pharmaceutical grade mineral oil for an incredible hand feel.
So aside from the tools you're also going to need some shop paraphernalia. I have been a lifetime collector of vintage camping gear and signs. These items tend to fill my shop walls, along with other antique tools and carpentry items and, a few silly knick knacks.
One of the great advantages of having a small shop separate from the house is that I can work late into the night as the distance between shop and home is sufficient. I can also close the doors at the end of the day and within a few steps back in the house ready for dinner or a play around with my son. This is where an often-overlooked tool comes into play…the shop apron. Having a decent apron allows you to jump into jobs no matter how dirty, and then stop whenever and still look reasonably clean and ready for the next household mission.
Frost River Shop Apron Review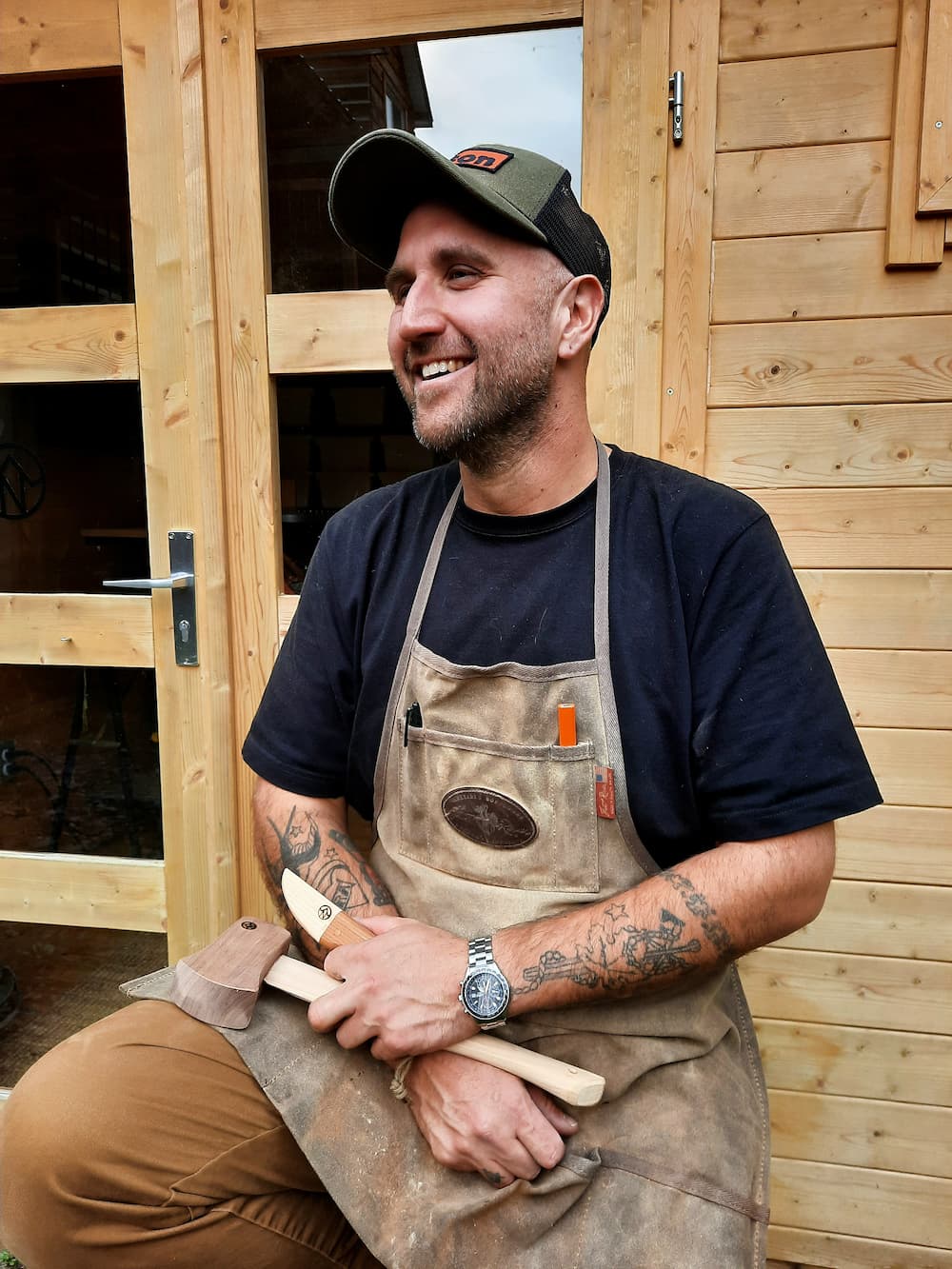 I've been fortunate enough to have been able to put the Frost River Shop Apron through a solid year of wear. Three words come to mind about this apron: tough as nails.
Waxed canvas, heavy thread, and cotton ties are the core materials in this apron; materials that are made to last for the long run. The waxed canvas still looks new on my apron even though it has been through spills and sawdust "attacks". The stiffness of the canvas acts as a layer of thin armour if using your body as a clamp while holding wood to pry or screw through material. The wax repels water and other liquids like a duck's back, keeping your clothes underneath protected so you look fresh for dinner!
The construction is not over complicated with lots of pockets, with one main chest pocket for easy access to pencils and markers, and three more base pockets for utility knives, or small tools.
A good thing to remember is to always have your apron close to the entrance to your shop, so you remember to put it on and take it off accordingly. There is no point in having the apron if you're not going to use it, having it accessible is the key. The classic styling of the Frost River Apron will make you feel like quite the fashionable carpenter. It will never go out of style, as the design is timeless.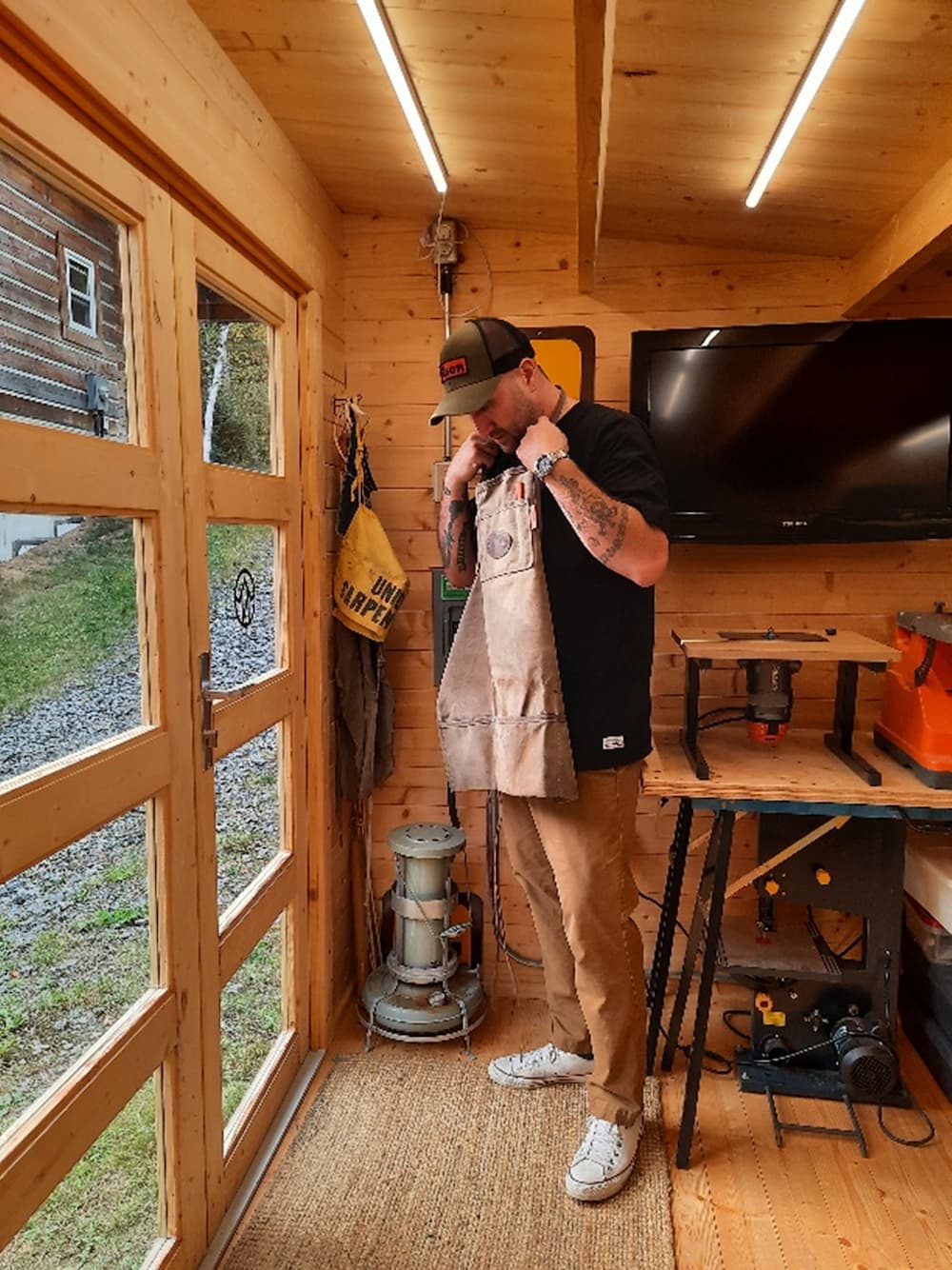 It's funny how life can present opportunities to take the idea of a small Christmas gift for one and open the door to allow your handicrafts to be in the hands of hundreds. I feel honoured to be able to craft small wood toys that are reminiscent of toys of the past. It's great that the tools and equipment needed for a cottage business to get set up can be bought at local outfitters or shops. It is also nice to see companies like Frost River, making quality items for carpenters and other crafters in Canada and the USA.
Builders, and Makers of the world unite!
Shop The Gear
Chris Adamiak
Chris' passion for the outdoors comes from his scout leader father. Having been on dozens of canoe trips from age 7, his love for the woods is deep. As a young adult time was split between paddling Ontario's parks and rivers like the Missinaibi up to James Bay, and writing a blog about traditional outdoor gear and adventures. Wanting to be closer to Algonquin park, Chris and his family took the leap and built a log home on 50 acres in Huntsville, Ontario. His time is now spent homeschooling, exploring in and around the park, woodworking, and collecting anything by Bill Mason.