Mora Garberg Knife Review: Built For A Lifetime Of Service
Ron Breault
|
April 13, 2023
|
Last Updated: April 13, 2023
As any of you who know me would agree, I am very much a "gear head". Whether it be camping or paddling equipment, cameras and lenses, or anything tech related, I'm interested and/or want it!
At one point in my life, knives were very much a part of that gear group. I had all sorts: pocket knives, daggers, hunting knives and machetes. I still have a few of each, but my interest in knives was slowly replaced by other things as the years moved on.
Fast forward to the fall of 2022, and I was out camping with a very old folding "buck" knife that I'd had since I was around 15 years old. I'd found it on a portage in western Quebec, barely sticking out of the mud as I walked, head down carrying a canoe. That knife became my default carrying knife for the next 40 odd years. But I digress…
While setting up for a fire last fall, I made the poor decision to try to split what looked like a soft piece of cedar into a few thin sticks for kindling; this is called "batoning". Well, what looked soft was in fact quite knotty and tough, and on the second strike of my blade with a think branch, the blade broke off at the joint where it connects to the handle. I sat staring in disbelief for a few seconds, absorbing what I'd done; not my finest moment! Not only was my trusty old knife ready for burial, but I needed a replacement.
With so many knowledgeable friends on Instagram, I posted about the incident and requested suggestions on a replacement, noting it was time for a more durable, fixed blade knife.
A repeated suggestion that came up was the Mora "Garberg" Bushcraft Knife from Mora Knives in Sweden. I followed up with my own homework to learn more and came away convinced that the Garberg was a good fit for my needs and the one I wanted.
I reached out to Canadian Outdoor Equipment and soon had a package at my door and a new knife in my hands.
Before I even had it out of the sheath, I could feel my excitement for knives rekindling! This one had a good "heft" and stood out as an impressively "solid" piece of kit. While my initial impressions were very positive, I promised myself not to get carried away with the "new toy" aspect of this tool, and to hold back my enthusiasm until I had used it on a couple of real-world trips. Well, I've used it on three trips now, and feel the time is right to capture my thoughts on it before the upcoming paddling season.
If you're tired of reading and just want the summary: I love it! This is a knife that will last me a lifetime of service. It's amazingly solid, versatile and a pleasure to use and carry. My only regret is that I waited so long to get one.
Details of the Mora Garbeg
When choosing the Garberg, there were two styles of sheath to pick from: one made from genuine leather, the other made from polyamide, a tough rugged plastic. I chose the latter as I wanted something that was easy to maintain and almost indestructible. It also comes with a MOLLE multi-mount for securing the sheath to compatible packs and equipment; not something I currently have a need for, but you never know!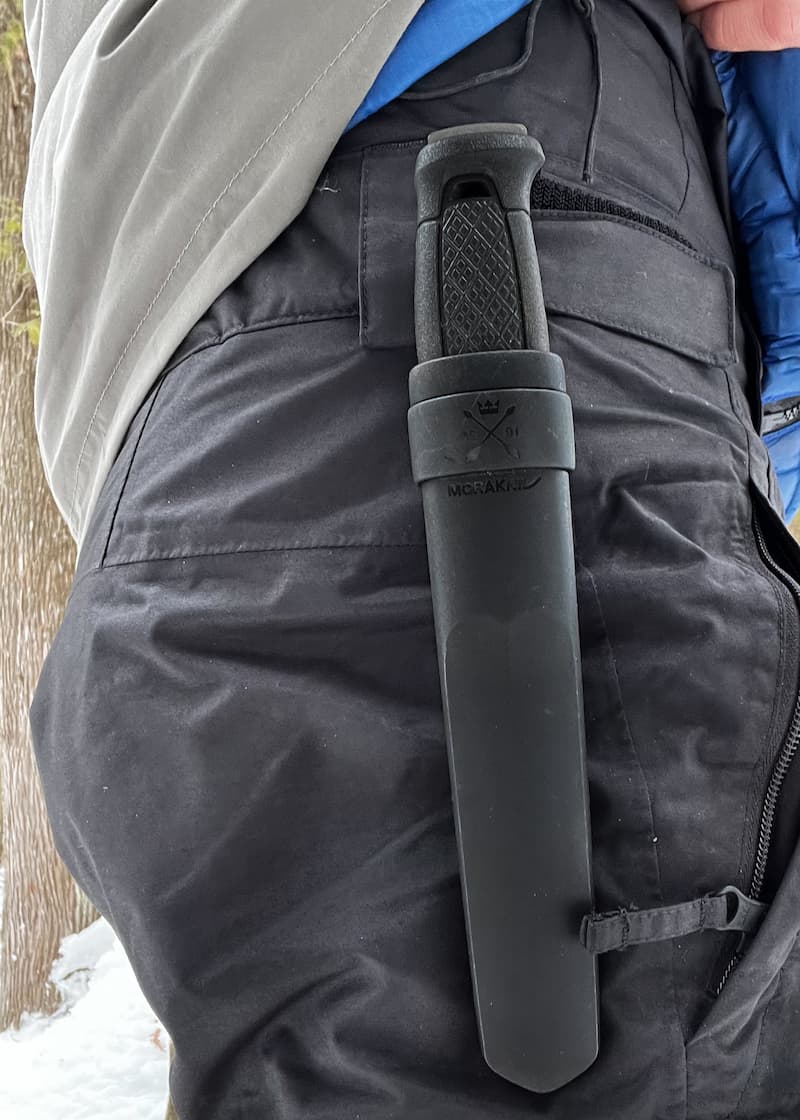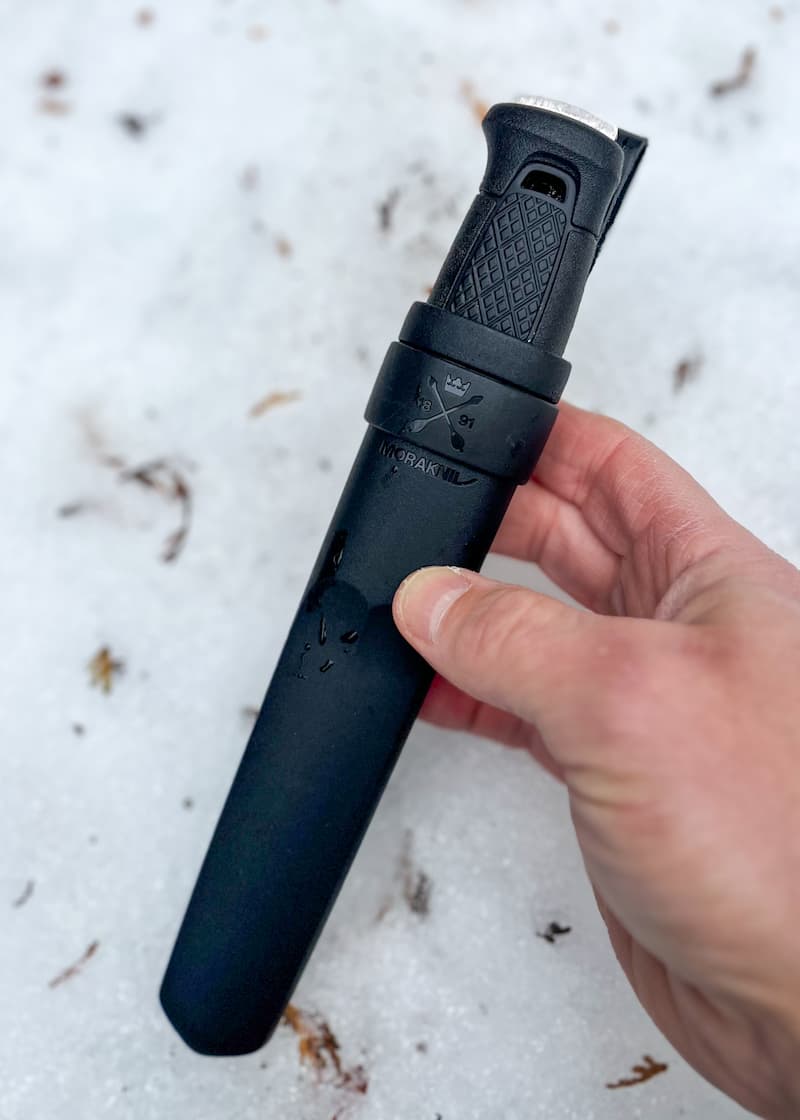 The knife fits into the sheath with a soft but tangible "click". There's no snap enclosure or other mechanism to struggle with to remove the knife. You just need to give it a solid tug to get it out. At first, I was unsure of the security of this system, but am now very comfortable with it; that knife is not coming out on its own.
Another thing I like about this sheath is that the knife can fit in regardless of the direction the blade is facing upon insertion; the stealth is completely symmetric and can be worn on other side of your body, so it doesn't matter if you're left or right-handed.
When winter camping, I sometimes wore the knife around my neck. It's not designed to be a neck knife, but it wasn't uncomfortable with this sheath, and the ease of access was worth it.
The blade itself is 3.2 mm thick and 229 mm long, made of unpolished stainless steel. There's also a black carbon steel version if you prefer that type of finish. Regardless of finish, the spine of the blade (the flat top) has a sharp, defined edge suitable for use with a ferro rod for starting fires or giving a spark to light your alcohol or other combustible fuel stoves. I use a ferro rod and my Garberg worked like a charm with it.
I should also mention here that when I first took the knife out of the box I couldn't believe how sharp it was! I've heard the expression "you could shave with it" before but have never personally experienced that in a knife. Well, I'm spoiled now and there's no going back; I now put in more effort and time sharpening my knives knowing what a difference a truly sharp blade makes!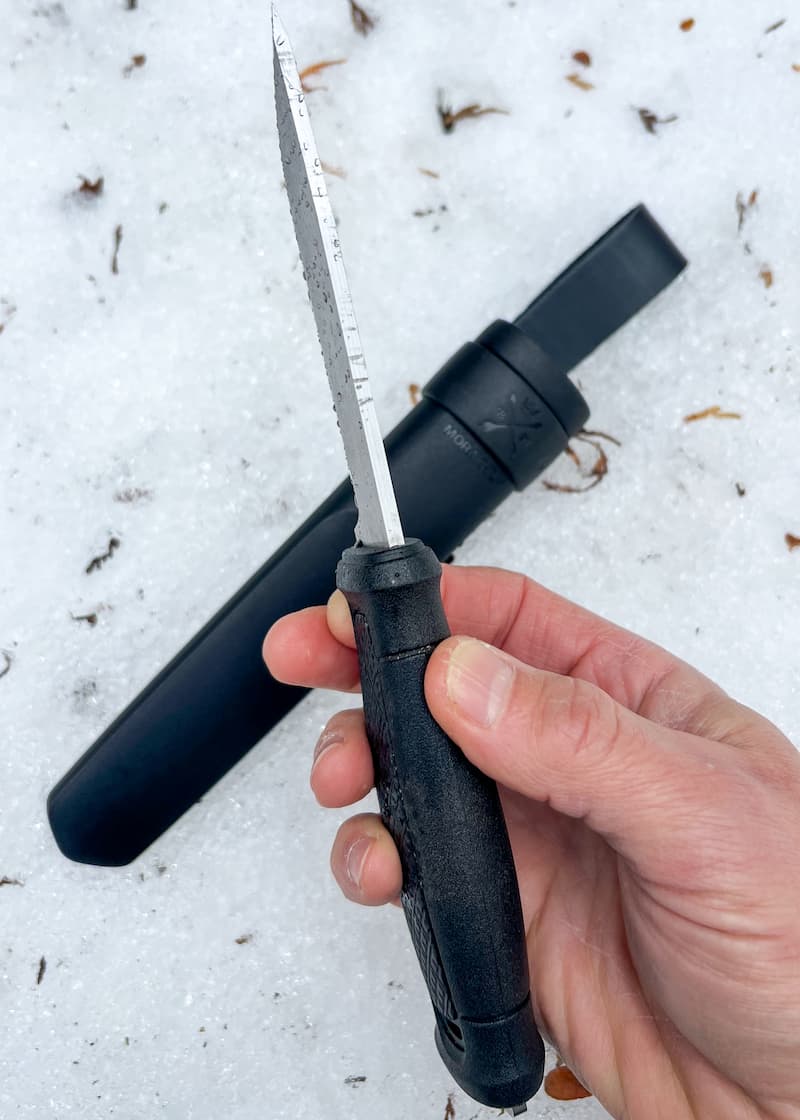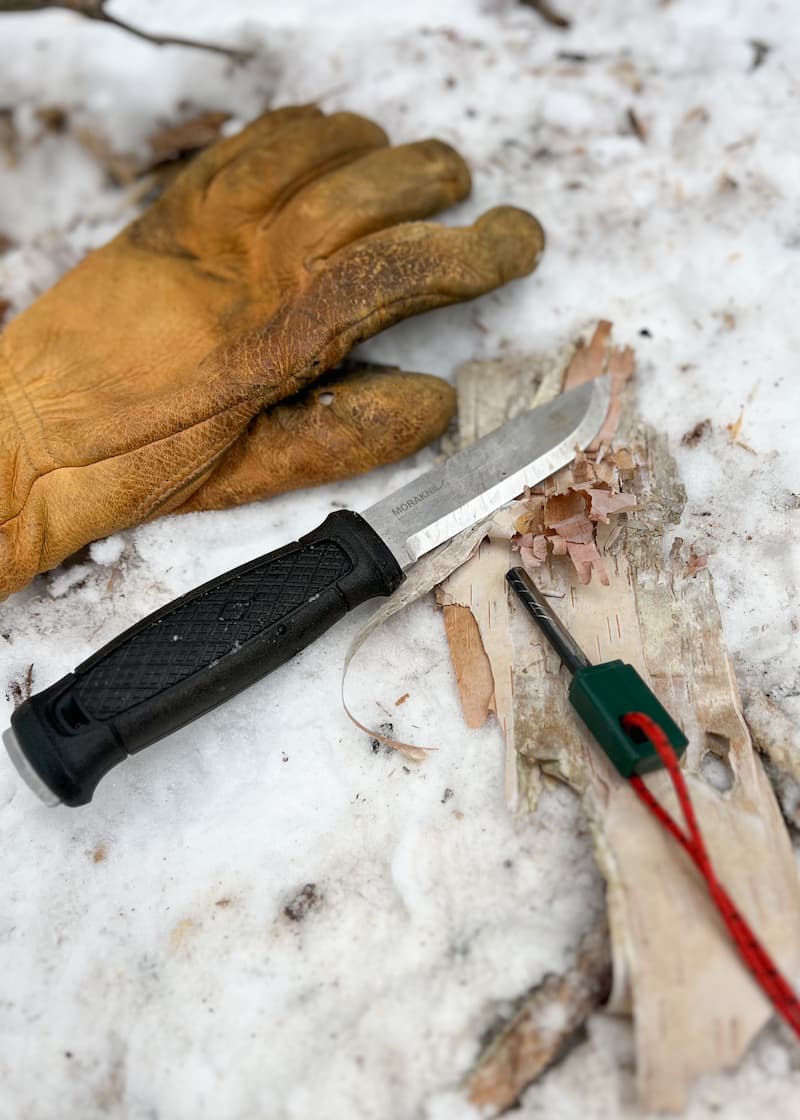 Probably the most important feature of this knife, especially considering how I got here, is that it's a full tang knife, meaning the knife is a single piece of metal from tip to tail (242 mm in length), with the grip being made from material wrapped or fused to that metal. i.e. There is no way for the knife blade to separate itself from the handle; the underlying "foundation", the metal, is one single piece. This makes the knife very strong and unbelievably durable, easily withstanding pounding on with a thick piece of wood when batoning, something you'd never try with a folding knife, right?!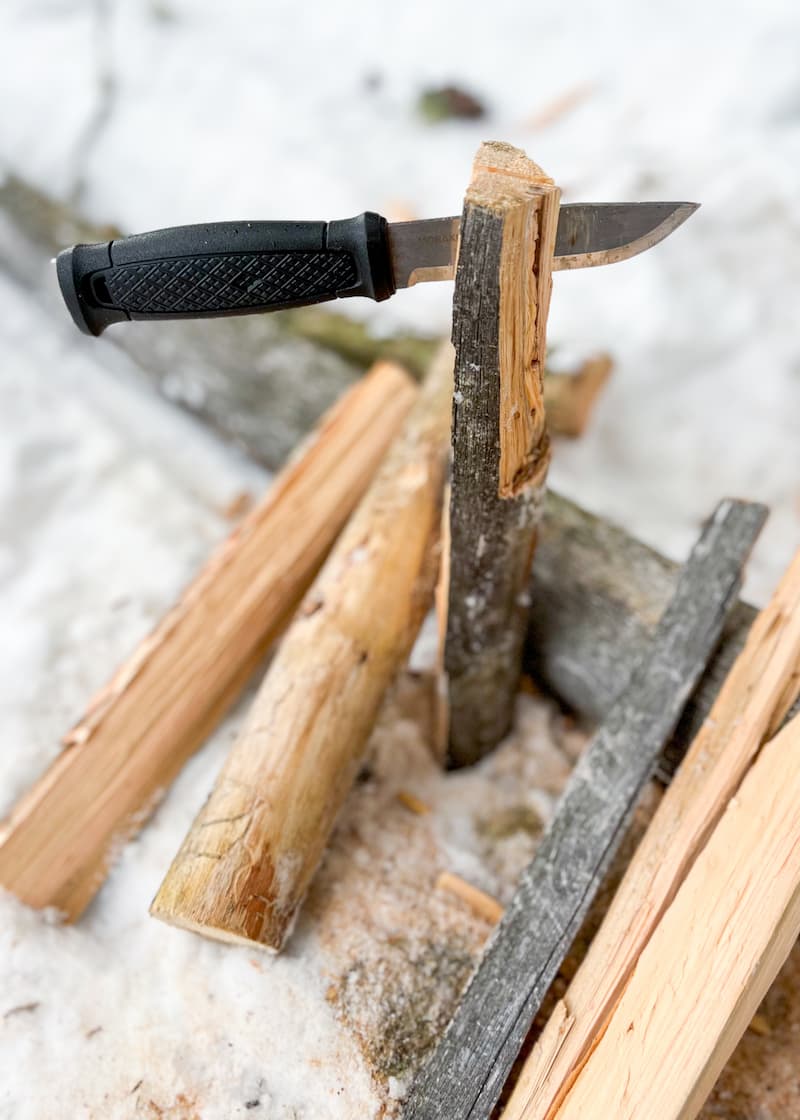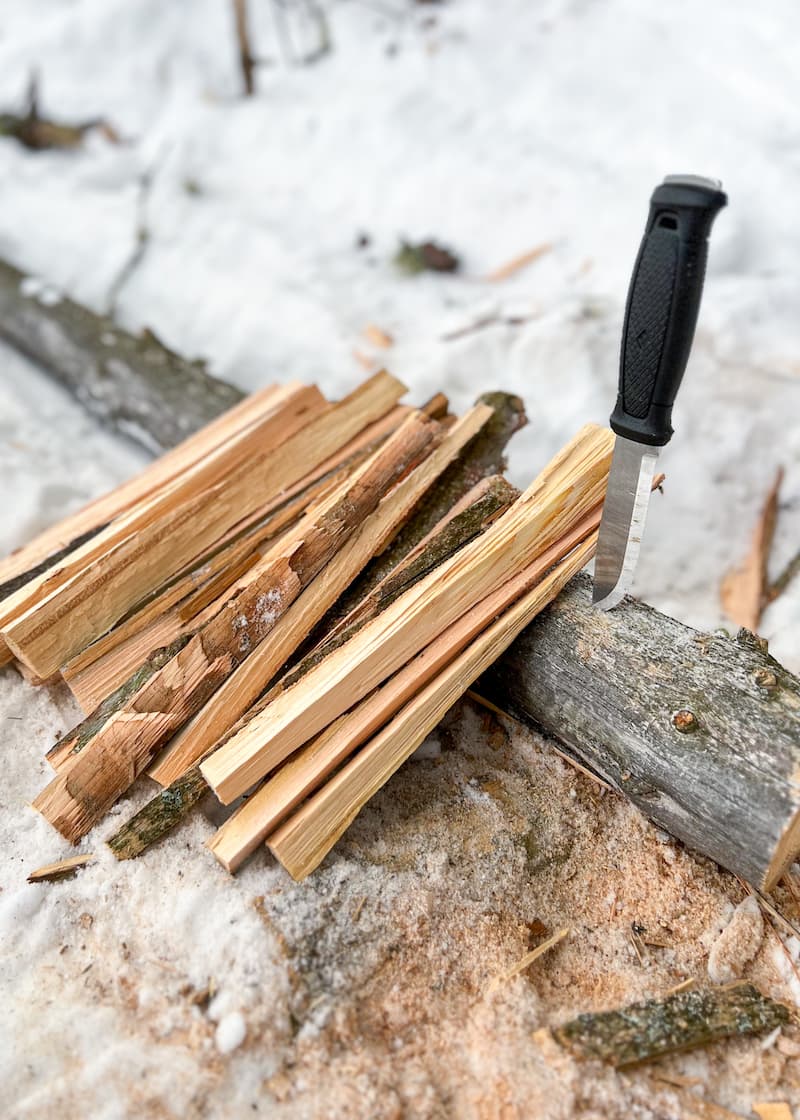 The handle on the Garberg is made of the same tough material as the sheath I chose, polyamide. I find it comfortable, non-slip, and it has a bit of a flare at the ends to keep your fingers where they need to be.
Since I've had the Garberg, I've used it for all sorts of day-to-day camping needs: making tent stakes, starting fires, batoning deadwood, cutting up my dinner steak, etc., pretty much everything you do on a trip. I hope to add filleting fish in the weeks ahead!
Someone asked me why I didn't get a more unique knife, or one with a beautiful finish or handle. The simple answer is that I wanted a basic knife, made for working that requires little maintenance other than sharpening and doesn't cost a fortune. I can always get another knife that is more of a show piece, but then I'd worry about losing it or damaging it in some way. I think I'd have to try really hard to damage this knife, and if I did, I can replace it for the cost of a few good meals out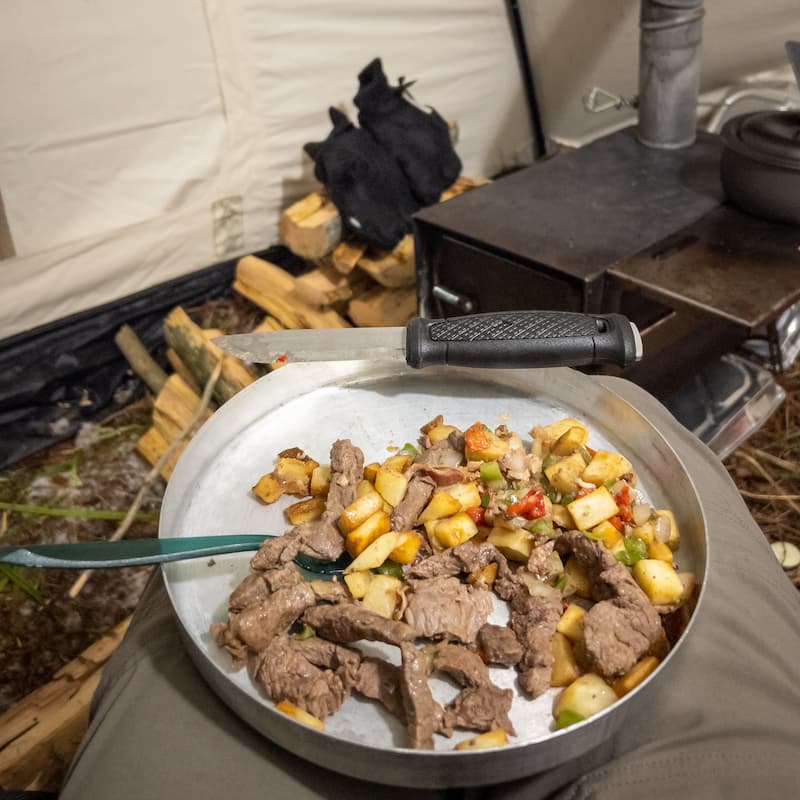 If anything I've described herein fits your needs, I'd highly recommend you get yourself a Mora Knife Garberg; you'll be glad you did!
Shop The Gear
Ron Breault
Ron spent most of his life in the Montreal-Toronto-Ottawa corridor, providing him with great access to some of Canada's finest paddling destinations. A lifelong photographer, Ron's favourite subjects are landscapes, wildlife, and anything involving paddling, camping, or backpacking. He recently purchased his second Swift Canoe, which resulted in his nickname, Swifty Paddler. In 2021, Ron stepped away from a senior management position in the software industry to pursue photography full time. He's now working at growing his practice. Ron is married to the love of his life, has two adult daughters, and resides in Ottawa, Ontario.