Savotta Water Carrying Bag: Strength And Incredible Packability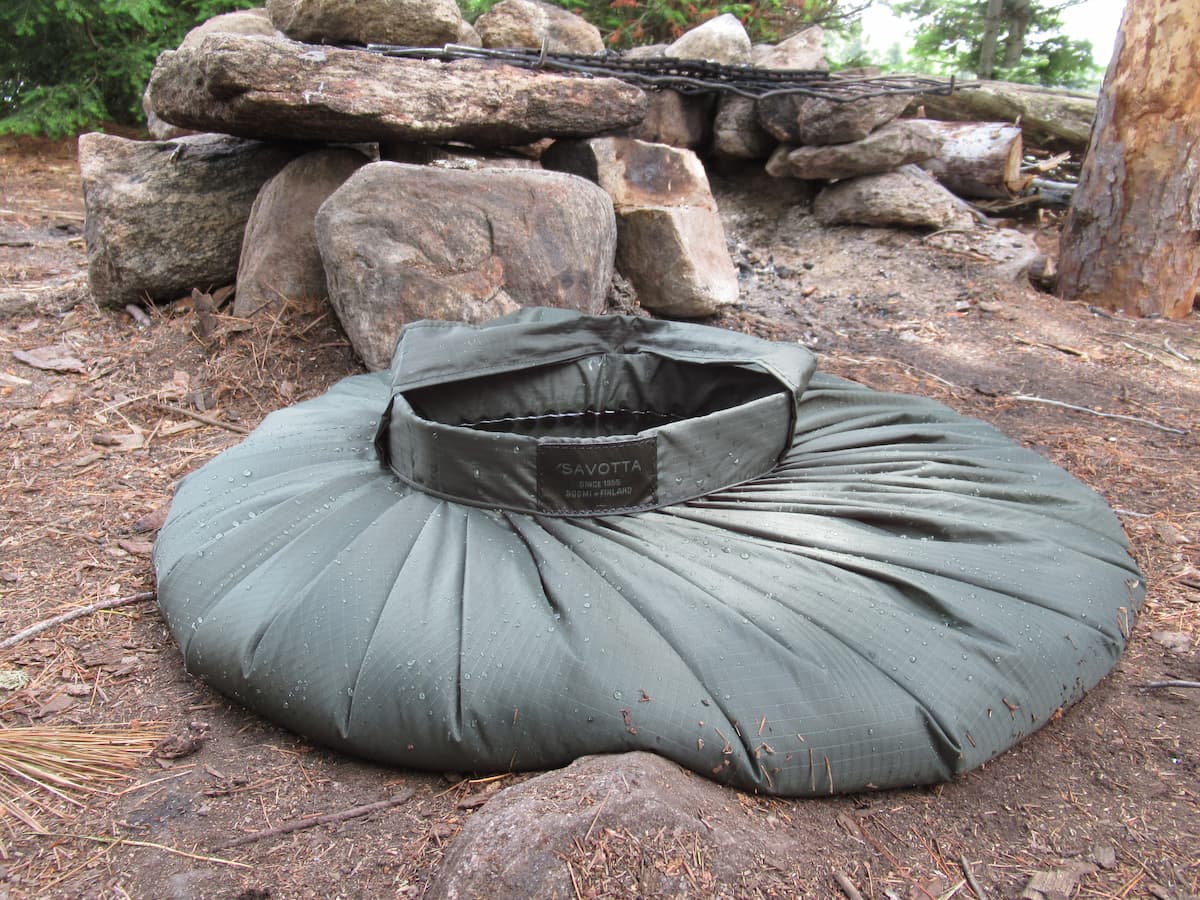 A foldable water carrying bag has long been a part of my equipment setup. I think it's an incredibly useful and versatile item to have at hand while spending time outdoors. When a client gifted me a Savotta Water Carrying Bag in the spring of 2022, I decided to change out my old bag for this new Finnish model and see how it would hold up in the field.
Since I've put the new bag into service, it has accompanied me on several 10 day guided canoe trips, multiple outdoor educational training programs and camping activities running well into the winter months of 2023. While I've used my old water carrying bag for multiple field applications in the past, this particular model from Savotta has so far impressed me with its strength and incredible packability, while only weighing 85 grams.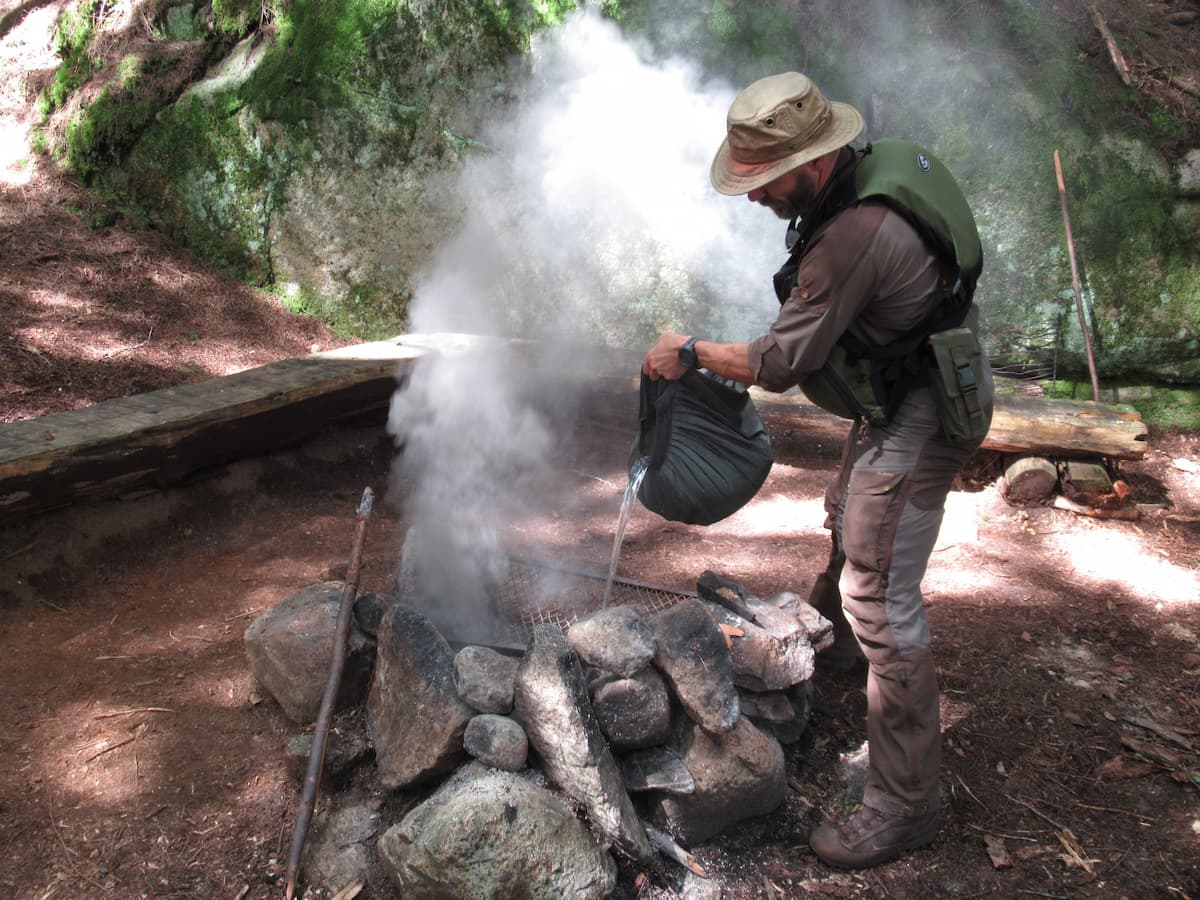 Features of the Savotta Water Carrying Bag
The bag features a single piece seamless construction and is manufactured from lightweight 70D ripstop polyamide nylon with a polyurethane coating which makes it waterproof. Like other lightweight nylon materials, this bag is similarly susceptible to punctures, abrasion or heat. Being observant when putting a full water bag down on campsite surfaces and being mindful around heat sources like open fires and wood stoves will be beneficial to the integrity and longevity of the water bag. I look at mine as a multi-purpose item that can carry and store many other things beside water and this means that I'm mindful of what I put in the bag and how I subsequently handle it.
Although the material used by Savotta is lighter and less robust in comparison to my old water bag, it has held up really well so far whilst I didn't exactly give it the white glove treatment. The weight difference between the two bags is rather negligible but the ability of this Savotta Water Bag to 'stand' or better lay on its own without the need for support, is an added advantage I found to be very handy. You don't really need to find a tree branch strong enough to hold a full bag of water up, if that's what you need.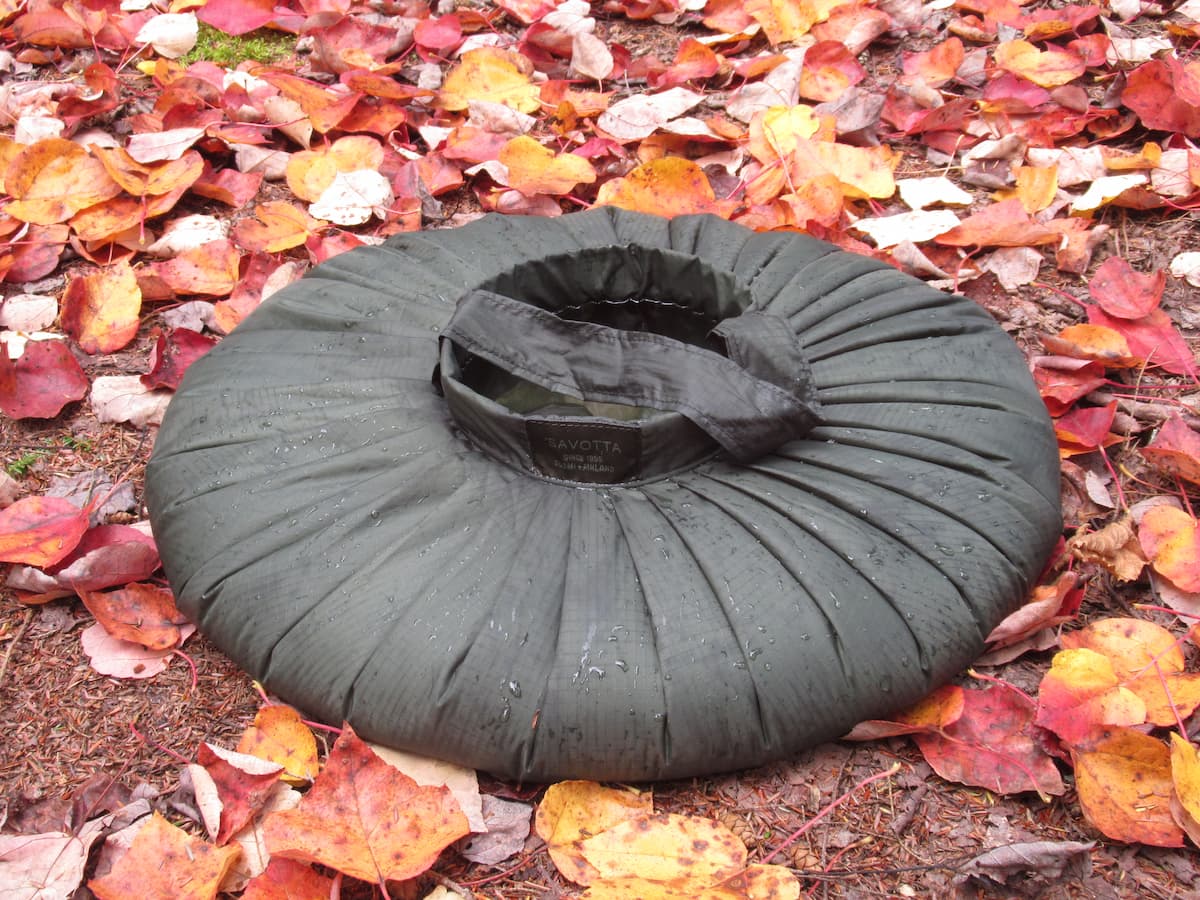 The Main Use of the Water Bag
I mainly use my water bag to extinguish a campfire easily and efficiently when needed. Although cooking pots can be used for the same purpose, I really like to use a bag. With a capacity of 12 liters, it holds significantly more water than several of my cooking pots put together. This makes it easier and less time consuming to douse the entire fire with just one haul, especially when the location of your fire or fire pit is some distance away from the water source. Even when the ashes are not cool to the touch, by the time you haul a second bag of water to your fire site, somewhere between 20 and 24 liters of water should get the job done. This of course depends on the size of the fire and the duration of the burn but it sure beats hauling that amount of water with Billy cans or other cooking pots.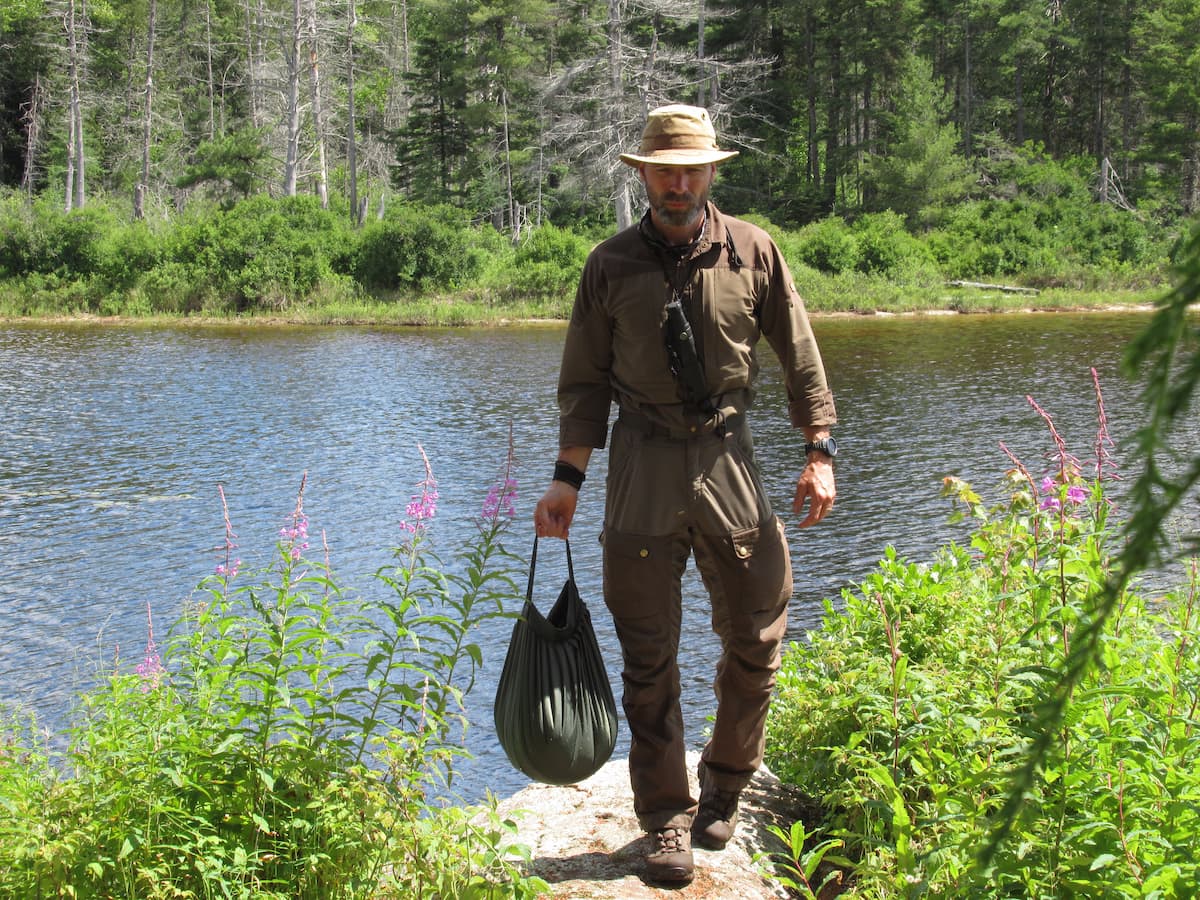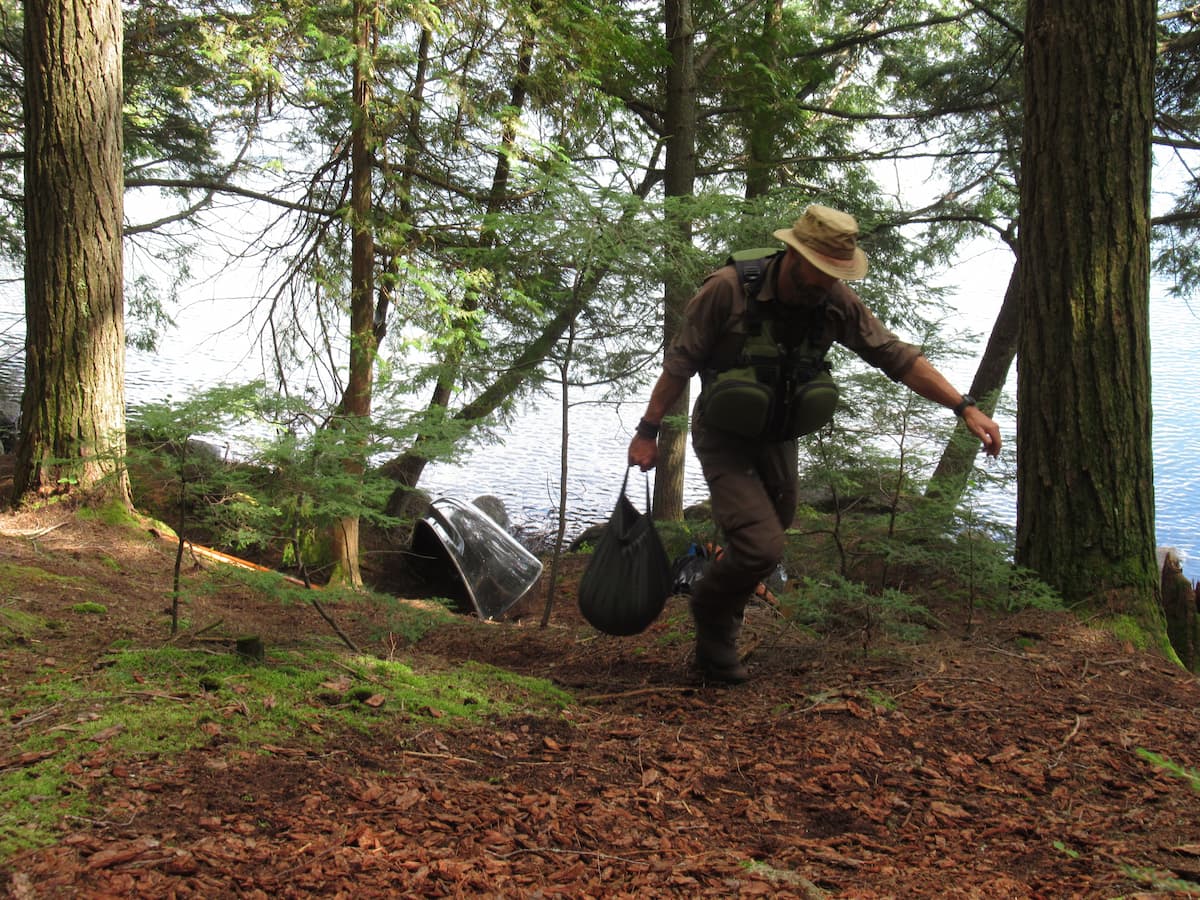 Storing your Savotta Water Bag
This simple and highly packable water bag doesn't take up a lot of space in your outfit either. It fits neatly in pockets, pouches, and pots because of the non-rigid nature of the fabric and how it is designed. I've stored my water bag in Billy pot dishes, side pockets of waterproof canoe bags, Savotta trinket pouches and Molle pouches for backpacks. I love how easily this bag folds down. It can take on any shape and fit in a wide variety of storage pouches.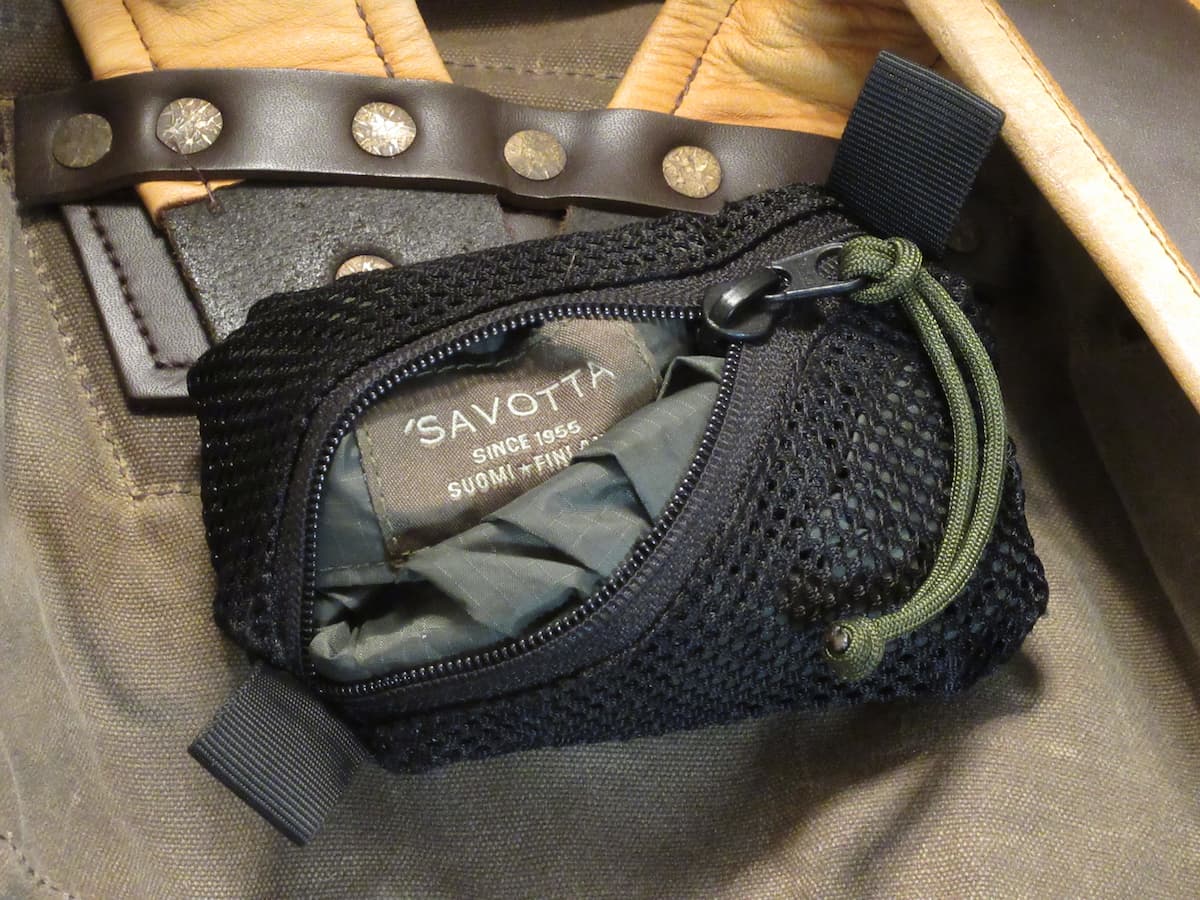 When you regularly spend time travelling on the land, you develop a routine with regards to making and breaking camp. Those little things you do to increase efficiency and organization. During canoe tripping adventures, I always aim to break camp just after breakfast, having all my personal gear and group items packed and ready to be loaded into the canoes. Next, as one of two final tasks, I go about extinguishing our morning fire just prior to getting on the water. This approach is helpful in keeping things running smooth, even on those slower than usual mornings when clients want to enjoy an extra coffee or sit around the fire a bit longer.
Since the Savotta Water Carrying Bag is the last item I use in the process of vacating a campsite, I want it to be easily accessible while all other gear is organized and ready to go without having to keep a bag open or keep equipment out because it has to fit in a certain way. The bag fits perfectly in the small mesh pocket on the side of my canoe pack and this makes it is easy to grab, use and put back.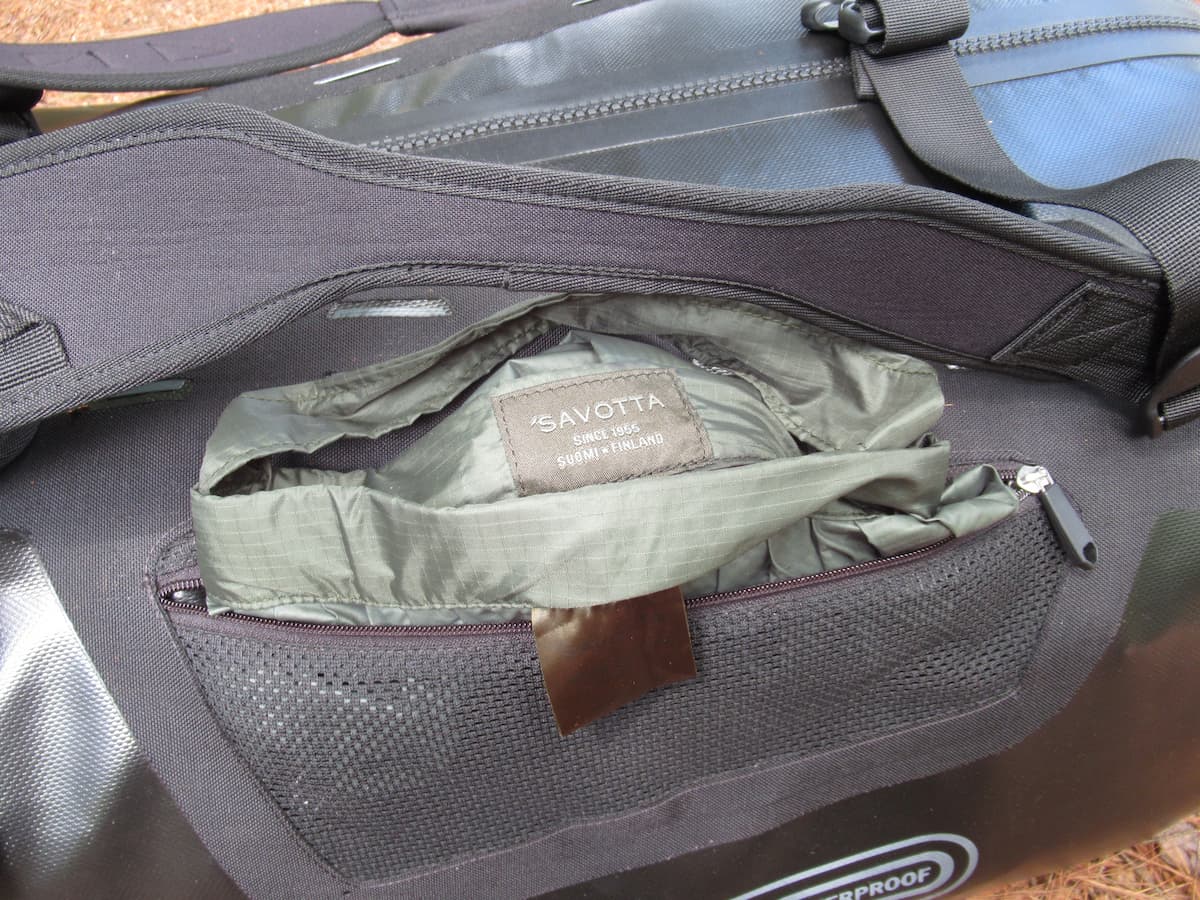 The same can be achieved with hiking and backpacking equipment. Depending on the style of pack, a small Molle pouch holding the water bag can be attached to the outside grid, or the water bag can be stuffed into an exterior mesh pocket. Besides being easily accessible, the water bag will also start to dry out and excess water can escape through the mesh or drain hole. I turn my water bag inside out after use and swing it around to get most of the excess water off before I store it for travel. Just remember to take the bag out in camp or at home so it can dry out completely when not in use.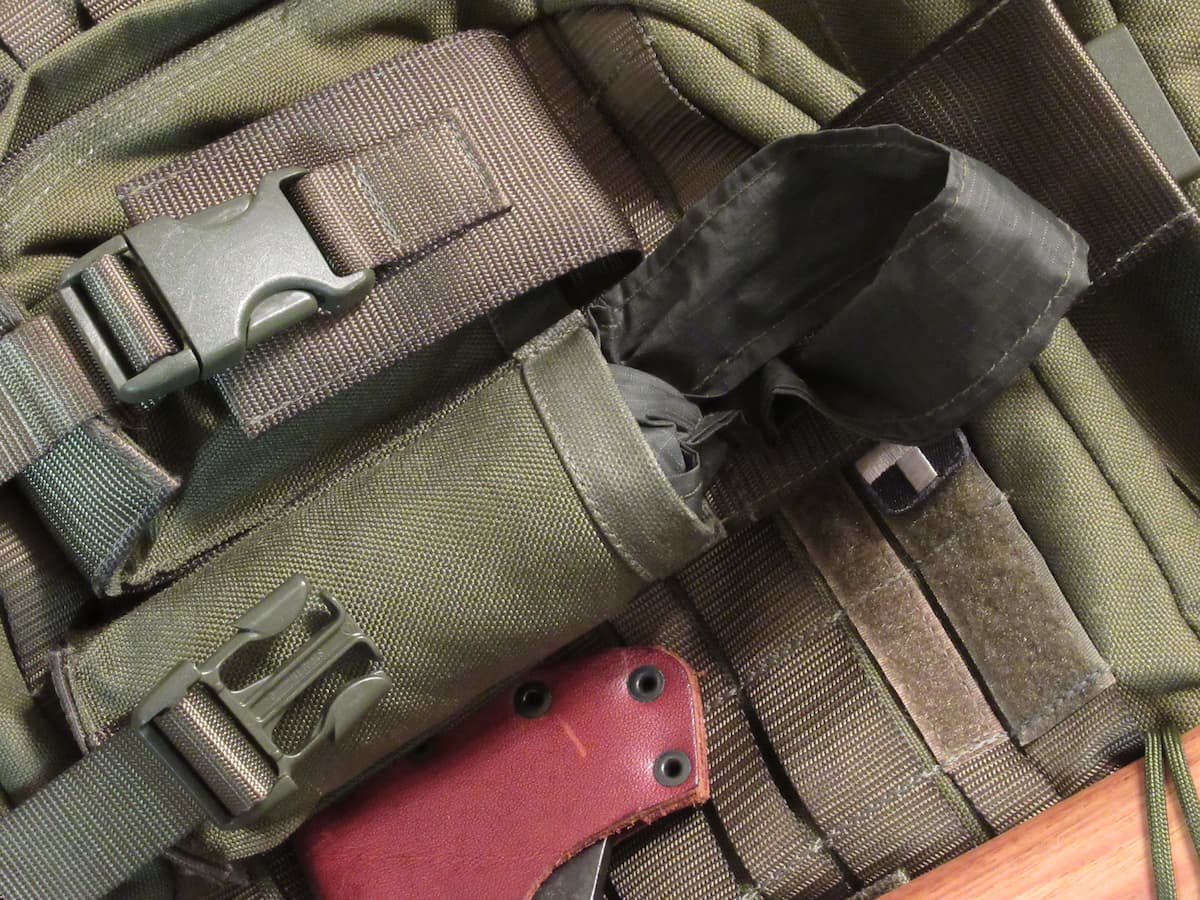 Easy access to water supply and filtration system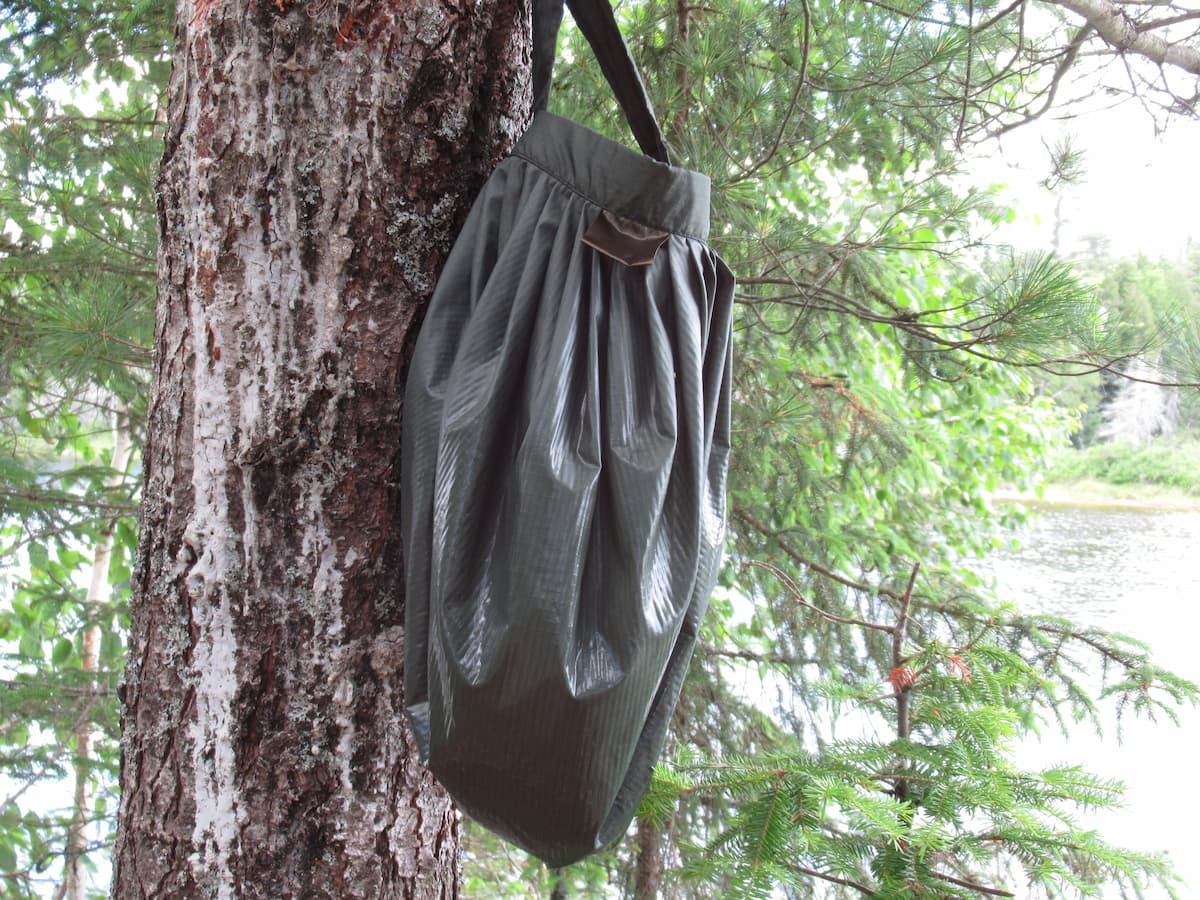 Keeping water readily accessible for hydration and cooking purposes is another task the Savotta Water Carrying Bag can easily facilitate in camp. With its 12 liter capacity and sturdy carrying handle, the bag can be filled and hung up to be used with manual water filtration devices. This is especially handy if your camp is positioned away from direct water access or when you are camped near shallow sandy beaches and using micro filtration pumps to filter your water for drinking. Once you find or make a spot to retrieve water with a pot to fill up the water bag, you can carry a good amount of water into camp in one go. I know a lot of people prefer the gravity feed water filtration systems these days but I have used a MSR Miniworks my whole life and it works great in combination with this water carrying bag. Fill the bag, hang it, and filter the water as needed.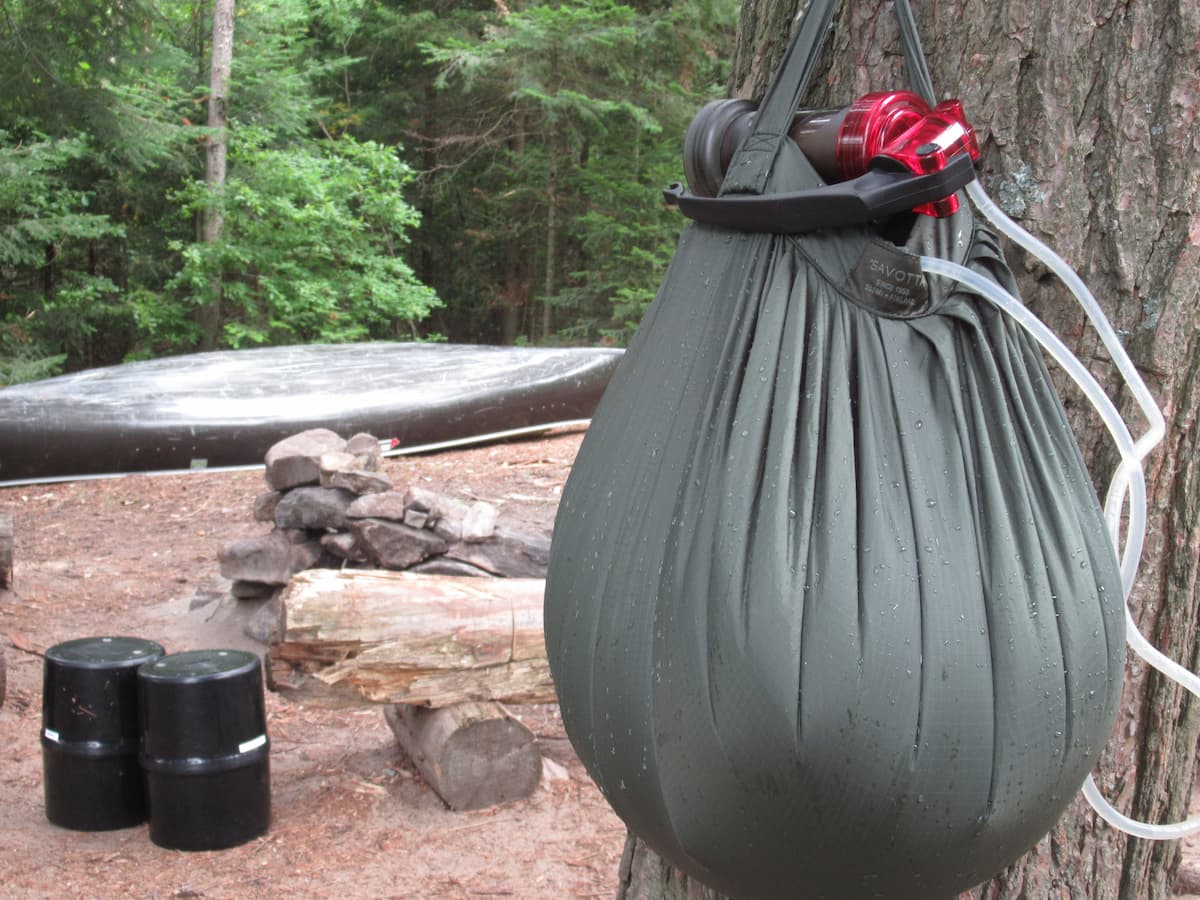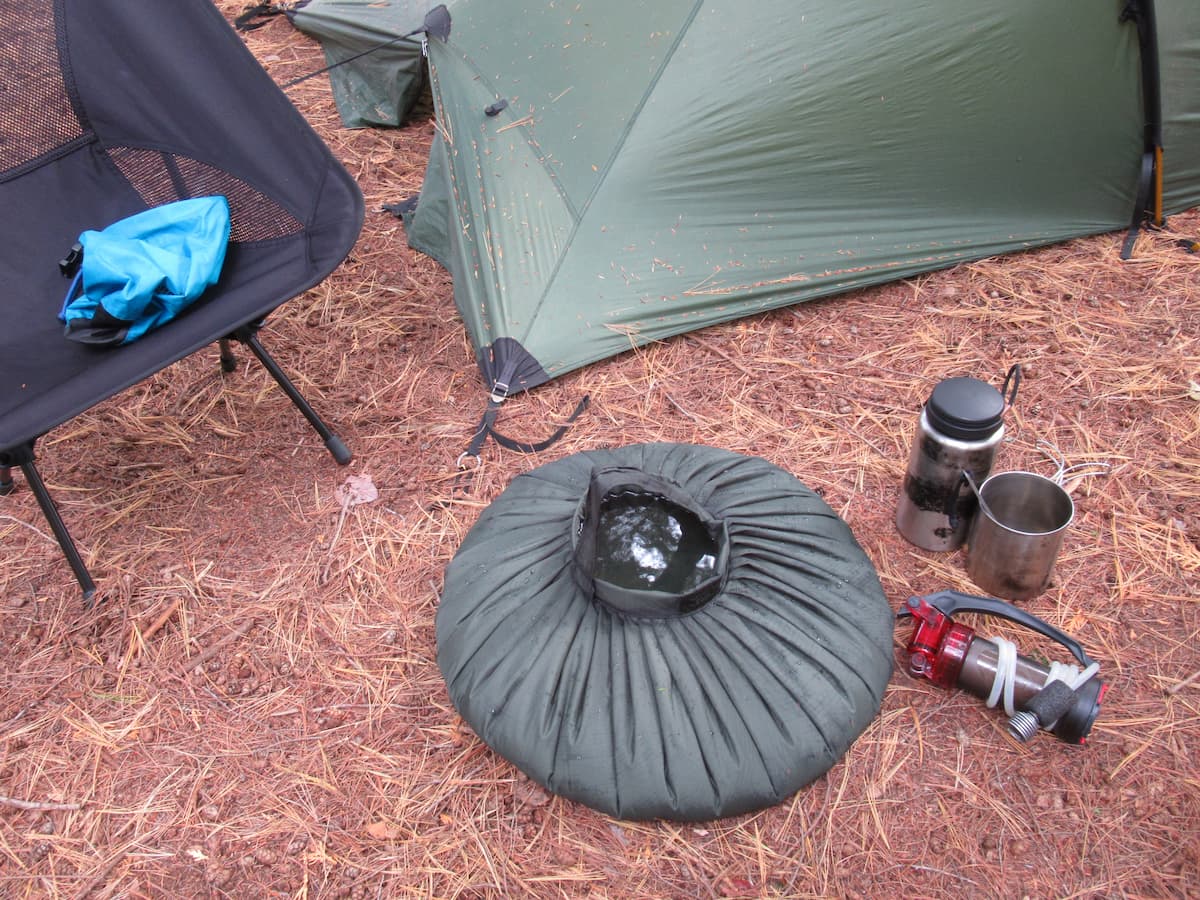 This concludes my thoughts and experiences with the new Savotta Water Carrying Bag. In my opinion, this is another high-quality product from this Finnish gear and equipment manufacturer. It really served me well so far. I absolutely love how strong, packable, and versatile this water carrying bag is, which is backed by a 5-year material and workmanship warranty.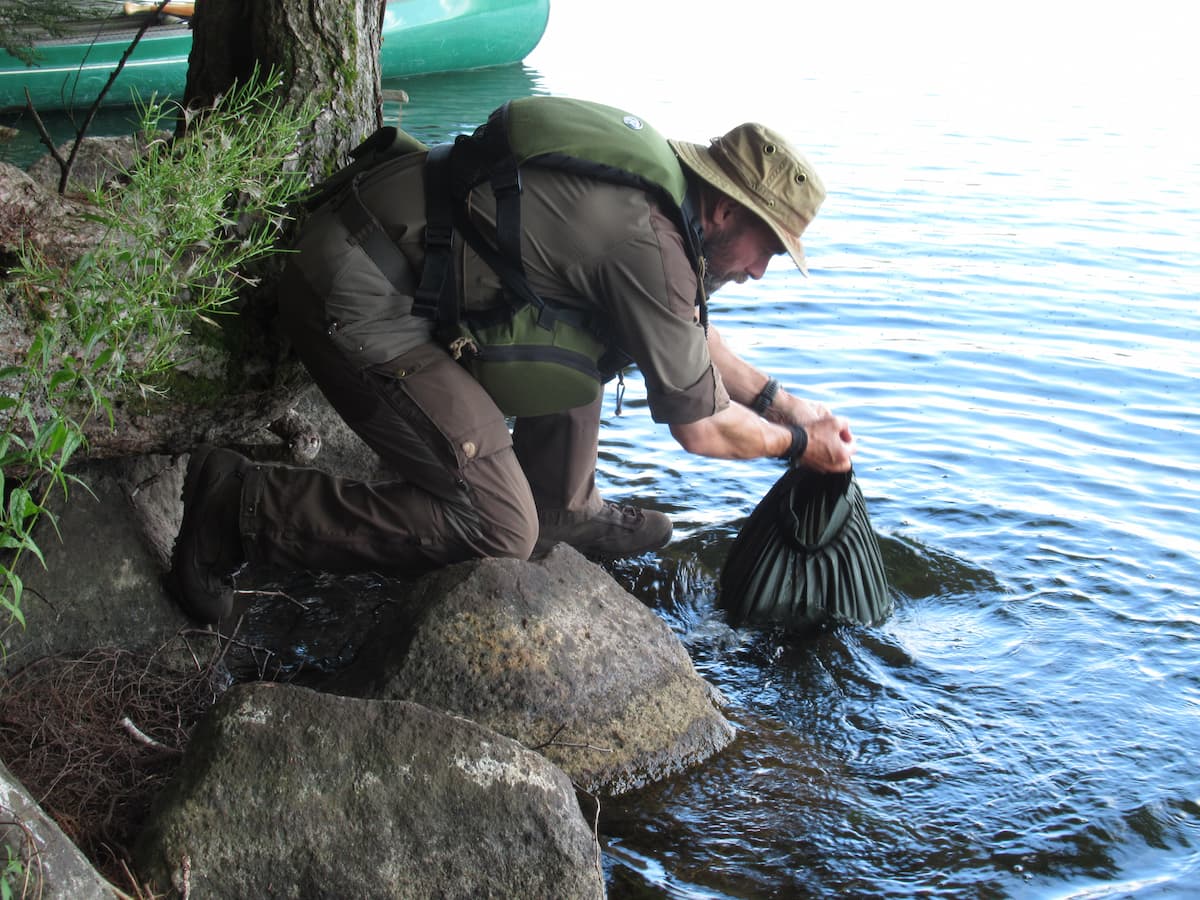 I also believe that carrying a water bag to extinguish campfires in the outdoors is a smart move. Sometimes the inconvenience and impracticality that may arise from having to use pots to go and put out campfires may lead to poor judgement and ill-conceived measures. This can result in only partially extinguished fires which may still have hot spots or hot embers deeper down. When it comes to extinguishing our campfires in the outdoors, it's a lot safer not to leave things to chance.
Shop The Gear
Peter Desmet
Peter grew up in Belgium and moved to Ontario in 2011, where he became a Park Warden in the interior of Algonquin Park. Having a keen interest in outdoor adventure from a young age, he attended numerous courses and programs, allowing him to safely hike, climb, canoe and undertake winter expeditions in Europe's wild places. His hunger for knowledge led him to become a certified survival instructor in his mid-twenties and more recently, he started his own outdoor school. Peter knows what he knows and enthusiastically shares this, knowing he too will forever be a student of nature.