Ivanhoe Of Sweden Vs Woolpower
Tim Foley
|
October 3, 2023
|
Last Updated: October 12, 2023
Both Ivanhoe of Sweden and Woolpower produce their wool garments in Sweden, so why would someone choose one over the other? The purpose of this blog post is to explain the similarities and differences between the two product lines, and provide information to assist with selecting the product that best suits your preferences and specific application.
Ivanhoe
Woolpower
Country of Origin
Sweden
Sweden
Year Founded
1946
1969
Family Business
Yes
Yes
Certifications
BlueSign, FSC, NLS
Oeko-Tex
Wool is mulesing free?
Yes
Yes
Washing Instructions
Machine Wash with Reduced Spin Speed
Less than 30°C
Machine Wash
Up to 60°C
Drying Instructions
Dry Flat
Machine Dry or Dry Flat
Material Weights (Base)
160 g/m²
180 g/m², 200 g/m²
Material Weights (Mid)
400 g/m², 450 g/m²
400 g/m²
Material Weights (Jackets)
600 g/m², 800 g/m²
600 g/m²
Material Weights (Socks)
Lightweight, Trekking, True Class 1 Compression
Liner, 200/400/600/800 g/m²
Design
Many styles, colors, textures and patterns. Options available with pockets and hoods.
Minimalist with focus on function and durability. Small number of styles and colors. No pockets or hoods.
Ivanhoe of Sweden is a family run business that has been making wool garments in Sweden since 1946, and today is helmed by the third generation of the family. Ivanhoe's dedication to sustainability is paramount in all aspects of products and design: from BlueSign yarns and synthetic fabrics, to mulesing free merino wool, to FSC certified tags and Jacron (vegan leather) accents, to their NLS (New Level of Sustainability) line of wool garments which uses zero dyes, zero chemicals, zero plastics, and is 100% natural, biodegradeable, mulesing free, and renewable.
Ivanhoe's product lines consists of 100% merino wool baselayers, 100% wool midlayers, jackets, and accessories, as well as wool blends with Tencel (lycocell - made from wood) for a lighter, softer and cooler feel. Ivanhoe also produces wool garments with a Bluesign certified synthetic lining to act as a wind break.
Ivanhoe's garments are highly functional whilst being fashion forward, and offer configurations many customers have been asking for: midlayer jackets with zip pockets and hoods, 100% wool hoodies, and a variety of knitting patterns and styles.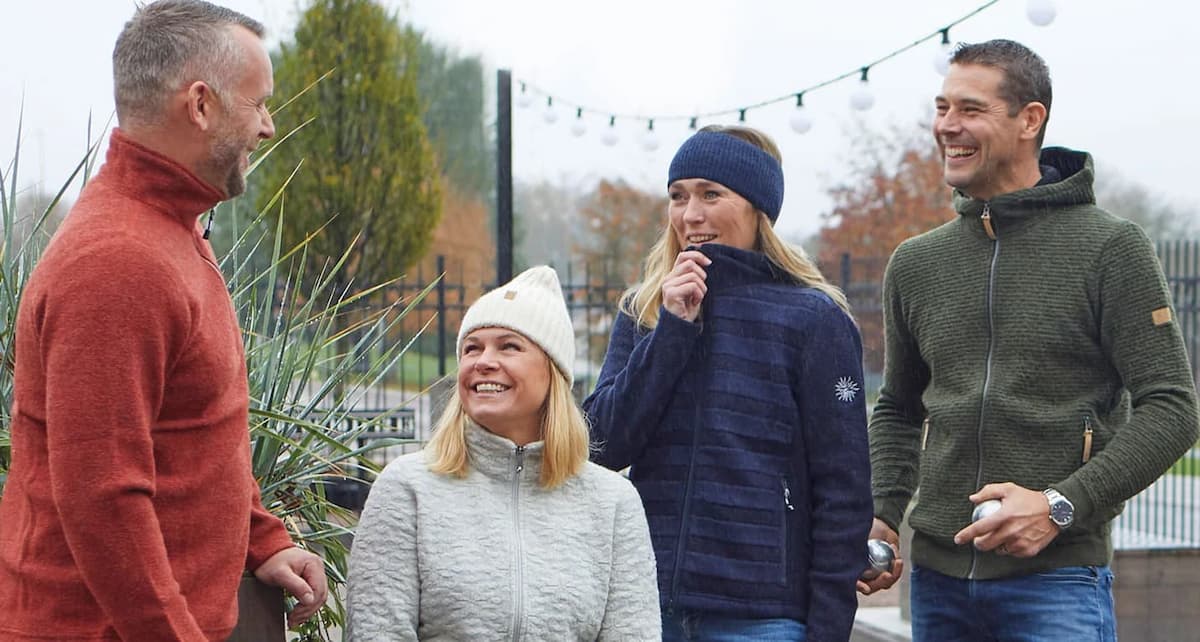 Woolpower is also a family run business that was originally founded in 1969, under the name "Ullfrotté". In the early 70's Ullfrotté worked alongside the Swedish Armed Forces to develop warm clothes for military use - which included being able to be washed in 60°C water, and put through industrial dryers. Taking into consideration wear factors, wicking capabilities, flammability, laundering considerations and heat retention capabilities, a unique blend of wool and synthetic materials was developed along with a terry loop knitting system for maximum thermal protection: Ullfrotté Original.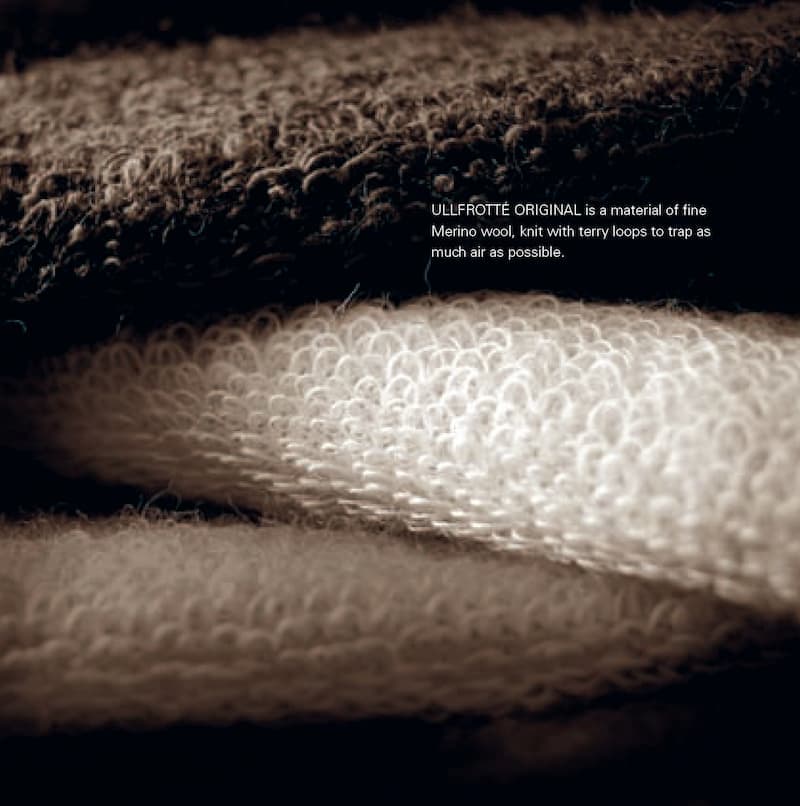 While Ullfrotté changed it's name to Woolpower in 2006, the Ullfrotté Original material continues to be used in Woolpower garments which are certified by Oeko-Tex to contain no toxic or harmful substances. Woolpower uses only mulesing free wool in all of it's garments, and the company's commitment to the welfare of it's employees extends to each of the garments having a tag with the name of the person who made it sewn into it. This ensures quality, and pride of work, as well as better working conditions (seamstresses avoid repetitive strain injuries by working on the whole garment, not just a small subsection).
So why choose one brand over the other?
Both companies offer very high quality, long lasting garments - which brand's garments one chooses boils down to a few considerations:
Materials and Care
Wool products in general do not need to be washed particularly often, due to the self cleaning properties in the cells of the wool fibres themselves. Hanging the garment out for airing occasionally will soon revive it, and have it feeling (and smelling) clean and fresh again.
Woolpower uses blended merino wool (merino wool/nylon, and merino wool/nylon/polyester) exclusively in all it's garments. The addition of synthetics decreases the biodegradeability of the fabric, but provides increased wear resistance. Woolpower also uses a superwash in the preparation of it's material to provide extra durability and wear resistance. Most Woolpower garments can be put through washing machines in hot water (60°C) and through dryers, making Woolpower garments as quick and easy to care for as any other clothes one has.
Ivanhoe uses 100% wool, 100% merino wool, or blended merino wool (merino wool/tencel) in it's garments. Ivanhoe does not use a superwash in it's process, and it's unblended wool garments are 100% biodegradeable. Ivanhoe's NLS garments go even further with no dyes or chemicals used in their production. While Ivanhoe garments can be put through a washing machine, care needs to be taken to ensure it's on the gentle/wool program at 30°C max with a reduced spin speed. Ivanhoe garments should not be put in a dryer, but instead dried flat.
Material Weights (Thickness):
Both companies offer garments in a variety of material weights (thicknesses). Ivanhoe's 100% merino under layers are approximately 160 g/m² while Woolpower's LITE blended merino garments run approximately 180 g/m². Woolpower offers 200 g/m² base layers (Ivanhoe does not), and both companies offer midlayers at 400 g/m² (Ivanhoe also has offerings at 450 g/m²). Woolpower offers a heavier 600 g/m² mid layer jacket (the heaviest of their garments), while Ivanhoe has jackets at 600 g/m² and 800 g/m². Woolpower offers socks in it's full range of Ullfrotté Original material weights (200/400/600/800 g/m²) while Ivanhoe offers ankle, trekking and true Class 1 compression socks.
Fashion vs Function
Woolpower's focus is on function - informed by Ullfrotté Original's military genesis, Woolpower garments are sparse, and their design minimalist, with little changes in the design or materials from year to year. Jackets are devoid of pockets and hoods, and differences between garments are manifested primarily in colour and material weight.
Ivanhoe comes at design through a different lens, and includes various knitting techniques for various textures and patterns in their garments as well as a wider assortment of wool garments in general (especially for women). Jackets are available with pockets and hoods, and more variations in colours and styles are available.


Our 2 Cents
We don't view Ivanhoe and Woolpower as an either/or proposition, and combining garments and using them in conjunction with each other makes the most sense to us.
Ivanhoe has more offerings for women specifically (wool bras, wool skirts, jackets specifically for women), while Woolpower's range of differing weights of socks used in combination is hard to beat. Ivanhoe's midlayers are available with hoods and pockets, while Woolpower garments can be laundered in a laundromat on the way home from a trip.
Ivanhoe's commitment to sustainability is unparalleled (especially with it's NLS line), while Woolpower's commitment to it's seamstresses is a model for companies worldwide.
The way we see it, you can't go wrong with either brand, and both will serve you well for dressing warmly in cold weather, and providing excellent value for money for many years to come.
Shop The Gear
Tim Foley
Tim grew up spending summers and much of his spare time in the backwoods of Northern Ontario and has been canoeing, camping and hiking ever since. When not running the
Canadian Outdoor Equipment Co.
, you can find him riding his bike, hiking the Bruce Trail, canoeing, or clearing trails, cutting firewood and testing gear out in the bush.