Featuring IPX-8 waterproofing, the Fenix HL50 headlamp has a maximum output of 365 lumens, and can operate on either one AA (alkaline/NiMh/lithium) or one CR123(lithium) battery. In addition to being a headlamp, the HL50 is removable from the headlamp cradle, and can be used also as a stand alone or hand held flashlight - excellent at the campsite for general use.
Features of Fenix HL50 Headlamp
:
Cree XM-L2 T6 LED with a lifespan of 50,000 hours
Uses one CR123A (Lithium) battery or one 1.5V AA (Ni-MH, Alkaline, Lithium) battery - sold separately
Digitally regulated output maintains constant brightness
Fast, convenient all-in-one button switch
Reverse polarity protection guards against improper battery installation
Made of durable aluminum and stainless steel
Premium Type III hard-anodized anti-abrasive finish
Toughened ultra-clear glass lens with anti-reflective coating
Output mode / Runtime CR123 Battery:
Burst: 365 lumens
High: 170 lumens / 3h
Mid: 60 lumens / 9h 45min
Low: 4 lumens / 150h
Output mode / Runtime AA Battery:
Burst: 285 lumens
High: 150 lumens / 3h
Mid: 55 lumens / 9h 45min
Low: 3 lumens / 150h
Dimensions and Weight:  
Length: 2.51" / 63.8mm
 
Width: 1.26" / 32mm
 
Height: 1.18" / 30mm
 
Weight: 1.83oz / 57gm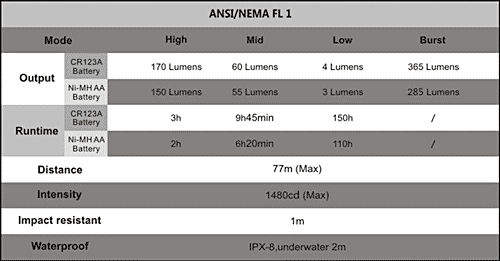 Fenix HL50 Headlamp/Stand Alone Flashlight Reviews
5.0 star rating
6 Reviews
Excellent Quality
Review by Jocelyn on 2 Feb 2020
review stating Excellent Quality
I purchased a headlamp each for my brother and sister-in-law because during a visit I noticed they were having problems with the ones they had. They'd already been through several. They are delighted with their Fenix headlamps. First thing my brother said was that it was so lightweight he wouldn't even know he had it on while he was running. Second thing he said was, "Wow, it's all metal!" Years ago I'd read a New York Times review about flashlights. Fenix were the best so I hoped they also manufactured headlamps. Glad they do because I want my brother and his wife to be safe while they're jogging in dark. I'm not a runner but I'm thinking of getting one for myself for my evening walks.
TK16 and HL50
Review by Jerry on 13 Sep 2018
review stating TK16 and HL50
Recently bought TK16 flaslight and HL50 head lamp. I work in aviation and both Fenix products provide excellent lighting on demand with no fiddling.
Great flashlight / great service from COE
Review by Craig on 10 Dec 2016
review stating Great flashlight / great service from COE
Once again COE has done their job flawlessly - everything was correct and on time.
This little headlamp is also amazing. A single AA battery was the key in this purchase for me, because above all i wanted small and light weight. This little lamp does it - not the brightest flashlight available, but perfect for its intended purpose. A low to medium brightness light that is comfortable and light to the point that it feels like it is not even there. Very portable, very comfortable. I only use the AA batteries even though it is compatible with CR123 batteries - the supplied adapter works perfectly and adds about 3/8" to the overall length of the light. The CR123 batteries are the way to go for better brightness and battery longevity - but if you want to save money - AA batteries work in this light too. Very versatile in that respect. The minimal headgear associated with it makes it ideal for crawling in tight spaces / under vehicles for maintenance applications.
Fenix HL 50 Headlamp
Review by William R. on 5 Nov 2016
review stating Fenix HL 50 Headlamp
Love it! Compact and well made.
The manual says not to
Review by Colleen on 1 Feb 2016
review stating The manual says not to
The manual says not to use rechargeable batteries. It would reduce the amount of garbage in the world if I was able to use rechargeable batteries with the headlamp.
Comments by Store Owner on Review by Colleen on 1 Feb 2016
The Canadian Outdoor Equipment Co.
Hi Colleen - While you cannot use rechargeable lithium batteries with the HL50, you can use rechargeable Ni-Mh AA batteries with it - hope this helps.
Great little lamp exactly what i was looking for.
Review by pat on 1 Feb 2016
review stating Great little lamp exactly what i was looking for.
Great little lamp exactly what i was looking for something small but capable i would buy all over again tho i dont think i will have to soon because the quality seems good