Savotta Trinket Pouches: A Practical Solution To Gear Management
In This Article: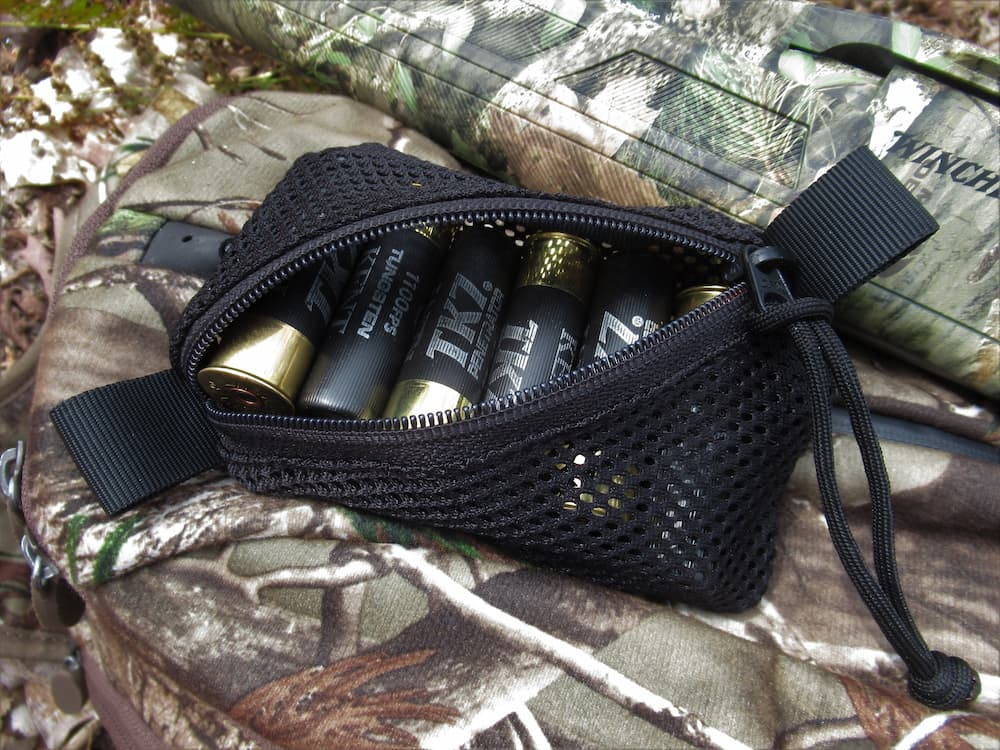 Keeping your equipment organized while enjoying outdoor activities is a must. So much so that, in a worst case scenario, it can make or break an outing. Having to fumble around or open every bag and every pocket in search for an item is not only very frustrating, it is also quite time consuming. You may end up with all your gear spread out in your tent or on the campsite, attempting to find that one item you need. The bigger the pile of gear gets, the more frantic your search becomes.
An uneasy feeling manifests as you start to wonder if it actually got packed, or is still laying on the couch back home. There's also the possibility it wasn't put back in its designated spot after use. Perhaps it got left behind by accident in your car, at the portage or on the previous campsite. Maybe it fell out sometime during the day and nobody noticed. One moment you had it in your hands, the next moment it's nowhere to be found. Kind of like your keys and wallet situation when rushing out the front door to make it in time for an appointment. Let's be honest, we've all experienced something similar. Whatever contributed to the fact you forgot, misplaced, or lost an item while adventuring outdoors, it's probably a good idea to start creating a packing system with better habits in an effort to prevent such events from recurring.
Personal Example of Why Gear Management is so Important
As I'm sitting here writing about this particular aspect of gear management on the trail, I am remembering one of several defining moments from my past experiences. I was in my early twenties and together with four friends we were undertaking a 10day pulk and snowshoe winter expedition in northern Sweden. We started out below the tree line and traveled into the mountains, crossing the Arctic Circle and making our way back down in a big loop. Two of us had completed a similar trek in a different region the year before. This time however, with 5 people participating, the amount of so called "moving parts" increased exponentially. Extra care and attention was needed and we all fulfilled our roles and responsibilities within the group.
One particular day saw us descending fairly challenging terrain as we made our way down from the high ground towards increased cover, trying to limit our exposure to some severe winter. This made the afternoon longer and more tiring than usual. By the time we were setting up tents, darkness was upon us and a lot of tasks still had to be completed in preparation for the next day. The following morning routine was abruptly interrupted when the navigator could not find the map. Although we had 2 GPS devices with waypoints and separate back up navigational info, the realization that we may have lost such a critical item produced a very noticeable stomach squeeze. Remembering the conditions we endured and the nature of the terrain we had just covered, there would have been very little chance recovering it. Fortunately, that wasn't the case. After a detailed and systematic search of our outfits and camp area, the map was found on the ground, covered by the overnight snowfall. The potential for that map to be lost was certainly present and this changed my perspective and my way of thinking in regards to gear management in the field.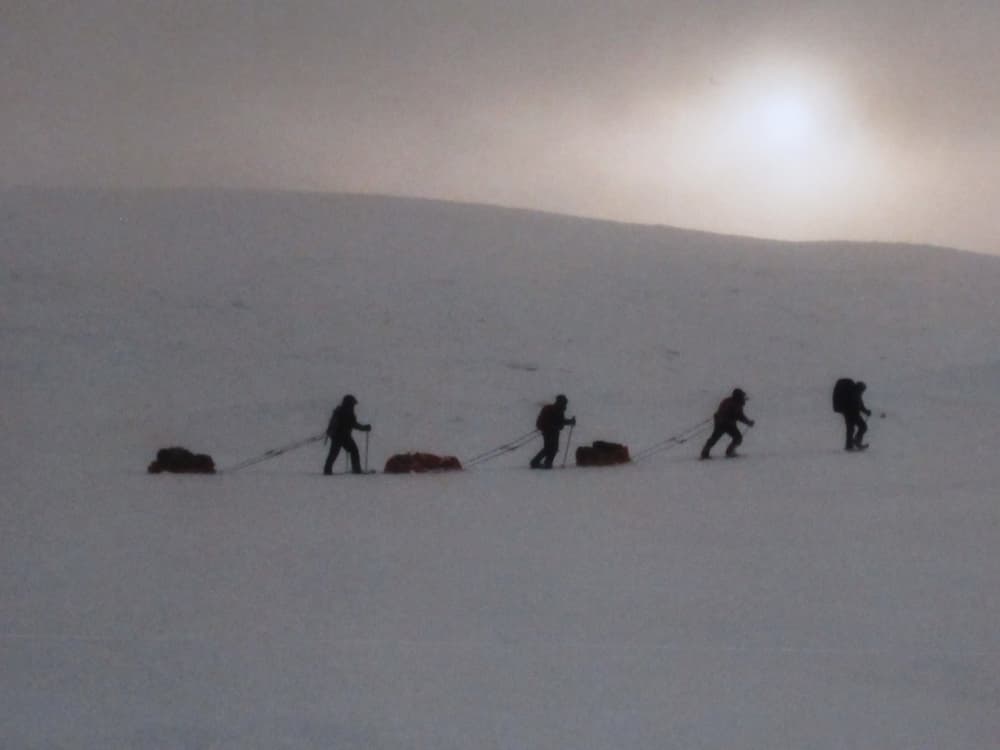 Gear Systems
Organizing and keeping tabs on your kit and its critical items, especially when conditions are challenging or when you are cold, hungry and tired, is important. Losing gear can have serious consequences since you don't have the luxury to bring everything twice. That being said, in some cases it does present an excellent opportunity to learn by "thinking outside the box" and coming to depend on your improvisational skills. The selection and organization of your gear starts at home and it is really beneficial to develop a systematic approach with regards to priority items and to create a habit of "having a place for everything and to put everything in its place".
This time-honored phrase is accredited to Benjamin Franklin and applicable to both our day to day lives as well as our outdoor activities. I personally aim to have my gear systems interchangeable, meaning I can transfer some of my equipment between different activities and add on or leave behind the kits or their components that are not applicable to the situation, the environment and my method of transportation.
This means that certain kits and their pouches with components can effortlessly interchange between setups, without the need to be reconfigured. I can easily adjust between an everyday carry setup and a vehicle or day pack, and from a vehicle or day pack to a backpack for multi day outings. From there, only minor changes are needed to adjust into a waterproof setup for multi day to week-long canoe camping trips. My personal setups are also part of my teaching kits which allows my clients to see what works for me and why I choose one item over another. An overlapping system like this allows for greater flexibility and keeps equipment purchasing costs down if you have different recreational interests and/or professional commitments.
Up until recently I always used small Aloksaks, 1-liter dry bags as well as Molle pouches to keep certain kit components or small items organized and handy. They have always worked for me and in some of my kits they really represent the best option to date. Depending on the purposes I use them for, all 3 have benefits as well as drawbacks. When the Canadian Outdoor Equipment Company brought in the Savotta Trinket Pouches, I was immediately interested. Having a bit of experience in developing highly functional and practical equipment setups by sheer necessity, it was very clear to me that these pouches have been designed to make life easier when dealing with a wide range of small items you want to keep neat, tidy and easily accessible.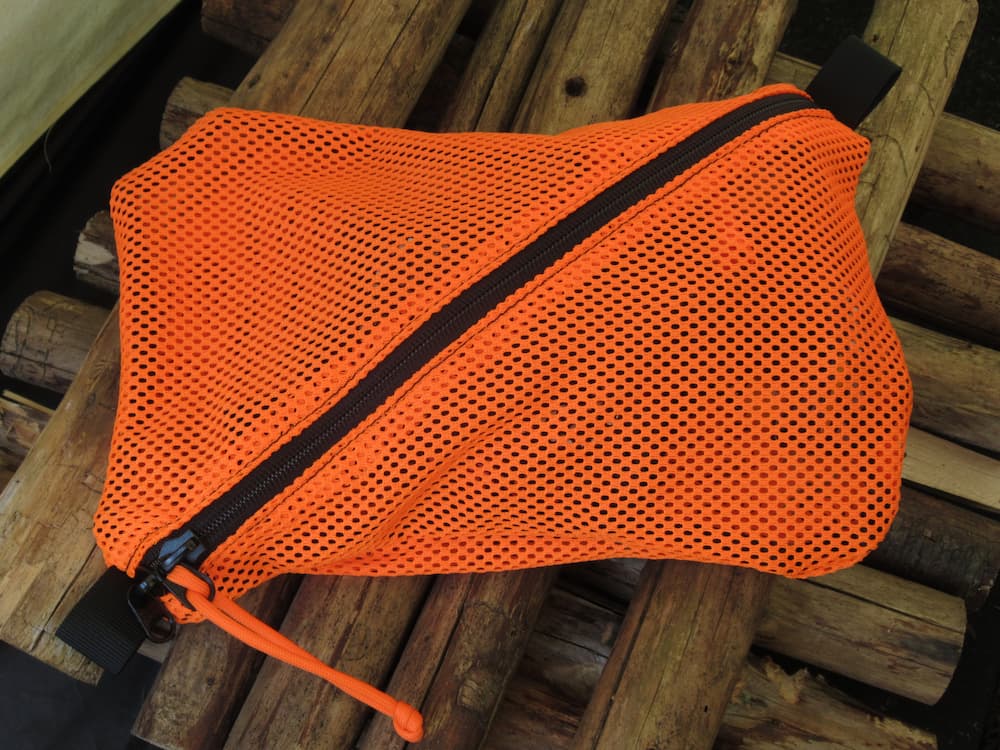 I was sent 3 pouches in the 3 different sizes to test out and review. In regards to their usefulness, the sky is the limit and I absolutely love them.
My favourite one so far has being the smallest one, measuring 10x15 cm or 4xinches and weighing 32 grams. All pouches are made from a durable polyester mesh fabric and available in black, green and orange with a full-length diagonal zipper and 2 webbing tabs.
You can choose between a stand-alone or Velcro backed version which works well with other products in the Savotta range. Their Keikka Duffle Bags feature internal hook and loop strips to which you can attach these Velcro backed Trinket Pouches to increase organizational options, allowing you to quickly attach and detach pouches as you require.
So, what exactly have I been up to with the Savotta Small Trinket Pouch since I received it?
Organization of Canoeing Setup
By far the biggest improvement and benefit of using a single Small Trinket Pouch to organize a number of miscellaneous items was to my canoeing setup. While I was working in Algonquin, I wore an automatic inflatable PFD (Personal Flotation Device) because I was wearing a Kevlar vest as part of my uniform. Putting a regular recreational PFD over Kevlar makes things rather bulky and awkward. Coming out of that job, I purchased a recreational PFD with front storage pockets. I was looking forward to taking emergency items out of my pant pockets and off my duty belt, transferring them into my new PFD. This allowed me to free up my belt line and increase my level of comfort. I set my PFD up as a wilderness emergency survival kit, having access to life saving tools on my person in case I get separated from my main equipment. Although that system really worked well for me over the years, my Garmin inReach communication device didn't fit right. I ended up wearing it in a pouch on my regular belt instead. Now, enter one Small Savotta Trinket Pouch. This little gem allowed me to consolidate a number of small items into one compact pouch and free up some real estate in one of the PFD's front storage pockets. This created just enough space to fit my inReach and I'm quite happy about that to be honest!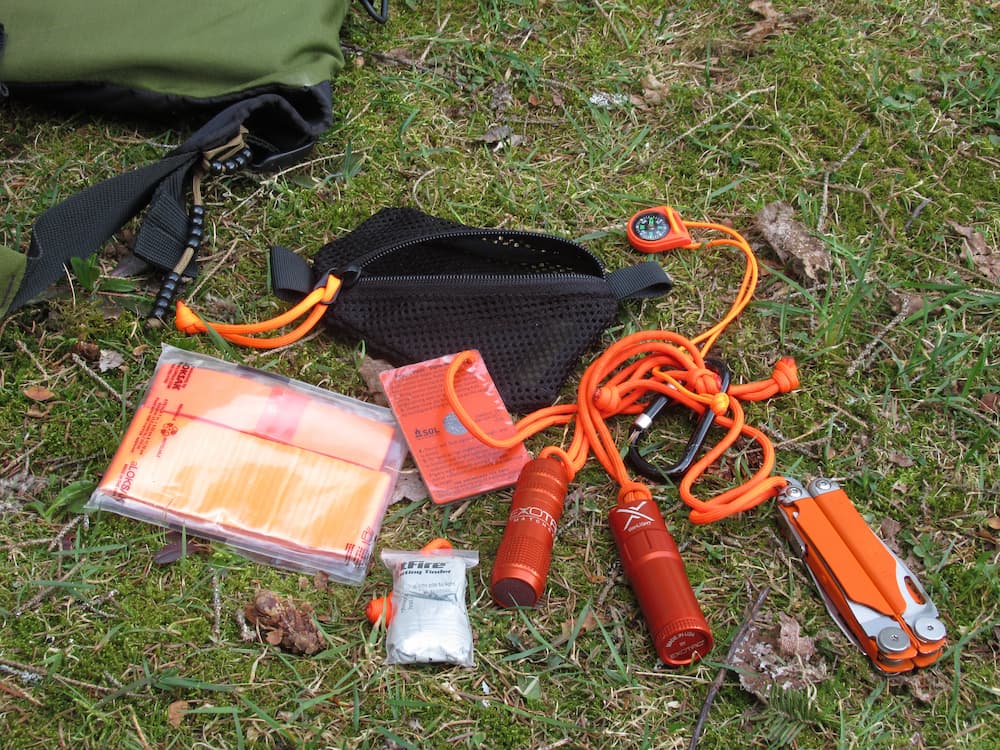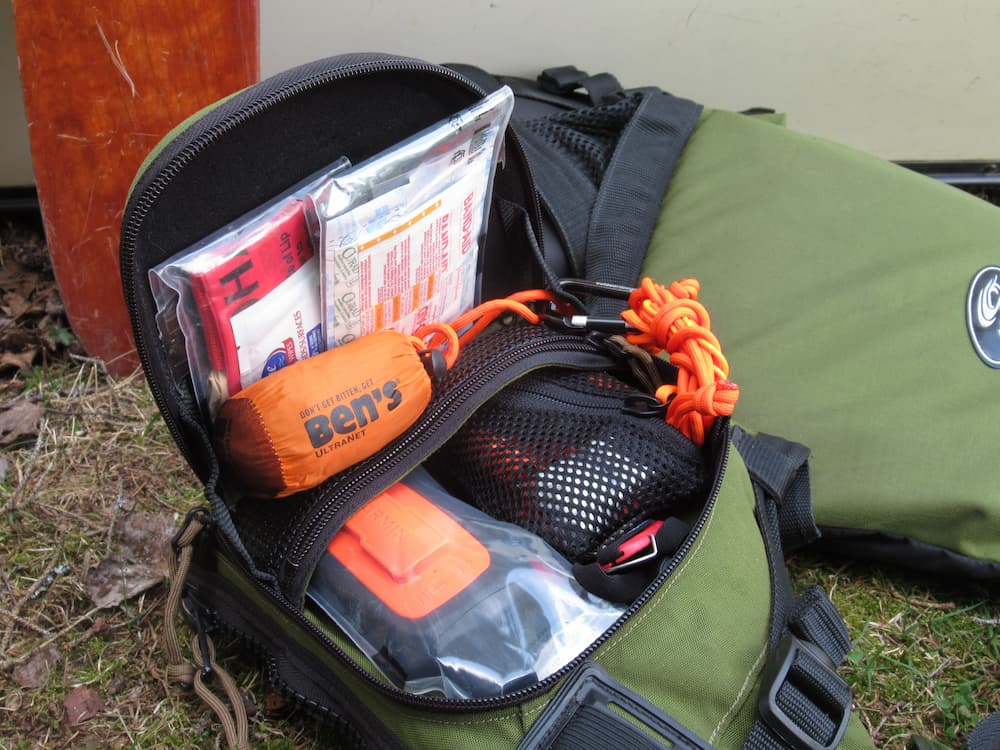 Hot Tent Drying System
Another big improvement came into existence by using a Savotta small Trinket Pouch to house the clips for my hot tent drying system. When using a hot tent in winter, or during the shoulder seasons, it's important that I'm able to dry out my clothing and equipment when moisture accumulates or when stuff gets damp or wet. Years ago I fitted a bunch of strong black binder clips with separate lengths of cord so they could be tied to an improvised ridge line and hold socks, gloves, hats or clothing to dry out when my wood stove is burning. I always kept them in an old Ziploc bag. Now, with the introduction of a small Trinket Pouch, I can easily tie it to the ridge line and it just hangs there, ready for use if I need some clips. It's out of the way and yet easily accessible. When I retire from teaching for the night and start my stove up, I take out however many clips I need and zip it back up. Easy, practical and highly functional.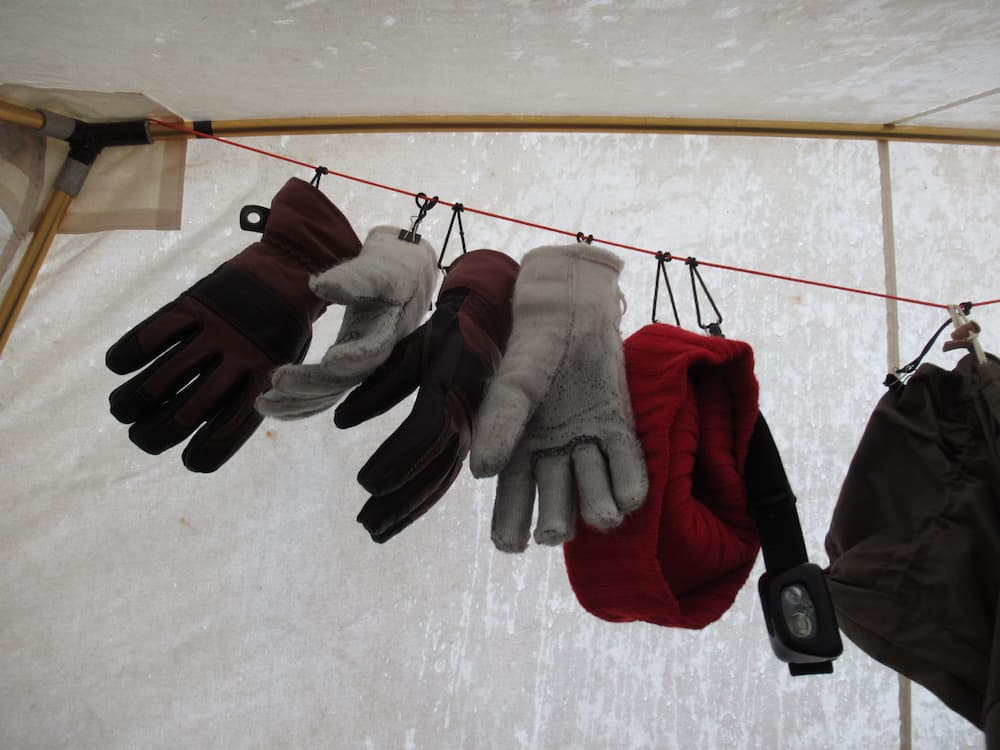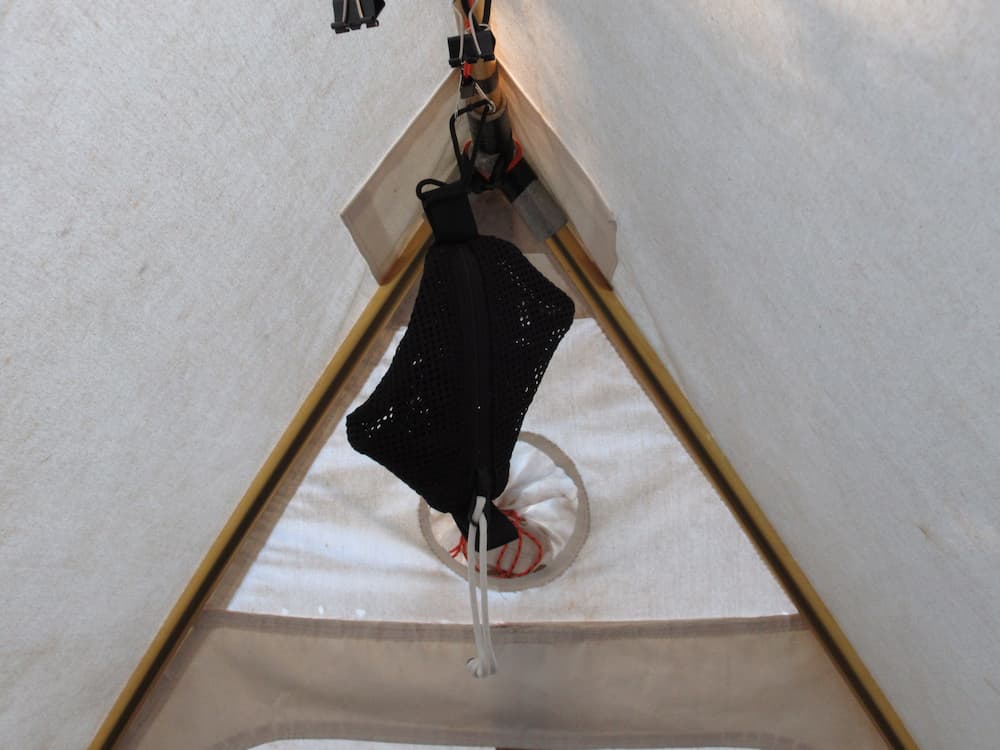 Winter Tent Organization
The next upgrade to my winter tent organization was to use a small Trinket Pouch as a wood stove fire starter kit. Like my drying system, it hangs from the ridge line in the tent, is easily accessible and out of the way at the same time. It features my Exotac TitanLIGHT or my Exotac Matchcap, a tin with artificial tinder and my EOG V3 Pocket Below. Everything I need to start a fire in the stove or to reignite smoldering embers at the end of the day. When using wood stoves in confined spaces, a pocket below really comes in handy when having to blow some life into your start up or when ramping up flames after adding some kindling and fuel. The bellow allows me to very precisely ad oxygen to a smoldering start up and at the same time keep the stove door fairly closed to prevent smoke from entering my tent.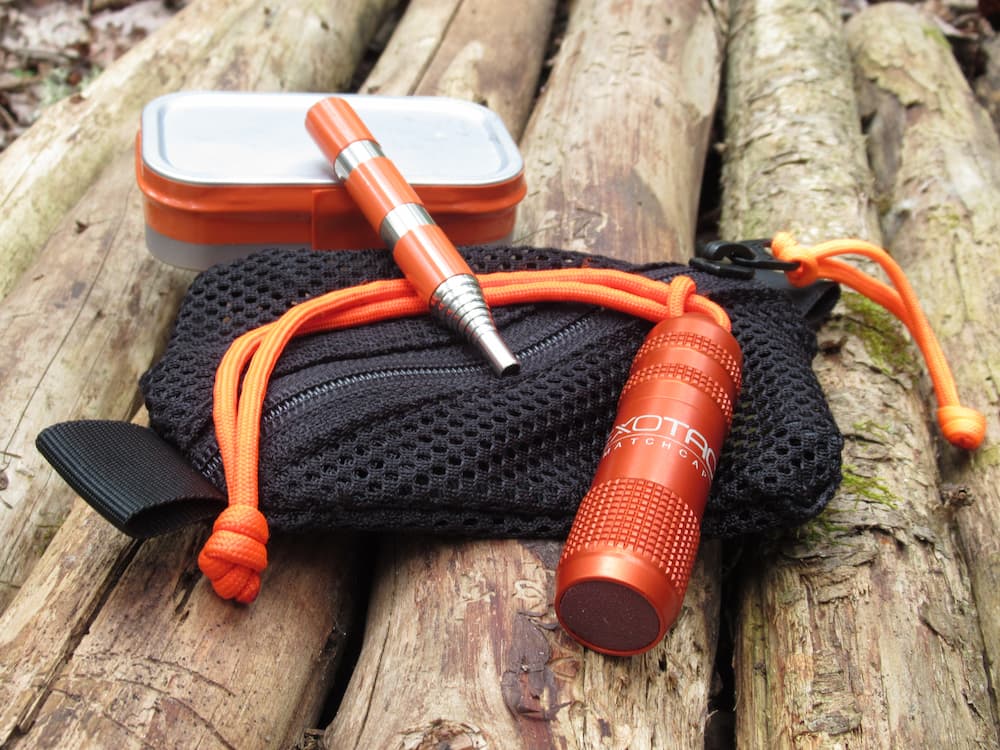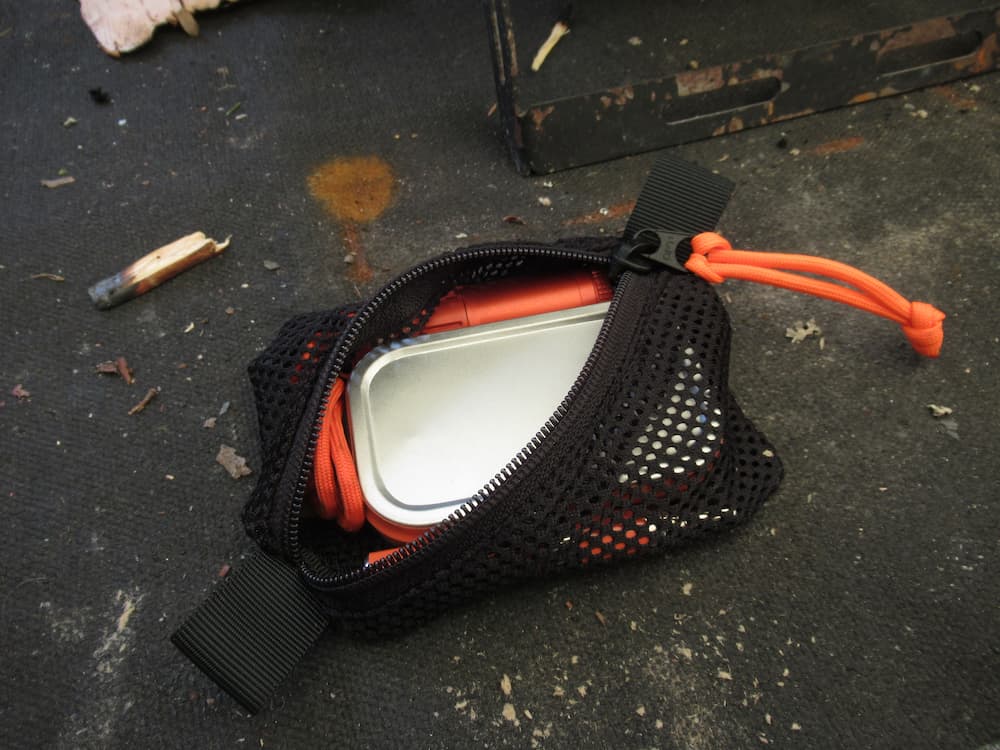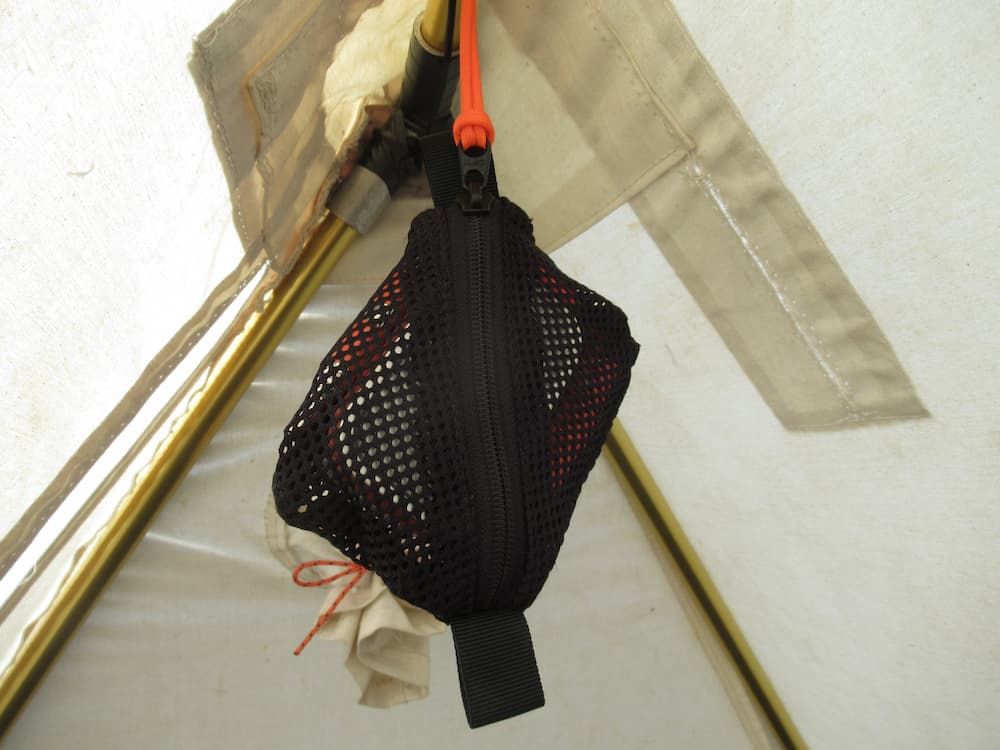 First Aid Setup
One of the more important aspects to consider when deciding to offer your help and assistance to an individual who's experiencing an injury or sudden illness, is the ability to protect yourself with PPE (Personal Protective Equipment). We can all understand the need for PPE but it's often a matter of having it with you and within reach. My Personal PPE pouch has accompanied me for a long time and although still functional, it has been showing some serious wear since it got integrated into my First Aid courses teaching kit. The increased handling related to demonstrating available options has taken its toll on the already aged Velcro, stitching and the exterior fabric. When I got my hands on a new Savotta Small Trinket Pouch, the decision to see if it could replace the old pouch was a no brainer. Savotta has a 5 year material and workmanship warranty and from what I've seen so far, I'm pretty confident it will easily surpass that. I've created two versions of this PPE kit, one with a heat reflective survival blanket and hand sanitizer wipes, the other one with a little hand sanitizer bottle which left no room for the heat reflective blanket.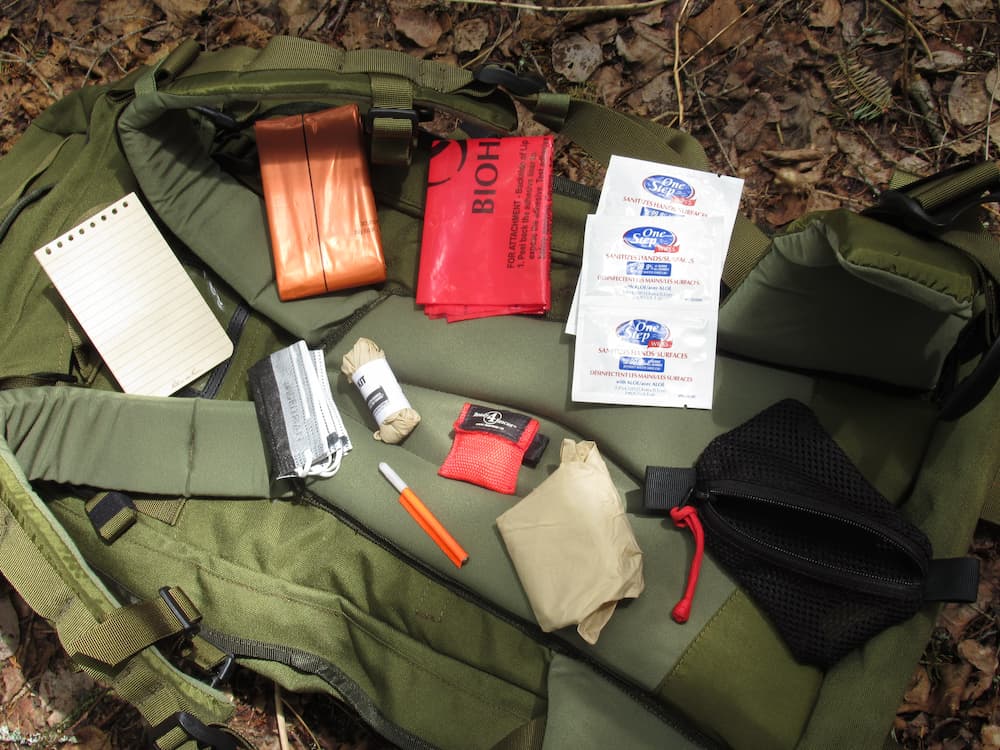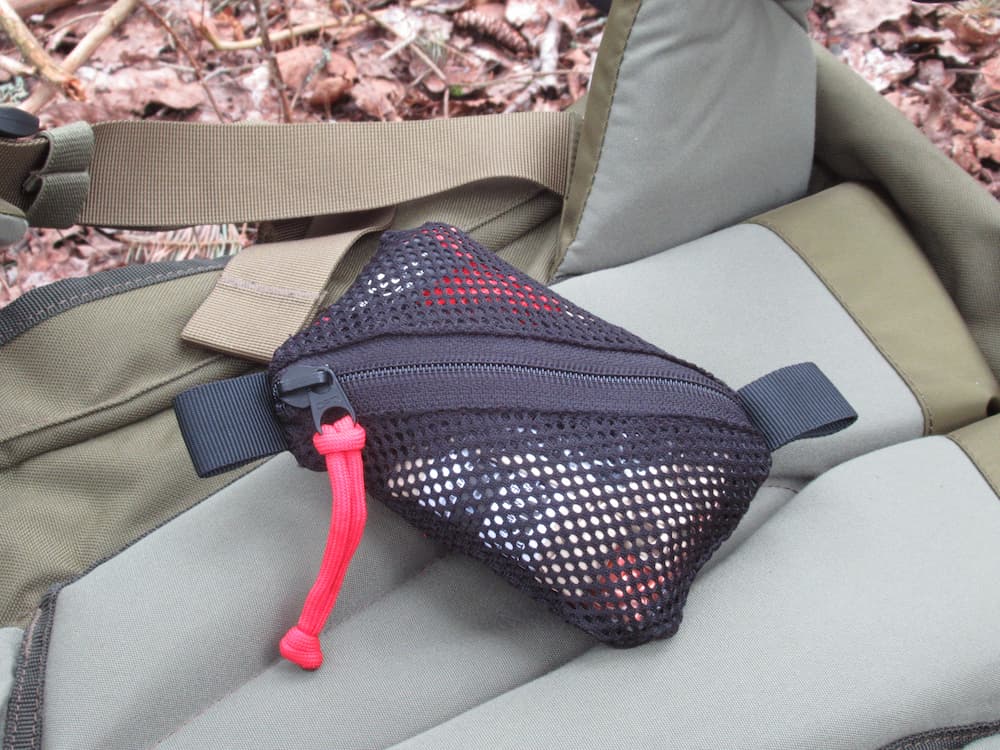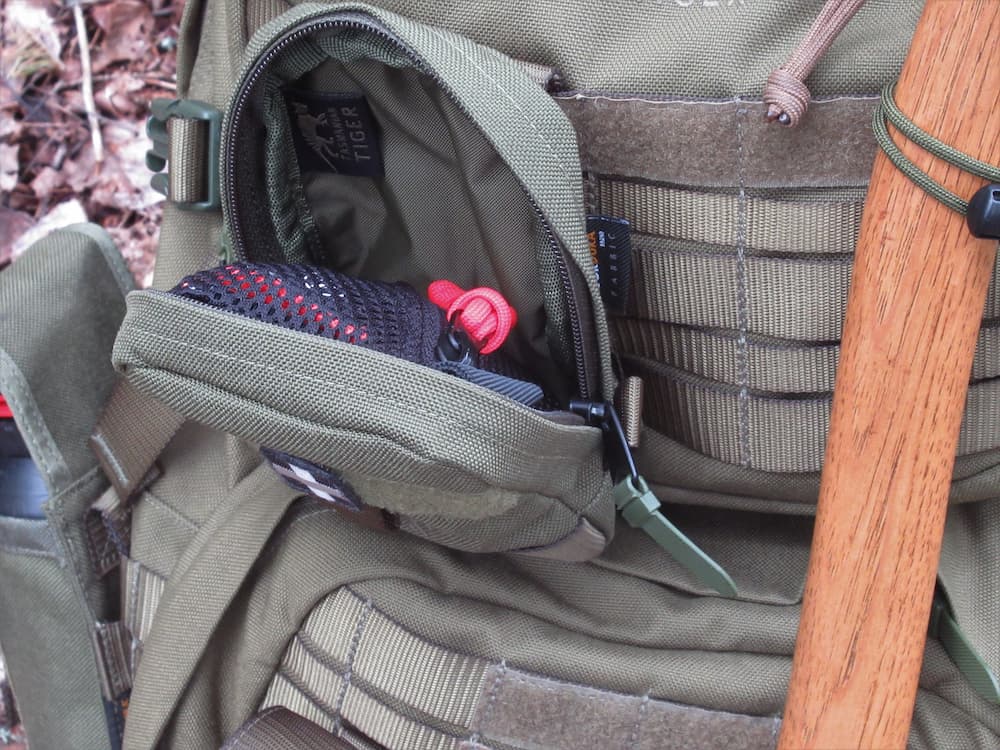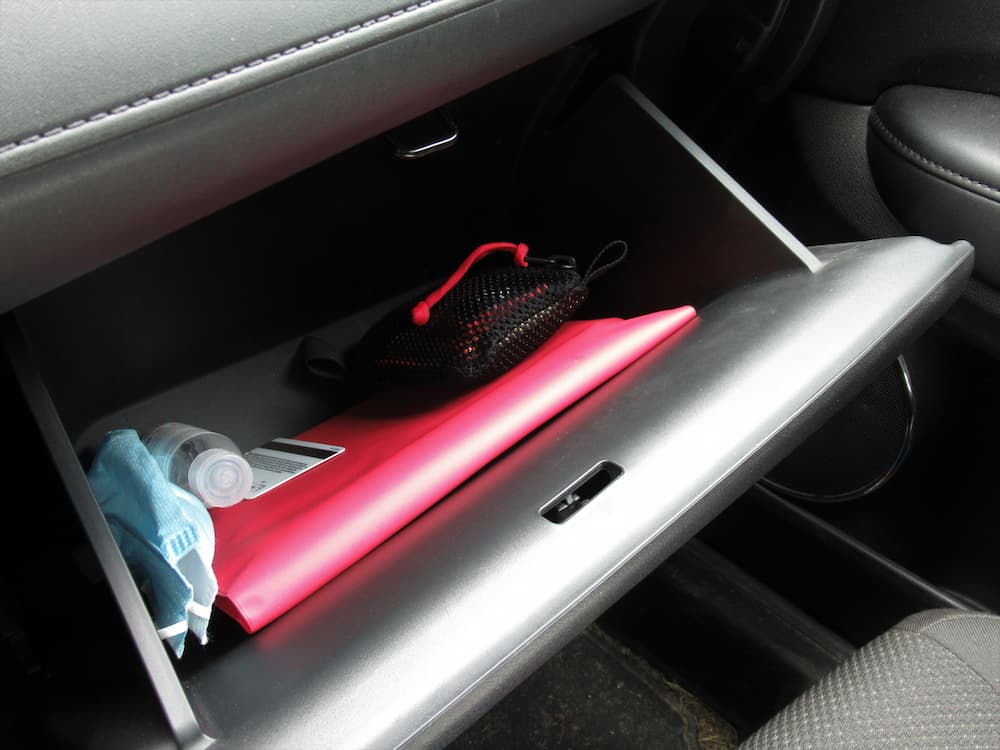 Headlamp Storage
Since early January I'm testing a new Fenix HL60R rechargeable headlamp after years of having to deal with delicate plastic headlights and battery lifespan disappointments. This headlamp is considerably larger than my previously used ones and I was looking for a storage solution which could include, if necessary, the provided USB recharging cable and an extra battery. The small Savotta Trinket Pouch had no problem with this at all. I could even include a fairly large USB power adapter in case I'm on the road for an extended period of time and want to use the power grid instead of a battery bank to top up my batteries. The large adapter made for a very tight fit so I'm exchanging it for a smaller version in the future. Again, that little pouch could do it.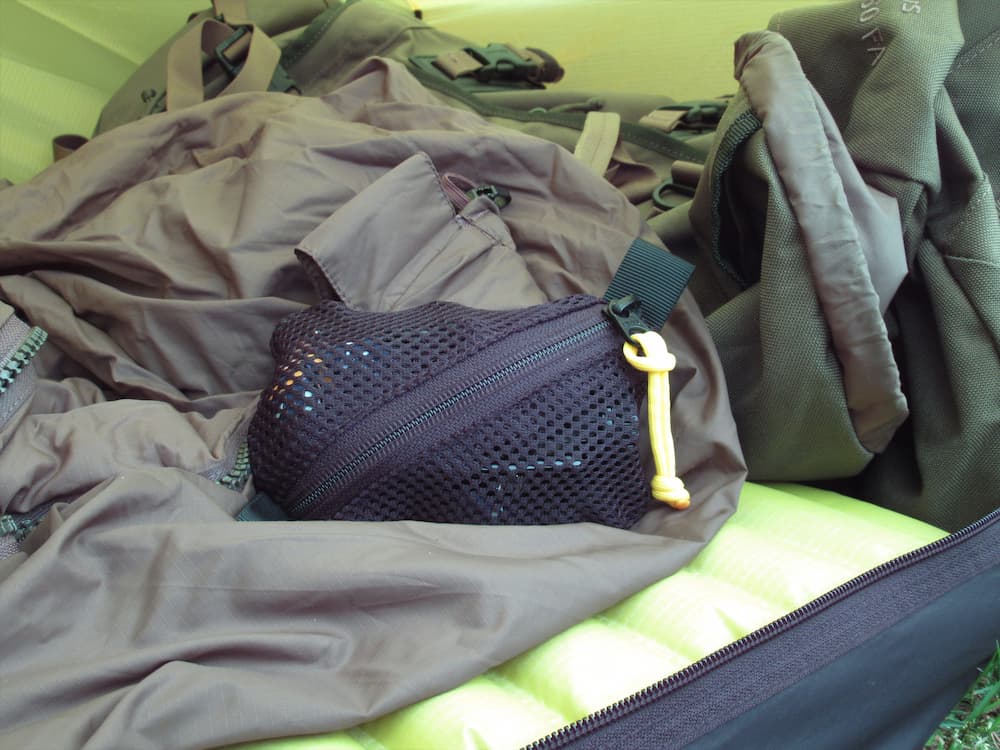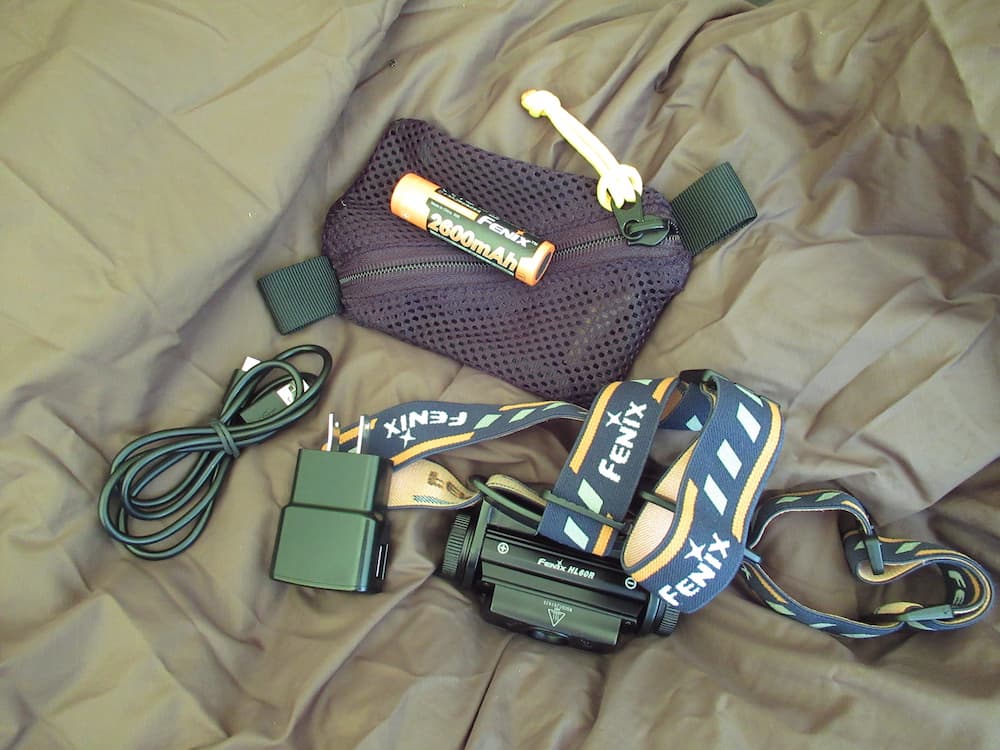 Navigation Setup for Day Trips
Day trips are notorious for creating a false sense of safety and confidence within people. You know how it goes; the weather is nice, it's just a short hike so we want to go lightweight and we don't really need this or that because... Whatever your experience and comfort level may be, it's always a good idea not to get lost out there, even when following well established and properly signed trails. At a minimum, a map and compass is a must, even if it's just to double check things and get another skill repetition in. My Land Nav kit for day hikes fits perfectly in a Small Trinket Pouch and includes a Rite In The Rain notebook, a Fisher Trekker Pen, a compass and, because I carry a two way communication device in the outdoors that also has GPS function, I include a pocket sized UTM map tool. A map tool helps to transfer your GPS coordinates onto the matching topographic map to figure out where you are exactly. Note that you need a map that features grid lines and reference numbers to be able to determine this. An ordinary paper print out usually does not have these. One thing worth remembering in regards to navigation is that tools by themselves won't save the day. They can only help to figure out why things don't match up. Gear is no substitute for knowledge.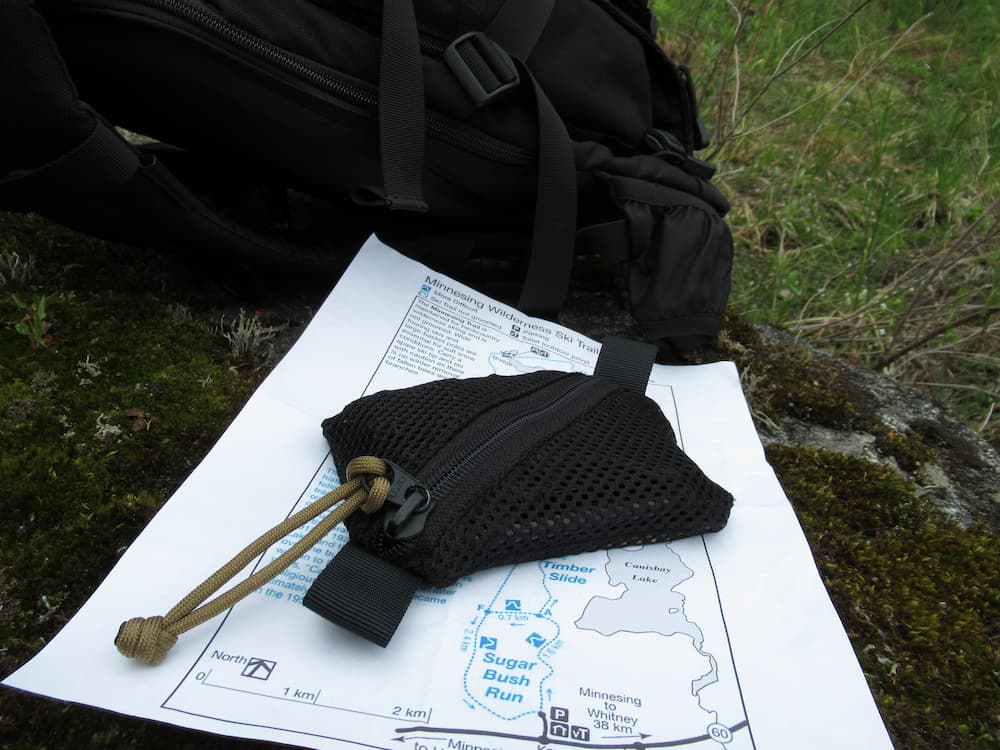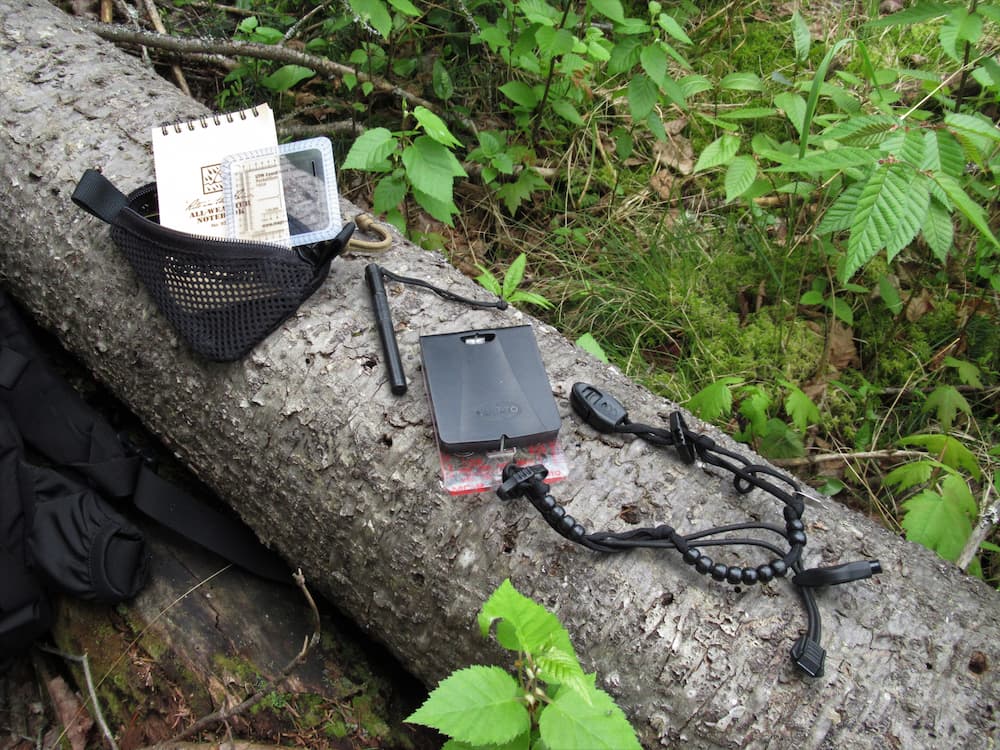 Practical Solutions to Camp Organization
Continuing with practical solutions. Below is a camp organization system I started to play with last fall, after a good friend showed me a rope tensioning system he had seen on YouTube. I put my own twist on it and made some changes to meet my needs. It's an adjustable length of rope with several little sticks, allowing me to wrap it around a tree and create a hanging system which affords me the ability to keep my gear of the ground and easily accessible. The whole system can easily be stored in, you guessed it, a Savotta Small Trinket Pouch.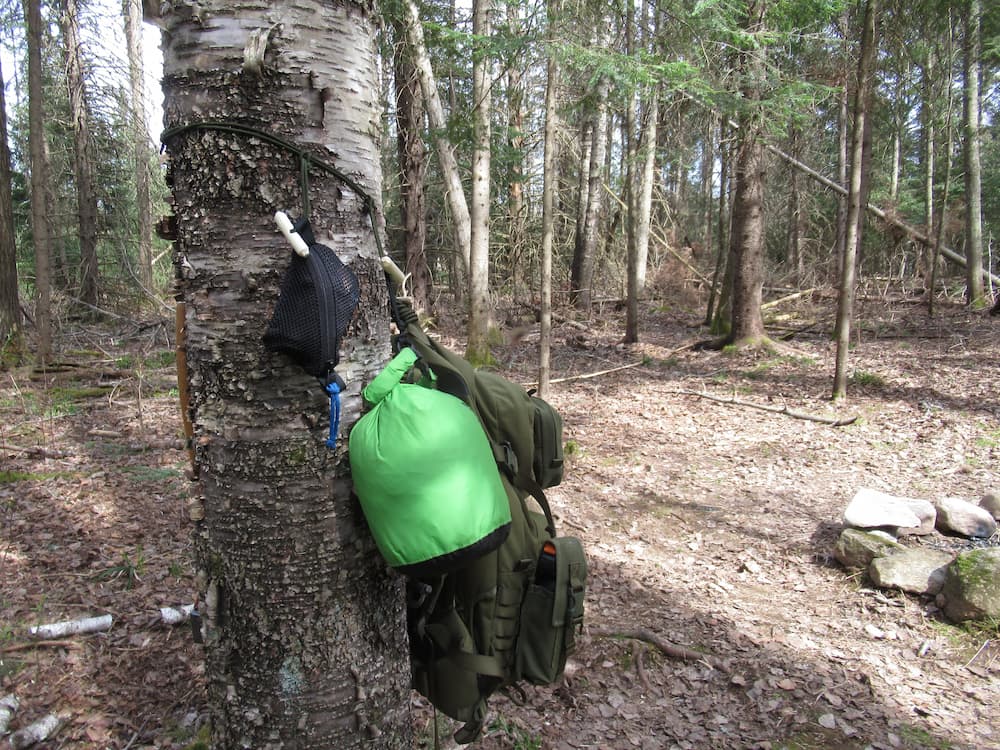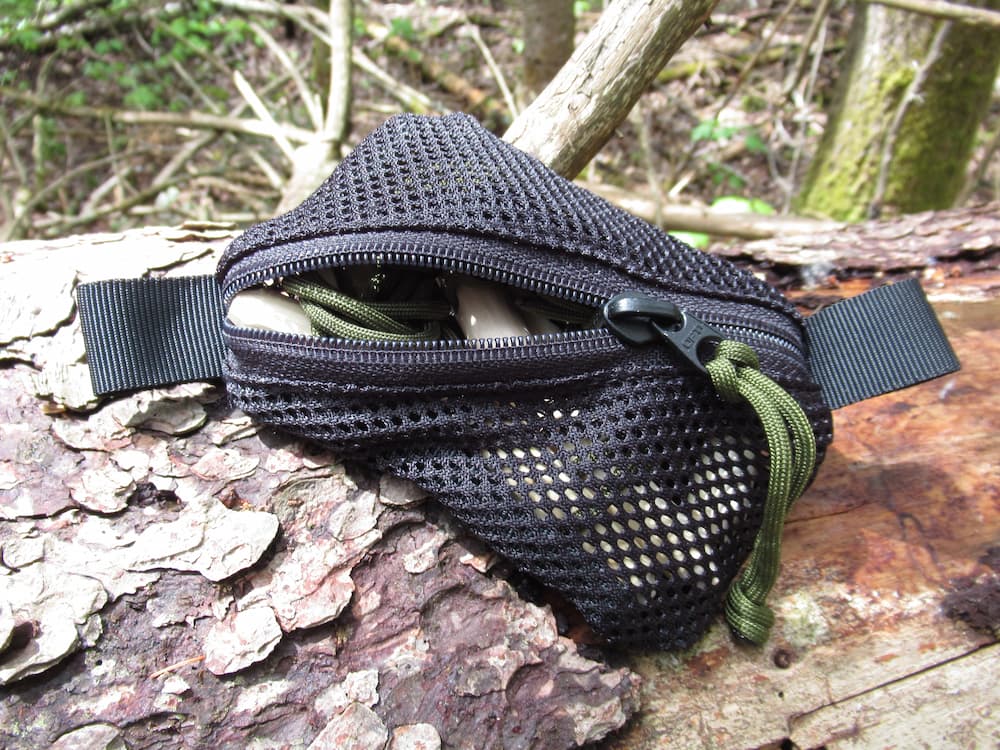 Practical Solution to Carrying Ammunition in the Field
As a second year Spring Wild Turkey hunter, I am still learning and figuring stuff out but one thing I wanted an immediate solution for was the management of my 12 Ga shotgun shells. I gave the small trinket pouch a try and I'm super happy I did. It holds 6 shells, live or spent, and that's more then enough for me to go pattern the shotgun and have left over shells to start hunting the next day. No more cardboard boxes, no more searching or reaching in pouches or pockets, no more fumbling or stashing. As with the other setups using this pouch, the content remains easily accessed through the diagonal zip, keeping everything together and easy to manage.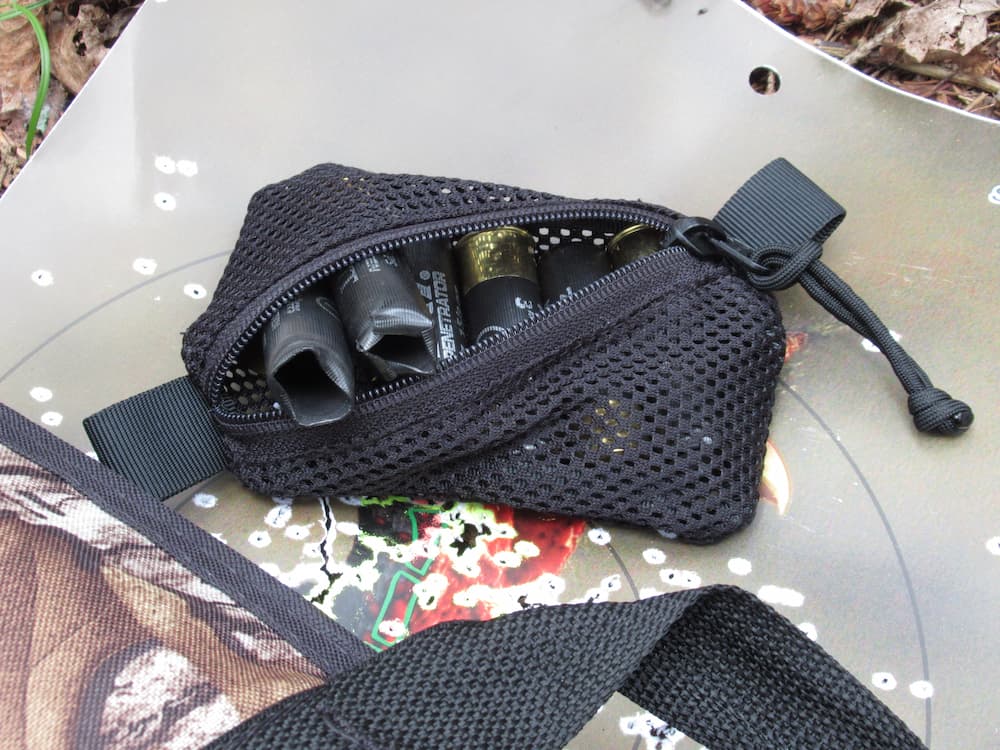 This pretty much concludes my projects, thoughts and experiences with regards to this Savotta Small Trinket Pouch. I'm still playing around with the medium and large versions I got sent, so a review will follow soon. I can say that I am very happy with this pouch and its gear management options with regards to my fields of interest in both a recreational and professional setting. This single pouch provided a ton of practical solutions and possible improvements to me. I also like the way they are designed. The diagonal zipper allows for a larger opening and works really well putting items in or taking them out. The zippers as well as the sewn in 25mm webbing loops at the corners allow for the attachment of color coded lengths of para cord or other identification options if needed. The webbing loops also function as connection points for carabiners, dummy cords or internal hard wear in backpacks or other bags. In addition, the see-through mesh material also allows for a degree of content identification as well as the 3 different colors the pouches are produced in. This pouch really works well managing those small, easily misplaces or lost items and keeps your gear very organized.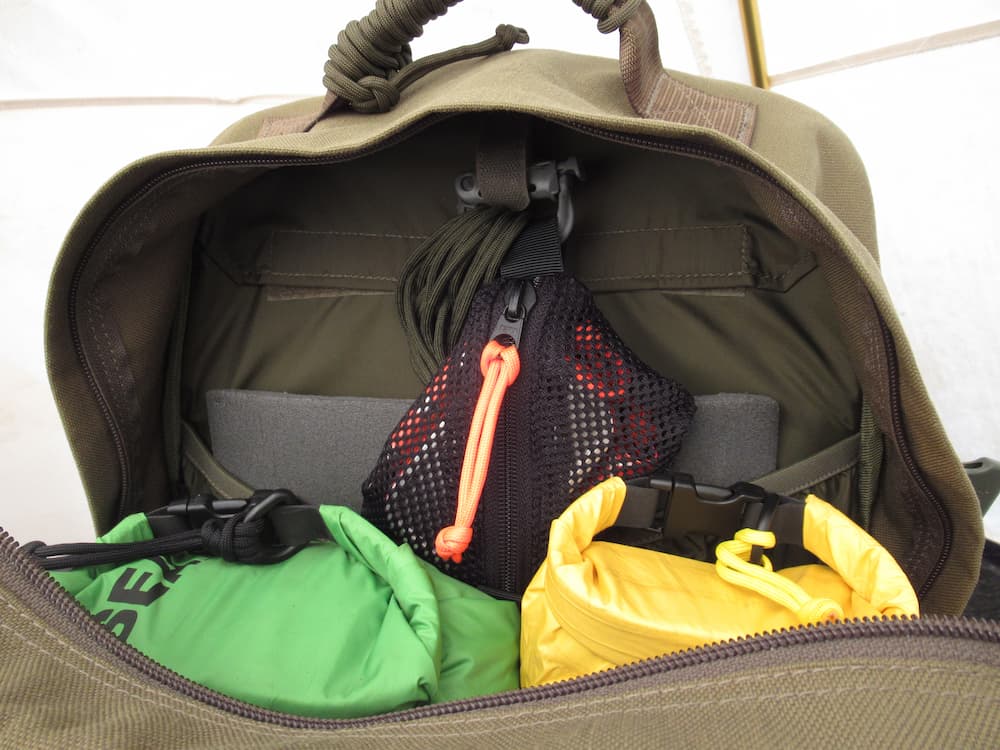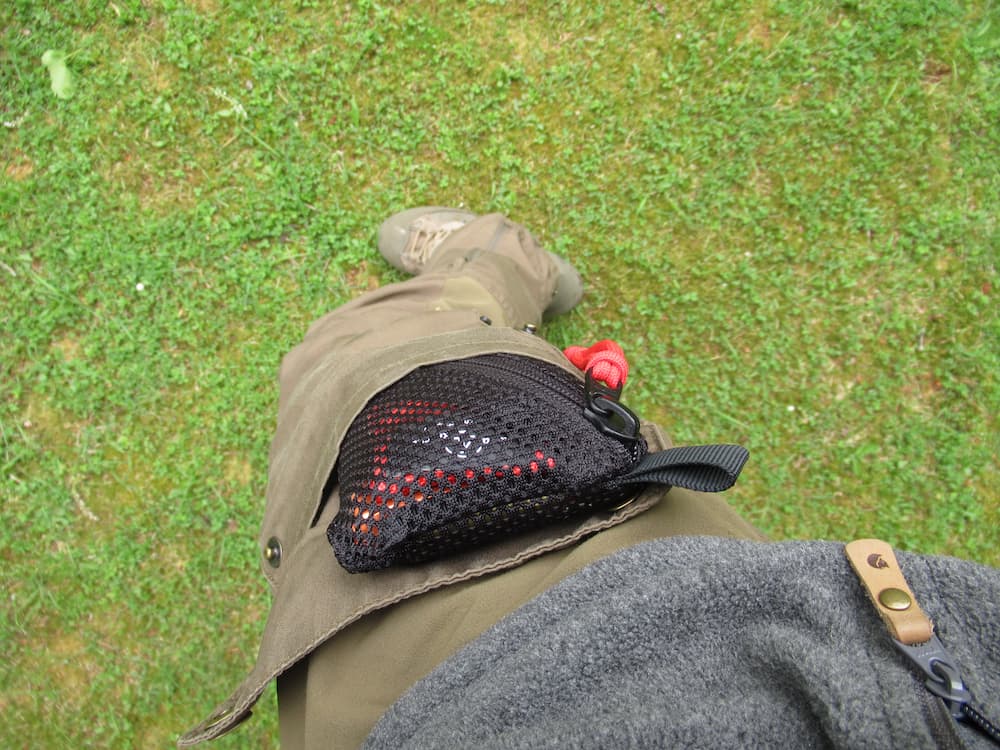 One thing worth mentioning before starting to improve your equipment organization is to be conscious and prevent micro compartmentalizing your gear. Although this pouch and the 2 others are fairly lightweight, it's best to seek a balance between functionality and practicality. Try to keep the overall weight gain in mind. I always aim to find that sweet spot between effectiveness in the field as a consequence of organizing, and the total weight gain as a result of it. Does it pay off and am I really more organized or just needlessly fiddling with gear?
There's also no need to aim for immediate perfection, it takes time. The more knowledge and experience one gains, the better prepared they will become. This process automatically produces valuable insights with regard to the evaluation and selection of the equipment relating to the preferred outdoor activity. Eventually you'll create a modular setup that has elements which can be used in your daily live, and which easily transfer into your outdoor setup when departing for the woods. In my opinion the Savotta Trinket Pouches are an excellent way to start developing such a system, should you need one. When you go about it in a smart way, it allows you to go lightweight but not under equipped.
Becoming efficient at performing certain tasks in the outdoors and having the peace of mind knowing that you are generally well prepared to deal with unexpected events, allows you to really focus on being in nature. You're outside doing what you love to do, relaxing, recharging and having a great time with family and friends.
Shop The Gear
Peter Desmet
Peter grew up in Belgium and moved to Ontario in 2011, where he became a Park Warden in the interior of Algonquin Park. Having a keen interest in outdoor adventure from a young age, he attended numerous courses and programs, allowing him to safely hike, climb, canoe and undertake winter expeditions in Europe's wild places. His hunger for knowledge led him to become a certified survival instructor in his mid-twenties and more recently, he started his own outdoor school. Peter knows what he knows and enthusiastically shares this, knowing he too will forever be a student of nature.