Esker Tent Overview And Comparison
Esker Winter Hot Tents vs. Prospector Tents
Esker makes Winter Hot Tents that are used when you go winter camping where you're setting them up and tearing them down fairly frequently. If you're looking for a tent to set up and stay set up, one of the Wood's Prospector Tents might be a better choice for that - if you're leaving it set up for weeks or months. Esker tents are more for going out for few days or maybe up to a week in one location, or where you're setting them up, tearing them down, moving, setting up, tearing down, and as such they're very portable - in fact the Esker 9x9 packs down to a 13 lbs package (6 kg).
Esker Hot Tent Overview
All the seams of Esker tents are double stitched and flat felled along all the panels of the tent. There's a synthetic snow skirt on the bottom so that when you're using it out in the cold, you can pile snow to stop air from getting in or out, but then it's not going to stick to your canvas if it ices up - nothing really really sticks to this surface. When you're setting up the tent, all of the Esker Tents are pyramid style tents, which means there's a central pole support. Once you've got your central pole, you tie the tie out points away from the tent into the ground or into trees if you're in a forested area.
Material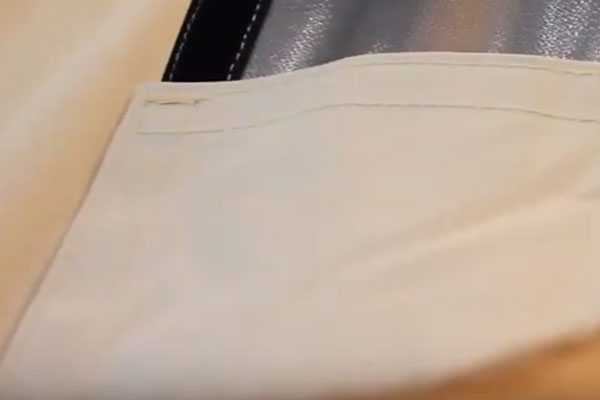 Esker Winter Hot Tents are made from 10.10 oz cotton canvas, 4 strand army duck cotton, which is the strongest kind of cotton canvas that can be had. It provides very little stretch, so your tent keep it's shape and you don't have to worry about it sagging or drooping. The tent is treated for flame retardancy, mold and mildew resistancy, it complies with all Canadian fire regulations as regards tents, and best of all - they're made in Canada.
Stove Pipe Ring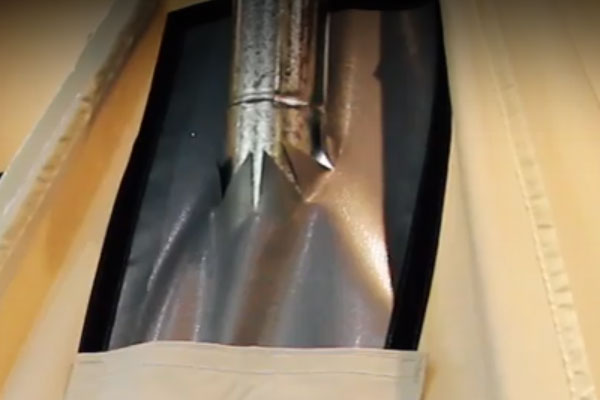 All the Esker tents come with the stove pipe ring installed. A piece of velcro runs around the outside allowing a cover to be attached when not using the stove pipe to stop rain or moisture from coming in, but then that comes off when you're using a stove. the stove pipe ring can be adjusted to suit the size of your stove pipes if it happens to be a larger diameter; small slits can be cut so that that they become slightly larger to accommodate a larger pipe.
Double Zipper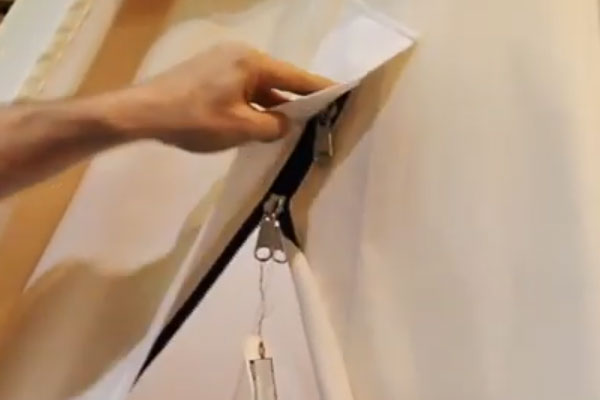 All of the Esker tents come with with a double zipper. The advantage to this, is that once in your tent, you can leave the top part open a bit to let airflow in, and it saves you having to zip all the way from the top to the bottom if you needed just a little bit of an opening at the bottom.
Esker Tent Shape/Configuration
With the Esker tents, there's a few different configurations in terms of style of tent and floor space. They come in either a pentagonal shape (5 sided), or a square 4 sided tent.
Esker Arctic Fox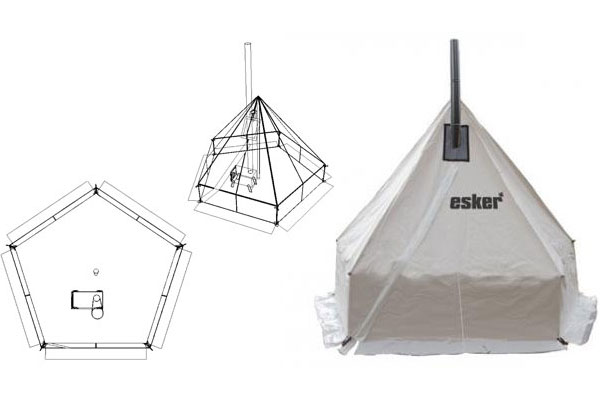 The Esker Arctic Fox models are pentagonal tents. Now the advantage of a pentagonal shape is that it's a little closer to a circle than a square, so it's a little more efficient in use of the material for the size of the tent, so the 5 sided tents pack a little smaller and a little lighter than their 4 sided counterparts.
The 9x9 tent is good for one or two people maximum. Depending on the size of those people it can get a little squishy, so we always say it's good for one person and their dog, or one person and a small child. You can get 2 adults into a 9x9 tent, but if they're very large adults, while do-able, it's going to be a bit tight.
The 9x9 weighs a mere 6 kg when packed - so very lightweight. If you do need something a little bigger, you can move up to the 10x10 tent which is good for 3 adults with a stove. You can get 4 adults in although that's a little tight. With 4 people and a stove, someone's got to sleep in front across the doorway, which means if you're getting up in the night, someone's going to have to walk over that person: so optimally 3 people, with 4 people in a pinch. The 10x10 when packed, weighs 8.5 kg - so again - fairly lightweight for this size of the tent you're bringing in.
The Esker Classic Tent Series are all 4 sided tents, and are a little easier to set up, especially if you haven't set this style of tent up before - it's not difficult, it just takes a bit of practice to get good and quick at it.
Esker Classic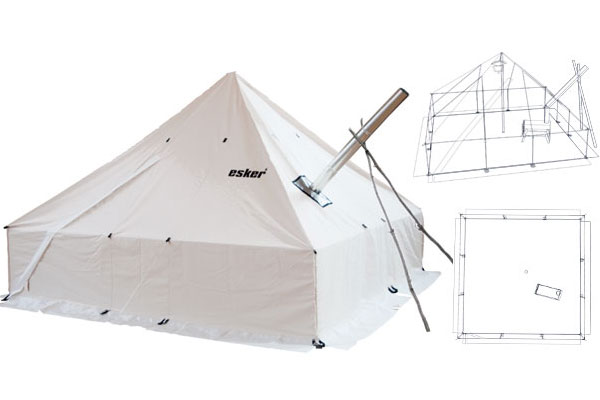 The Classics are square tents, and come in two sizes: either 10x10, or 12x12. 10x10's are good for 3 - 4 people with a stove. 3 optimally - 4 is going to be tight but do-able, whereas the 12x12 is good for 4 - 6 people. Weights on those models: Classic 10x10 comes in at 9.5 kg, and the Classic 12x12 comes in at 13kg when it's packed.
There are 2 variants of the Classic tents: there's the original Classic which features stove pipe ring in the centre much as this one is, and the stove pipe goes straight up - so there's no elbows, or bends - straight up through the top of the tent. The advantage to that is that the stoves draw well. You don't have to worry about wind direction, you don't really have to worry about anything other than possibly landing embers on your tent, but that has a lot to do with how you operate your stove. In terms of getting the stove going and keep a good heat with it, straight pipes work great for that purpose.
The other variant of the Classic is the new Classic 2, which features a stove pipe ring going out the side of the tent - so that necessitates using an elbow with your stove, but by doing that it directs the pipe up and out away from your tent, so if you are concerned about embers or creosote on your tent then the Classic 2 with a stove with an elbow is maybe the way to go.
Esker Tent Maintenance
A couple things to mention regarding care and maintenance. It's important when you put them away to make sure that they get packed away dry. You never want to pack a wet tent. Even though it's treated for mold and mildew, if you pack up a wet tent, it will quite possibly grow mold and mildew, which will degrade the fabric - so you don't want to do that. Other than keeping it dry, there's not a lot of maintenance. You can clean these tents although they typically don't need a lot of cleaning - if you're in the mud or you lent your tent to someone who took it out in the mud, you may need to do some cleaning. A soft bristle brush and either mild soap or canvas tent cleaner will do that job. Rinse with water and make sure you dry it thoroughly and really, that's all it takes to keep this thing going for many many years of winter camping.
Shop The Gear
Tim Foley
Tim grew up spending summers and much of his spare time in the backwoods of Northern Ontario and has been canoeing, camping and hiking ever since. When not running the
Canadian Outdoor Equipment Co.
, you can find him riding his bike, hiking the Bruce Trail, canoeing, or clearing trails, cutting firewood and testing gear out in the bush.