How To Maintain And Care For Wood Handled Knives
Tim Foley
|
July 3, 2018
|
Last Updated: April 20, 2023
We love wood handled knives because they feel great, have soul, and they're comfortable to use. When properly maintained, wood handled knives look better as they age.
Like axes, wood handled knife maintenance involves oiling and waxing the handles and treating the leather sheath to mitigate the effects of dryness or moisture. For carbon blades, a reapplication of oil or grease to the blade will keep rust at bay. The wood will absorb oil better if it is warmed, so the best time to treat a handle is on a warm sunny day (in summer), or a bright sunny day (in winter).
Maintenance to care for your knife involves:
Wood Handle Care Checklist
Required materials/tools:
Wood oil (such as Knife & Axe Wood Oil)
Handle Wax
Sheath Cream
Blade Oil
Paper Towel
Baking Sheet
Latex Gloves (optional)
Best Time to Care for a Knife
Wood will absorb oil better if it is warmed, so the best time to treat a handle is on a warm sunny day (in summer) or a bright sunny day (in winter).
---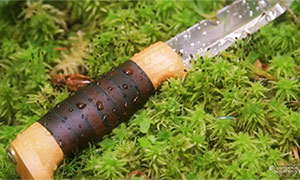 Oiling and Waxing a Wood Knife Handle
Clean (with a moist cloth) and dry the knife handle before oiling.
Pour a small amount of oil onto a piece of paper towel equal too or longer in length to the circumference of the handle until the paper towel is saturated with oil.
Rub the saturated paper towel over the length of handle, and then wrap like a mummy in the paper towel.
Leave the handle on a window ledge in direct sun (winter), or outside in the sun (summer) for 1-2 hours to allow the handle to warm and absorb the oil.
Flip the knife over, and repeat for the second side
When finished, wipe down the handle with more paper towel or a clean cloth. Oil will cure in 2-3 days.
Apply Handle wax to end(s) of the handle with exposed wood grain. Apply handle wax to hand and buff to desired level of grip.

---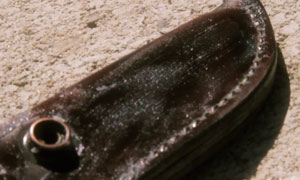 Treating a Knife's Leather Sheath
Wipe with a moist cloth, and allow to dry.
Rub a generous amount of Sheath Cream into the leather on one side, and place in the sun. As the leather warms, it will absorb more of the Sheath Cream. If leather absorbs all of it, apply more, until the leather is saturated.
Flip over and repeat on the other side
Once done, wipe off the excess, and buff with a fingers, or a clean cloth.

---
Oiling a Carbon Knife Blade
Stainless steel blades don't require much oil provided they are kept clean, but carbon steel blades require oiling to prevent rust. If your knife is used for food preparation, Blade Oil is not only a good protector, but is non-toxic and food safe.
CAUTION: Disposing of oily rags or paper towel: certain wood oils (such as linseed oil) dries through a process of oxidation that produces heat: if not treated properly, this can produce fires. While hemp oil is less volatile, caution should still be applied.
Excess oil used can be strained, and poured back into its container. Rags and cloths should be stored in water in air tight containers. Oily paper towels can be burned off, or composted.
Shop The Gear
Tim Foley
Tim grew up spending summers and much of his spare time in the backwoods of Northern Ontario and has been canoeing, camping and hiking ever since. When not running the
Canadian Outdoor Equipment Co.
, you can find him riding his bike, hiking the Bruce Trail, canoeing, or clearing trails, cutting firewood and testing gear out in the bush.