The Fenix CL09 Camping Lantern provides general illumination at campsites or at picnic tables while being small enough to fit in the palm of your hand. Waterproof, and capable of outputting white, red, or green light, the included rechargeable 16340 Li-ion battery can be recharged via micro USB or in a charger (sold separately). Bright enough to light your site, but small enough is attach to a keychain, the Fenix CL09 is a small, compact and eminently portable area lighting solution.
Three lighting sources of neutral white, red and green
Powered by one ARB-L16-700U (included), 16340 or CR123A battery
360° illumination
The lantern tail features a magnet and a hanging loop
IP68 rating, underwater 2m for 30 minutes
Reverse polarity protection, to protect from improper battery insertion
Made of durable aircraft-grade aluminum and optical grade PC materials
Premium type III hard-anodized anti-abrasive finish
Dimensions: 78.5mm Length x 22mm Diameter
Weight: 31.5 grams (excluding battery and other accessories)
Included in the Package
1 x CL09 camping lantern
1 x ARB-L16-700U Li-ion battery
1 x key ring
1 x spare O-ring
1 x user manual
1 x warranty card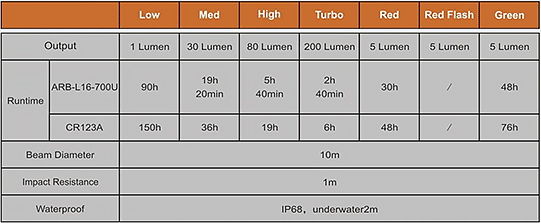 Fenix CL09 Camp Lantern Reviews
5.0 star rating
5 Reviews
Great light
Review by Murray on 23 Aug 2020
review stating Great light
Great light for camping and travel. On low, in a tent, under an awning or in a motel room, this setting lasts for days on a single battery, and if set on its highest level, it competes to large lanterns in its performance. All this on one rechargeable/replaceable battery.
Small, light, simple and bright
Review by Terry on 9 Jul 2020
review stating Small, light, simple and bright
The brightness of this tiny light is hard to believe. It's also super simple. You cycle through the settings simply by loosening and tightening the threads that hold the battery in.
Great product, fast shipping
Review by Danilo on 3 May 2020
review stating Great product, fast shipping
Great little handheld flashlight. Very bright for its size and added bonus of the red/green. A little hard to find but thankfully they had stock.
Small and Powerful
Review by Ciara on 7 Sep 2019
review stating Small and Powerful
I needed something light and small for the ridge line inside my hammock and this is exactly the right thing. It is very simple, you twist it to turn it on or off (initiating/ breaking contact with battery for on/off). The low white setting is great for general set up when climbing into bed (casts a non-blinding, even light) and the second white setting is perfect for reading. I also used this in a big 4 person car camping tent and the brightest setting lit up the whole tent (enough to make macrame bracelets at night as well ;)

I bought an extra battery for back up on trips but the first one lasts a long time. Highly recommend.
Bright enough and light enough.
Review by Graydon on 6 Jun 2019
review stating Bright enough and light enough.
As simple as possible but no simpler. Could have a flashing green mode but I don't really know what for. Otherwise nigh-perfect.