Orders over $50 Ship Free *
Match cases keep your matches and other valuables (batteries, medication, tinder) dry and secure.
About Match Cases
Stormproof matches are a boon for campers - anyone who's gotten a fire going on a windy, rainy day can attest to that. Having a place to store matches, plus house extra strikers, tinder, and maybe even a bit of emergency kit is highly beneficial. Our match cases are made in the USA and offer a secure, watertight container for storing matches and other valuables.
Our Match Cases
We stock only the best in Match Cases so you can rest assured knowing you're COEC Equipped.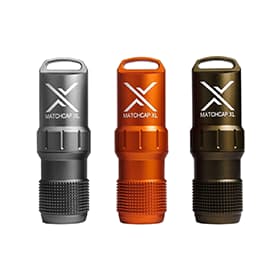 Exotac Matchcap XL Waterproof Match Case
The Exotac Matchcap XL is a waterproof gasketed matchcase that can store 40 kitchen matches, or 25 stormproof matches. It comes with two strikers, a large grip area, and extra capacity for tinder or water purifications tablets. Precision milled in the USA.