Orders over $50 Ship Free *
Canadian made toboggans and sleighs from steam bent ash. The real deal - made to last.
About Toboggans & Sleighs
Like snowshoes and the birch bark canoe, toboggans were originally developed by the First Nations, and their use for recreation has become a Canadian rite of passage and cultural icon. At the Canadian Outdoor Equipment Co, we offer two types of toboggans: wooden recreational toboggans and sleighs, and polyethylene freight toboggans - both made right here in Canada.
Our wooden toboggans and sleighs are made from certified FSC wood in Ontario by a local Mennonite community. Toboggan lengths are calculated by the total size of the slats, so a 6ft toboggan (for example) loses about a foot to the front curve, making the available space for seating about 5ft. Although not strictly necessary for use, toboggan undersides can be waxed to decrease drag and increase speed for those looking for more of a thrill. Sleighs are meant for transporting small children, and should not be used for going down hills. Both of our sleighs offer steel wear bars under the runners, to add longevity and by reducing direct contact between the wooden runners and rough surfaces (sidewalks with a skiff of snow, for instance).
Our UHMWPE (Ultra High Molecular Weight Poly Ethylene) freight toboggans are not meant to be used for recreation on toboggan hills, as the extremely slippery and flexible material would end up giving the user a very sore tailbone, and a possible broken neck from the speeds that can be attained. Instead, they are meant for hauling gear or supplies into the bush when winter camping. Built relatively narrow and quite long to reduces drag, tents, stoves, gear and food can be strapped on, and pulled behind while on snowshoes, meaning that nothing needs to be carried on the back. As they are flexible, they follow the contours of the terrain they are being pulled over, and can be rolled up and put in the trunk of a car when transporting or when not in use.
Types of Toboggans & Sleighs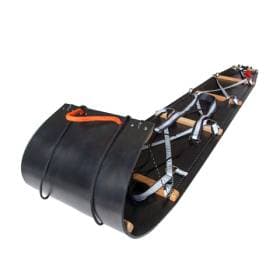 Winter Camping Freight Toboggans
Designed for hauling gear in the winter, freight toboggans are made from highly slippery materials, and include a lashing system to secure loads.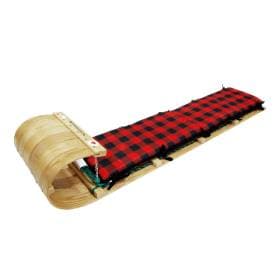 Recreational Wooden Toboggans
Canadian made, Ontario sourced ash wood toboggans for going down hills on snowy days - a Canadian childhood right of passage.
Our Toboggans & Sleighs
We stock only the best in Toboggans & Sleighs so you can rest assured knowing you're COEC Equipped.