Orders over $50 Ship Free *
Badger's cherry paddles are hand crafted, flexible, yet strong, lightweight tripping paddles that provide comfort, functionality, and a wonderful aesthetic.
All Badger paddles feature a fairly broad oval shaft, which provides gripping comfort and less fatigue over longer periods, as well as the ability to ascertain blade orientation while submerged from the orientation of the shaft. Our cherry Badger Paddles are available in the Tripper (a modified Otter Tail) blade configuration - one that balances power, volume, fluidity, and is both quiet and streamlined - the Tripper paddle is perfect for longer trips where a more lithe, more efficient paddle and stroke is needed.
All of our Badger Paddles sport a hybrid varnish/oil finish (varnished blade, oiled shaft and handle), as this configuration provides long lasting water protection for the blade, and a comfortable, and most importantly non-blistering, handle grip and shaft.
All our Badger paddles include a protective paddle sock for safe transport.
Made in Canada.
Paddle Sizing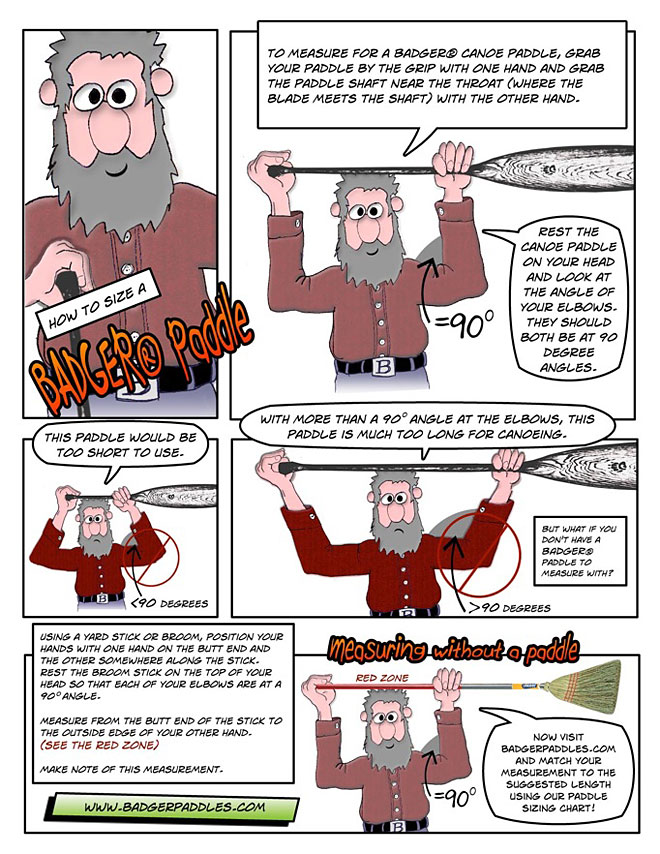 | Red Zone Measurement | Suggested Paddle Size |
| --- | --- |
| 22.5" | 51 |
| 25.5" | 54 |
| 28.5" | 57 |
| 31.5" | 60 |
| 34.5" | 63 |
Specifications
SKU
2-BADG-C
Brand
Badger Paddles
Frequently Bought Together