Orders over $50 Ship Free *
Wilderness Paddle Works' cherry and ash paddles are hand crafted, flexible yet strong, lightweight tripping paddles that provide comfort, functionality, and a wonderful aesthetic.
Featuring a slightly oval shaft (which provides better grip and comfort - meaning less fatigue over longer periods, as well as the ability to ascertain blade orientation while submerged from the orientation of the shaft), and a broad grip for better control when twisting the wrist (during the J stroke for example), Wilderness Paddle Works paddles are available in with either beaver tail (for pushing as much water as possible) or otter tail (perfect for longer trips where a more lithe, efficient paddle and stroke is needed) in either ash or cherry woods. Ash provides excellent strength, flexibility and shock absorption capabilities, while cherry offers wonderful aesthetics (the wood gets deeper and richer with age) as well as excellent flex and is generally lighter than ash.
All of our Wilderness Paddel Works paddles sport a hybrid varnish/oil finish (varnished blade, oiled shaft and grip), as this configuration provides long lasting water protection for the blade, and a comfortable, and most importantly non-blistering, handle grip and shaft.
Hand-made in Canada.
Paddle Sizing
To calculate proper paddle sizing, grip a broomstick, hockey stick, pole or other implement with arms positioned in an upright position at 90°. Ensure arms are not extended past 90°, or angled inwards to less than 90° (inset images). Measure.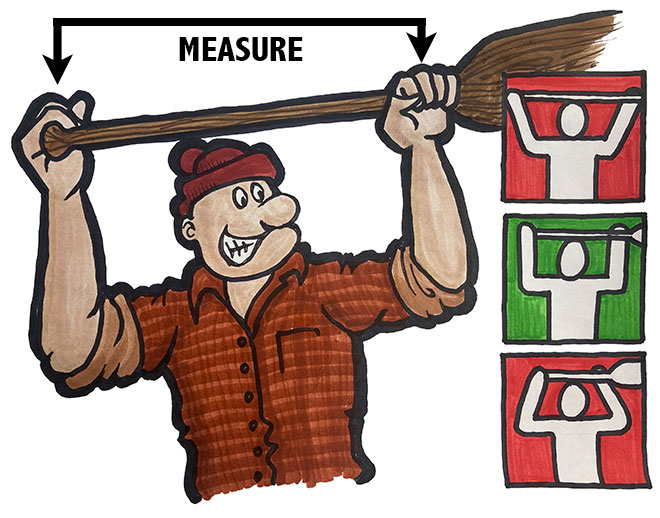 | Measurement Between Hands | Suggested Paddle Size |
| --- | --- |
| 28" | 56 |
| 29" | 58 |
| 31.5" | 60 |
| 34" | 62 |
Specifications
SKU
WPW-
Brand
Wilderness Paddle Works
Frequently Bought Together