Mora Eldris Neck Knife / Fenix Camp Lantern: A Canoe Camping Adventure With Hudson
A canoe trip inevitably offers us time to reset; we find ourselves caught up in these deep and meaningful conversations about what we would like the coming months and years to look like for our family. We chat about dreamy foreign lands we would like to visit filled with volcanos or rolling green hillsides. We chat about slowing down and keeping things even more simple for our family as we enjoy the fire roasted lunches and far too burnt marshmallows. I find Hudson expands his heart and mind on these trips; they are equally challenging and enriching for his spirit as he finds the rhythm of being part of a team. As parents, we are asking much more of him than we would in the comfort of our home, Hudson is being asked to set up and take down camp, to gather gear as required, to dig deep paddling and to support us in ways that only come with a canoe trip.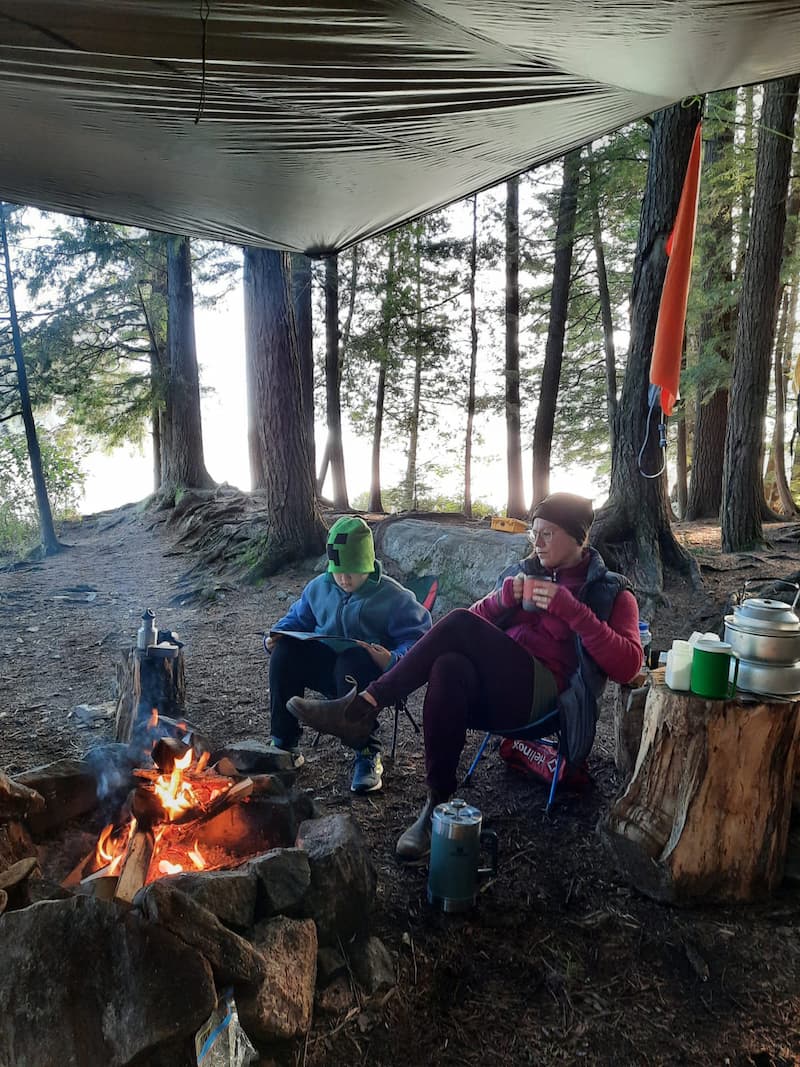 Each section of the day is filled with a joyful amount of play and work, rest. and relaxation. We are acutely aware of how special this time together is as we plot our next trip with laughter and ease. During the day the sun has its way with the landscape, the rocks become dry and warm, making it easy to play about and create fantastic made-up characters and storylines.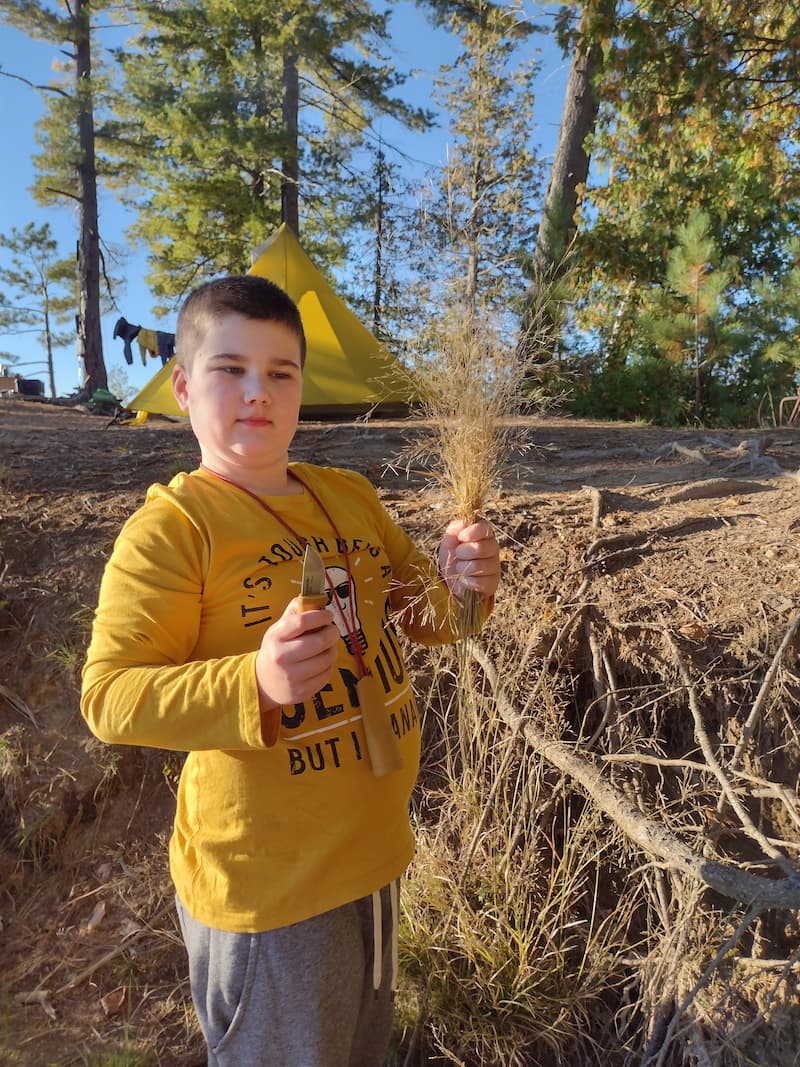 Hudson's imagination knows no bounds and with his Mora Eldris Neck Knife hanging from his neck he begins to harvest long dried grass from the shoreline pretending it is "wheat" we need to gather for our survival story.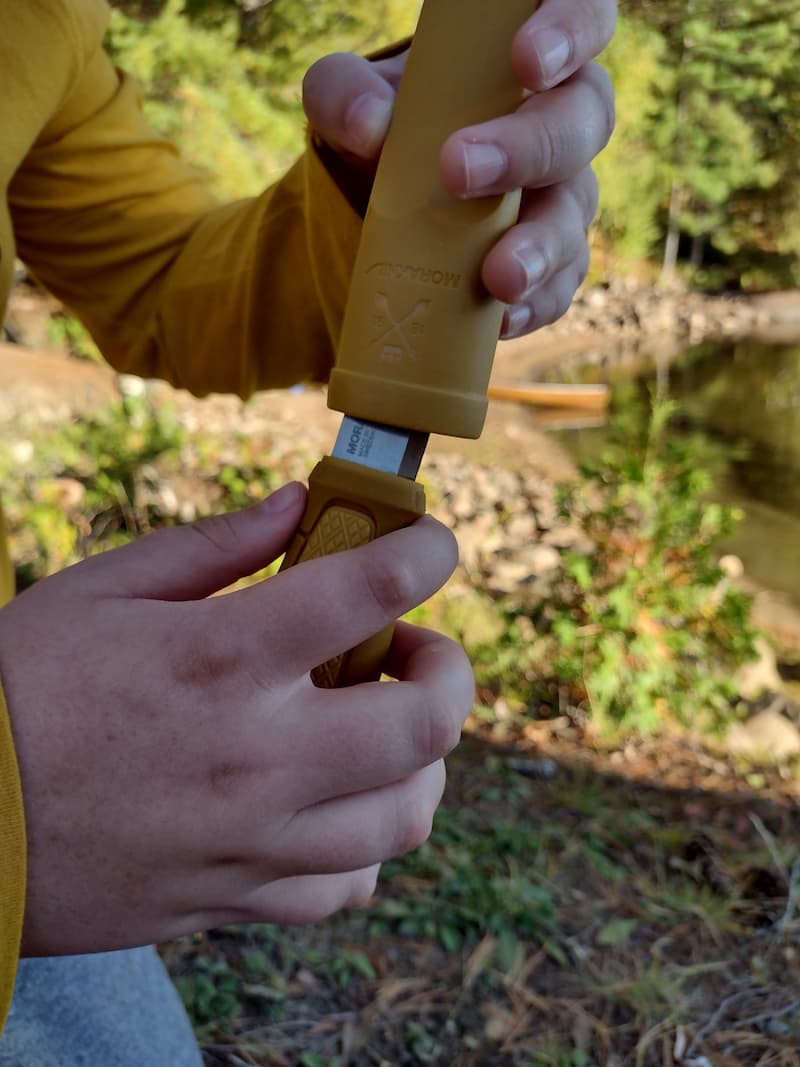 We find playing with tools offers Hudson space to discover what the tool can do and the confidence to wield it, in this case, his Mora Eldris Neck Knife. Chris and I step back, offering little to no instruction. The blade does the work as we watch Hudson carefully cut away protecting his hands and body, and then gently tucks the knife back into the sheath before running up the rocks to show us his handfuls of "wheat".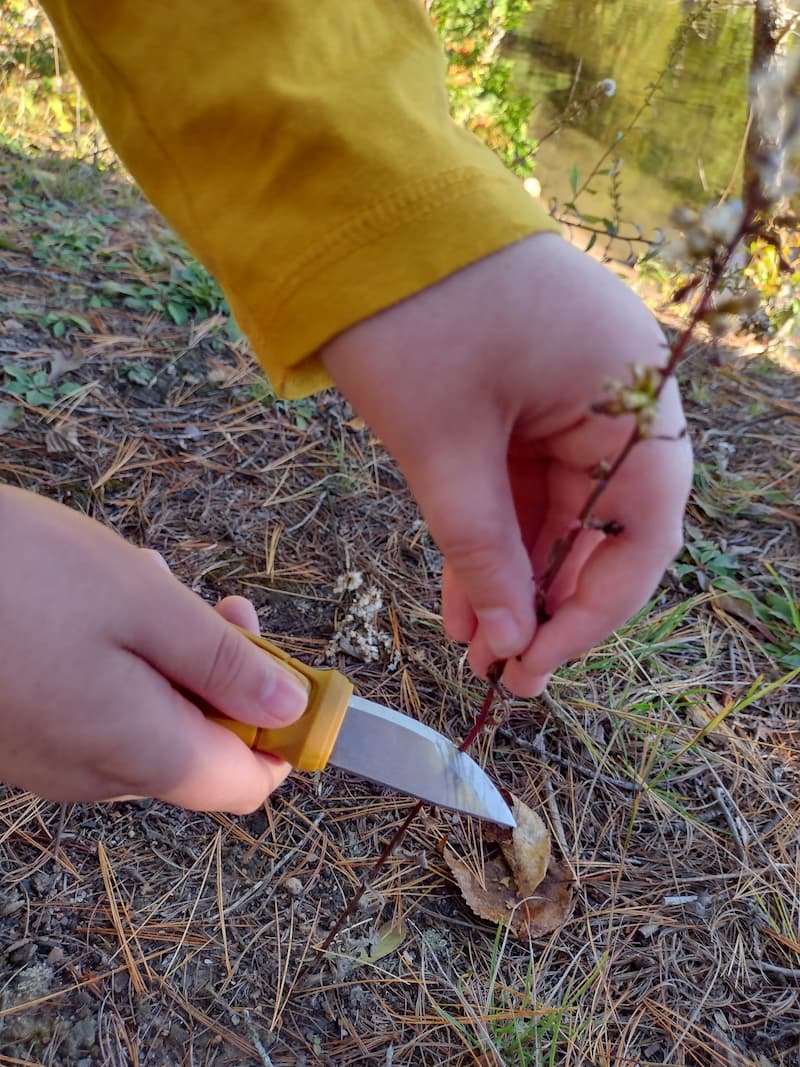 I have found this much to be true, that Hudson's skills and abilities can be developed more expansively within imaginative play. His knife hangs from his neck, he proudly offers us help to cut cord or open a package at mealtimes. We can see our young son quietly finding his place, edging out on his own with his gear and still mindfully watching us as we work (and play) about camp.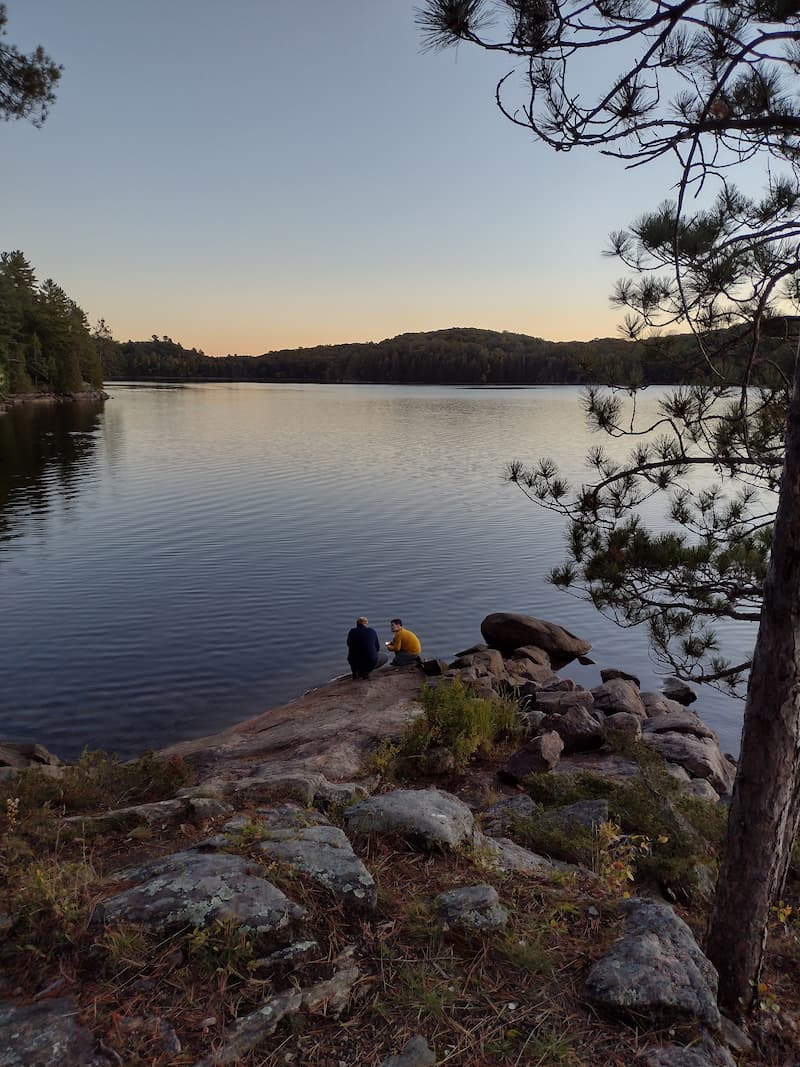 The rocks were cooling off once more, with the sun softly sinking to the south, the day was closing naturally, and the crescent moon rose like clockwork ushering us to wind down. So is the way of camping, "play and work, rest and relaxation" and now with the wanigan containing our food closed-up, Hudson and Papa were on their way through the forest to hang it up for the night.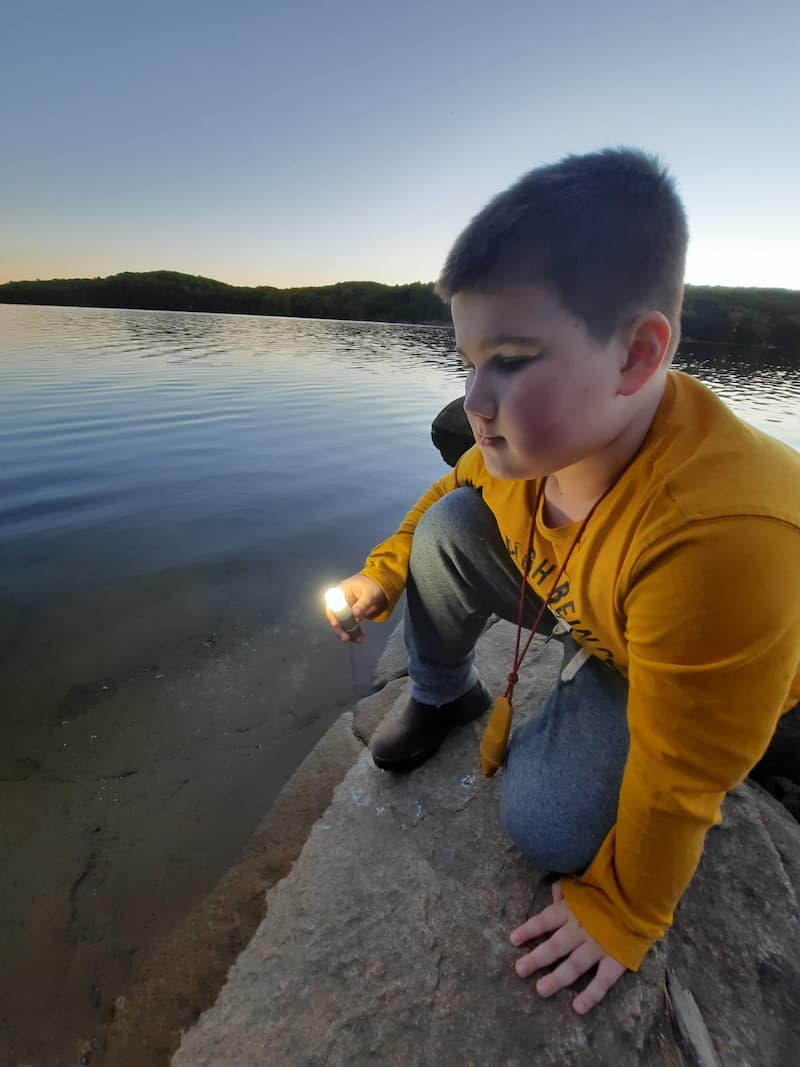 Hudson lit up the dark with brimming pride and leadership, as he shone the luminous light from his Fenix Camp Lantern. Both Hudson and the camp lantern beamed as their path was made clear by his guidance and light.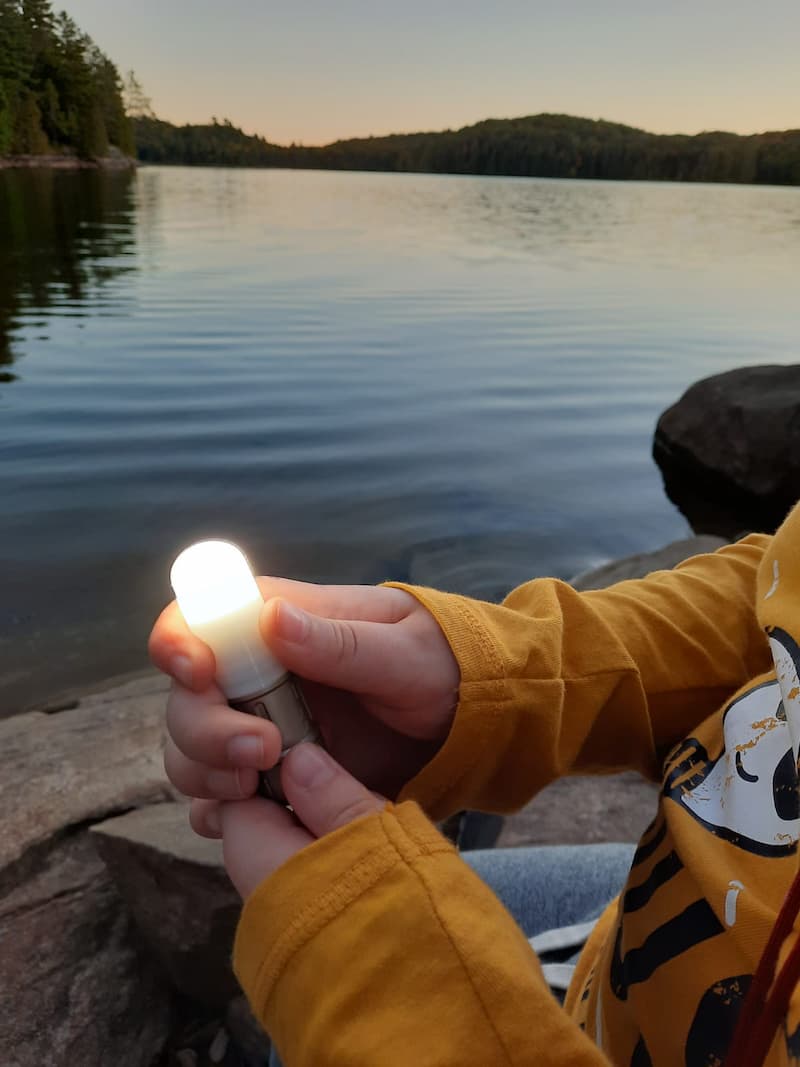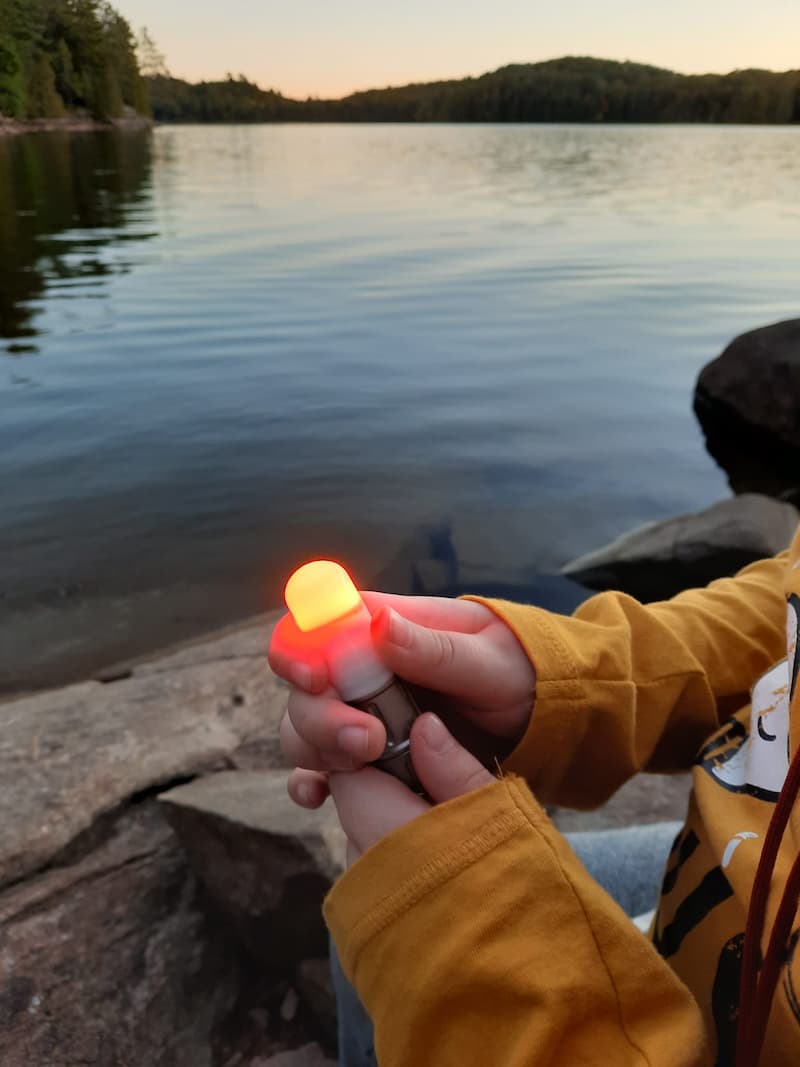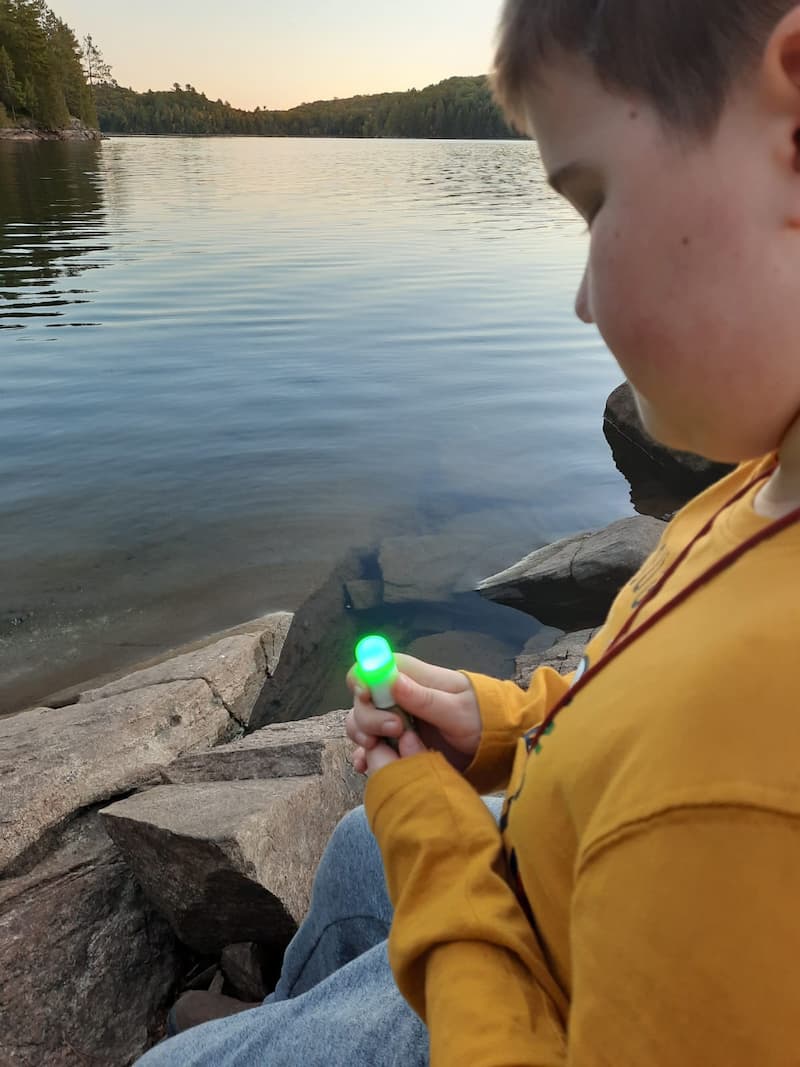 Earlier in the evening we had watched as a float plane landed across the lake and as it were, it had become our turn to "land" for the night as well. Before nestling into the heat of a roaring campfire and soft conversation, Chris and Hudson dazzled the starry sky with his camp lantern at the water's edge. The moon was not completely full tonight, however our hearts were.
Hudson's camp lantern was hung above the fire, hanging from the tarp to offer an incurable amount of light for us to safely walk about and then made its finally trip to be hung in our tent so we could read Hudson bedtime stories before closing our eyes at the end of another wondrous family canoeing adventure~
Laura + Hudson
Laura and Hudson
Laura and Hudson can often be found tromping through their 50acre woods, following deer runs, tracking wild turkeys, tending to the forest and its inhabitants and discovering all of nature's gifts from spruce tips in the spring to mushrooms in autumn! Laura and Hudson are avid canoeists, campers, hikers, swimmers, archers and all round adventurer's! Laura and her husband Chris wanted to raise their son up north, so they built a log home in the forest where they could home school their son and offer Hudson a life full of all things wild and free!