Orders over $50 Ship Free *
First aid emergency guides are invaluable for any outdoors person or activities - be they hikers, canoeists, campers or hunters.
About First Aid Books
First aid kits are essential on outdoor pursuits, but while putting a dressing on a wound is fairly straightforward, what about more nebulous and difficult medical situations such identifying the early stages of dehydration, or dealing with diabetic complications? A medical field guide can be invaluable in these types of situations, and improves one's facilities to moving beyond mere trauma and into wider range of physical ailments (choking, cardiac arrest, poisoning, neck and spinal injuries) as well as neurological and physiological disorders. Invaluable when doing longer expeditions, or in remote areas where help or rescue may be days away, a good medical field guide can literally make the difference between life and death.
Our First Aid Books
We stock only the best in First Aid Books so you can rest assured knowing you're COEC Equipped.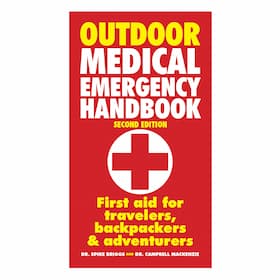 Outdoor Emergency Medical Handbook
The Outdoor Medical Emergency Handbook is an essential guide to emergency medical procedures away from home, and provides easy-to-follow advice on how to prevent, treat and care for illnesses and injuries while outdoors or traveling.
Lyme Disease, Ticks and You
Lyme Disease, Ticks and You is an easy-to-follow and essential guide to understanding, detecting and treating Lyme and other tick-borne diseases. Dr. Shelley Ball, a trained freshwater insect ecologist, is a long-term Lyme sufferer who has been infected multiple times, including with various other tick-borne diseases. Drawing from years of experience advocating for her own health, Dr. Ball has gathered together the information and resources the reader needs to not only understand the science, prevent tick bites and recognize Lyme, but also get treatment for this complex and often misdiagnosed disease.
Canadian Outdoor Survival Guide
With so many more people accessing the great outdoors these days, books like Canadian Outdoor Survival Skills have become all the more relevant. Duane S. Radford has created an irreplaceable survival guide that covers a broad range of topics including: fire starting, general bushcraft, trapping, foraging, wilderness first aid, navigation, and shelter.