Orders over $50 Ship Free *
NiMH (Nickel Metal Hydride) batteries are powerful, and environmentally friendly - great for high powered flashlights, cameras, GPS and more.
About NiMH Batteries
NiMH (nickel metal hydride) AA and AAA batteries offer high specific energies capable of driving high drain devices (cameras, flashlights) and contain no toxic metals. Charging cycles (the number of times a rechargeable battery can be recharged before it starts losing capacity) runs from 500 to 2100 cycles in NiMh batteries, they don't exhibit memory effects (the lowering of capacity through incomplete draining between charges) and AA and AAA cell sizes are widely used in many electronic devices, making them broadly interchangeable across cameras, flashlights, emergency GPS units, and remote power packs.
Our NiMH Batteries
We stock only the best in NiMH Batteries so you can rest assured knowing you're COEC Equipped.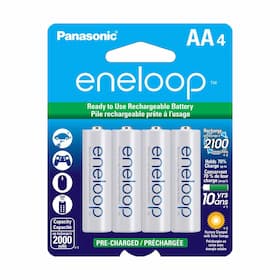 4 Eneloop AA NiMH Rechargeable Batteries
Panasonic Eneloop AA rechargeable NiMH batteries come pre-charged, and are perfect for your Fenix flashlight, Goal Zero Guide 10 battery pack, or other high powered (cameras, GPS) outdoor electronics. Unlike lithium batteries, whose optimal charge cycle is limited to 500 times, NiMH Eneloops have charge cycles of 2100 charges - meaning many, many years of reliable service.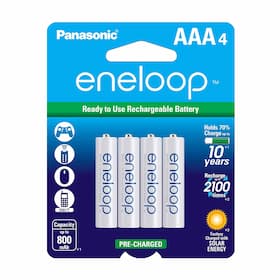 4 Eneloop AAA NiMH Rechargeable Batteries
Eneloop AAA NiMH battery cells are high powered, long lived (2100 cycles) NiMH cells that are perfect for high drain/output devices like flashlights, GPS units, remotes and more.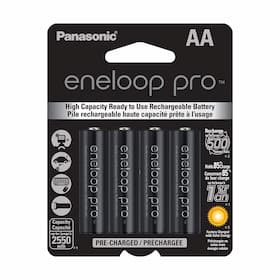 Eneloop PRO AA NiMH Rechargeable Batteries
Do you need low temperature performance from AA cells ? Do you need longer runtimes on your flashlight or device? Eneloop PRO NiMH AA batteries have capacities of a minimum 2450 mAh, have low toxicity, and come pre-charged with certified solar power.